Bashkirtseva, Mariia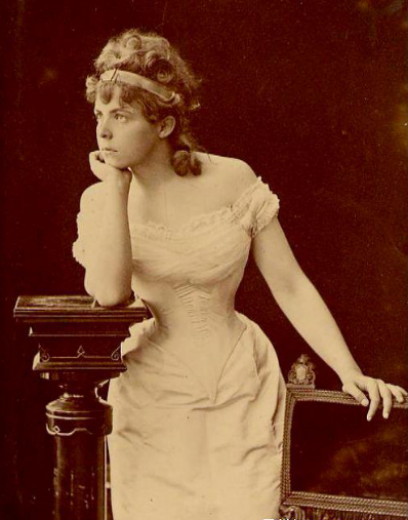 Bashkirtseva, Mariia [Башкірцева, Марія; Baškirceva, Marija] (Bashkirtseff, Marie), b 23 or 24 November 1858 (1860 commonly cited incorrectly) in Havrontsi, Poltava county, d 31 October 1884 in Paris. Painter and diarist. After growing up on her grandparents' estate in the Okhtyrka region of Kharkiv gubernia, Bashkirtseva moved from Ukraine in 1870 with her aristocratic mother to live in Nice, France (with short stays in Odesa, Vienna, and Geneva along the way). In 1877 she began studies with R. Julian and J. Bastien-Lepage. She first exhibited her work at the Salon in Paris in 1880, the year that her tuberculosis was confirmed. She continued to paint even though in failing health. Bashkirtseva left some 150 paintings, including compositions, portraits, études, and genre paintings. Her works are on permanent display at the art museum in Nice and in other museums. A selected rendition of her diary, which she kept in French starting in 1873, was published in Paris in 1887 under the title Journal de Marie Bashkirtseff. A vivid and open account of the life of a perceptive 'modern' woman, it catapulted Bashkirtseva to lasting fame. Her letters were first published in 1902.
Bashkirtseva's diary was deposited in the Bibliotèque Nationale in Paris in 1920 following her mother's death. It remained largely unnoticed until the mid-1960s, when contemporary studies of Bashkirtseva drew attention to the fact that much interesting material had been left out of the diary's earlier publication. Subsequent editions have been more complete. The most noteworthy effort in this regard is a project undertaken by L. Le Roy to publish the édition integrale of the diary. A Ukrainian-language biographical novel about Bashkirtseva was written by Mykhailo Slaboshpytsky.
BIBLIOGRAPHY
Knysh, I. Try rovesnytsi (Winnipeg 1960)
Cronon, V. Four Women in Pursuit of an Ideal (London 1965)
Kernberger, P.H; Kernberger, K. (trans and eds). I am the Most Interesting Book of All: The Diary of Marie Bashkirtseff Vol. 1 (San Francisco 1997)
Slaboshpyts'kyi, M. Mariia Bashkirtseva: Roman-ese (Kyiv 1999)
Aleksandrov, A. Madamuazel' Bashkirtseva: Podlinnaia zhizn' (Moscow 2003)
[This article originally appeared in the Encyclopedia of Ukraine, vol. 1 (1984).]
Click Home to get to the IEU Home page; to contact the IEU editors click Contact.
To learn more about IEU click About IEU and to view the list of donors and to become an IEU supporter click Donors.
©2001 All Rights Reserved. Canadian Institute of Ukrainian Studies.