Hoverlia (4th) Group of the Ukrainian Insurgent Army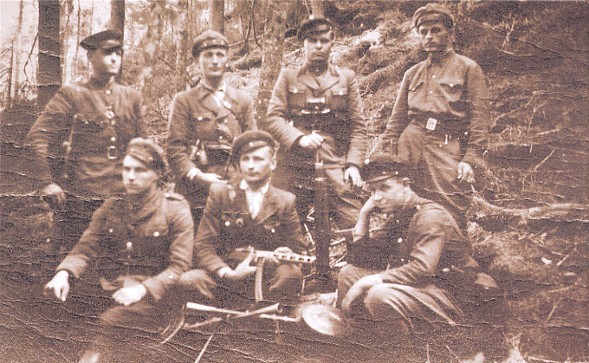 Hoverlia (4th) Group of the Ukrainian Insurgent Army (Карпатська Група 4 – Говерля; Karpatska Hrupa 4 – Hoverlia). Code name of the Ukrainian Insurgent Army (UPA) units located on the territory of the (4th) Military District of the UPA-West in Galicia. Until early 1945, this territory consisted only of the Stanyslaviv oblast and Bukovyna; later it included almost all Soviet territory south of the Dnister River—the Drohobych oblast, Stanyslaviv oblast, and Chernivtsi oblast. It also conducted some operations in Transcarpathia.
From the beginning Hoverlia was the largest and most active group in Galicia. Most of the UPA training camps in Galicia, including the 'Oleni' officer school, were situated in its mountainous territory. In 1945 Hoverlia was divided into so-called tactical sectors (taktychni vidtynky). The Kolomyia tactical sector (known as Hutsulshchyna), the mountainous territory of Kosiv, Kolomyia, Sniatyn, and Horodenka counties, formed a virtual UPA republic in early 1945. It reportedly contained 4 combat battalions and 12 training companies. Another 5 combat battalions were located in the Stanyslaviv tactical sector (also known as Chornyi Lis), the most famous base of UPA operations. Altogether, in early 1945 the Hoverlia Group consisted of 14 combat battalions and an assortment of companies. By the fall of 1945 their estimated total strength was 4,200 men, 80 percent of whom were assigned to the Stanyslaviv oblast. Hoverlia units constituted the bulk of the troops involved in the First (September 1945) and the Second UPA Raid (April 1946) into Czechoslovakia. During 1947–9 UPA combat units continued to operate only on Hoverlia territory. The last two actions by Hoverlia units were a raid into Romania in June–July 1949 and the ambushing of Soviet Army troops in Sambir county in July–August 1949. The Hoverlia Group was commanded by Lt I. Beleilovych (nom de guerre: Dzvinchuk; 1943), Lt Ivan Butkovsky (nom de guerre: Hutsul; to summer 1944), Kolchak (to summer 1945), and Maj Mykola Tverdokhlib (nom de guerre: Hrim; to 1949).
BIBLIOGRAPHY
Litopys Ukraïns'koï povstans'koï armiï, vols 3–4: Chornyi lis, ed Ievhen Shtendera et al (Toronto 1978–9)
Petro Sodol
[This article originally appeared in the Encyclopedia of Ukraine, vol. 2 (1988).]