Korolevskij, Cyrille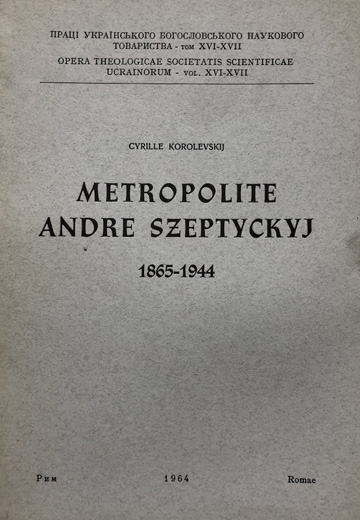 Korolevskij, Cyrille (real name: Jean Francois Joseph Charon), b 16 December 1878 in Caen, France, d 19 April 1959 in Rome, Italy. French priest and historian of the Eastern Catholic churches. He studied Eastern theology and rite at the Patriarchal College in Beirut, Lebanon, and was admitted to the Melchite order in 1902. After writing several works on the history of the Melchites, he turned his attention to the Ukrainian Catholic church. During his extensive travels in Ukraine and Eastern Europe he met Metropolitan Andrei Sheptytsky, who commissioned him to collect documents in Rome about Metropolitan Yosyf Rutsky and the history of the Ukrainian church. He compiled a catalogue to the documents of the Basilian monastic order, published in Zapysky Chyna sv. Vasyliia Velykoho (1926–8, 1949), began the compilation of Monumenta Ucrainae Historica, and wrote Métropolite André Szeptyckyj, 1865–1944 (1964). Korolevskij also worked with the Congregation for Eastern Churches as a member of the commissions on eastern canon law and on the revision of eastern liturgical books, and coauthored the rules of the Studite Fathers (1943–4). In his studies of the eastern church rite, Korolevskij opposed the concept of Uniatism and the Latinization of the eastern churches.
[This article originally appeared in the Encyclopedia of Ukraine, vol. 2 (1988).]
This subject is not referenced in any other entries in the Internet Encyclopedia of Ukraine.