MVD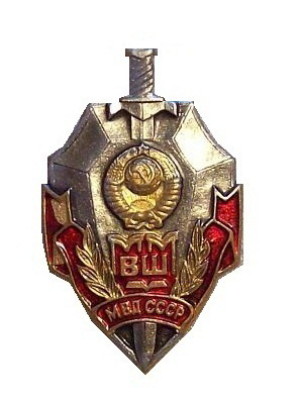 MVD [Министерство внутренних дел; Ministerstvo vnutrennikh del; Ukrainian: МВС; MVS, or Міністерство внутрішніх справ; Ministerstvo vnutrishnikh sprav (Ministry of Internal Affairs)]. A ministry of the Soviet government established on 19 March 1946 as a successor to the NKVD. The MVD was a Union-republican ministry, which included a number of central agencies, branches in the national republics, and local units. Its bodies were under dual subordination; that is, they were responsible to both higher-level MVD organs and corresponding local soviets. The MVD oversaw and administered the uniformed police (militia); fire fighters; prisons and labor camps; internal troops (though the KGB may actually have controlled these troops); the internal passport system; city residence permits; the licensing of firearms, motor vehicles, printing/copying facilities; and state archives. Structurally, it was divided into a number of main administrations and administrations organized along functional lines.
The institutional status and responsibilities of the MVD underwent numerous changes from 1946. At first the MGB, which was responsible for state security, was separate from the MVD. Then, after Joseph Stalin's death, from March 1953 to March 1954, the two ministries were merged to form a powerful MVD under the control of Lavrentii Beria. He was arrested in June 1953 and executed in December. S. Kruglov was reinstated as minister of internal affairs, and Beria's supporters in the top positions were purged. To avoid another challenge to its authority the Party leadership reduced the might of the MVD by transferring some of its functions to other ministries and by setting up an independent agency, the KGB, to handle state security. In the course of Nikita Khrushchev's campaign for 'socialist legality' the economic power of the ministry was trimmed: it lost administrative control over various enterprises (ie, construction, coal mining, oil extraction, and gold mining and processing), and its captive labor force was cut drastically by amnesties to political prisoners. In 1957 control of the border guards was handed over to the KGB. The MVD was weakened further in 1960, when the Union or central ministry was abolished, and only republican ministries and their local branches remained. In 1962 the institutional name was changed from MVD to the Ministry for the Protection of Public Order (MOOP), a designation which symbolically severed the ministry's link with its past.
Under Leonid Brezhnev, however, the ministry's institutional status was upgraded: its Union status and its name were restored in 1966 and 1968 respectively. It received more funds and better training for its personnel. During Yurii Andropov's and Mikhail Gorbachev's regimes charges of high-level corruption and inefficiency in the MVD became common. As a result Brezhnev's supporters in the ministry's higher levels were dismissed, including N. Shchelokov, long-term head of the MVD/MOOP, and Yu. Churbanov, former first deputy chairman of the Union MVD and Brezhnev's son-in-law. Shchelokov committed suicide, and Churbanov was sentenced in December 1988 to 12 years' imprisonment. During his tenure as minister of internal affairs (December 1982 to February 1986) Vitalii Fedorchuk conducted a major purge of the ministry. He was succeeded by A. Vlasov (from 26 January 1986), V. Bakatin (from 22 October 1988), and B. Pugo (1 December 1990 to 22 August 1991).
Jaroslaw Bilocerkowycz
[This article originally appeared in the Encyclopedia of Ukraine, vol. 3 (1993).]