Saint Theodosius of the Caves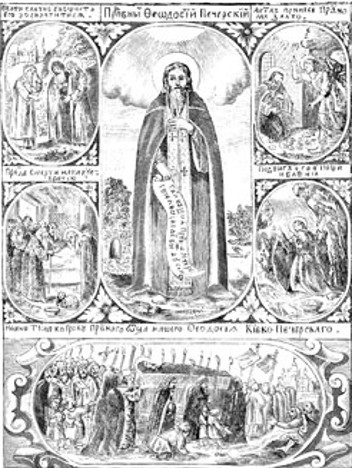 Saint Theodosius of the Caves (Святий Теодосій [Феодосій] Печерський; Sviatyi Teodosii [Feodosii] Pecherskyi), b ca 1036 in Vasylkiv, in the Kyiv region, d 3 May 1074 in Kyiv. He studied in Kursk until 1055, when he traveled to Kyiv and joined Saint Anthony of the Caves as one of the first monks of the Kyivan Cave Monastery. A gifted leader, he became hieromonk and then hegumen of the monastery (1062), succeeding Varlaam. In 1070 he introduced a strict Studite Typicon and reformed the monastic life. He initiated the construction of the Dormition Cathedral of the Kyivan Cave Monastery in 1073 (completed in 1089) and of various buildings and catacombs, and presided over the impressive development and growth of the monastery.
Theodosius also used his authority to influence secular affairs and served as an adviser to a number of princes. He opposed Sviatoslav II Yaroslavych, who illegally seized the throne, and wrote a defense of his older brother, Iziaslav Yaroslavych. In total, some 15 works are commonly attributed to him, including several sermons in which he chastised monks for indifference and preoccupation with personal well-being.
Theodosius was buried in the Kyivan Cave Monastery catacombs, in a section known as Theodosius's Caves or the Far Caves. His relics were transferred to the Dormition Cathedral of the Kyivan Cave Monastery of the monastery in 1091. The major source of information on Theodosius is the life written by Nestor the Chronicler ca 1080 and included in the Kyivan Cave Patericon. Prince Sviatopolk II Iziaslavych had Theodosius canonized in 1108. His feast is celebrated on 16 May.
BIBLIOGRAPHY
Dublians'kyi, A. Ukraïns'ki sviati (Munich 1962)
Čyževskyj, D. A History of Ukrainian Literature (From the 11th to the End of the 19th Century) (Littleton, Colo 1975)
Bosley, R. 'A History of the Veneration of ss Theodosij and Antonij of the Kyivan Caves Monastery from the Eleventh to the Fifteenth Century,' PH D diss, Yale University, 1980
A. Zhukovsky
[This article originally appeared in the Encyclopedia of Ukraine, vol. 4 (1993).]