Volodymyr Monomakh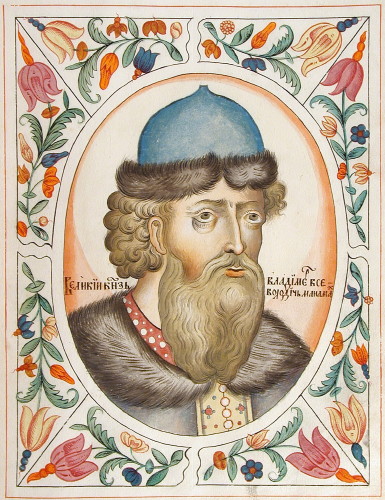 Volodymyr Monomakh [Володимир Мономах; Monomax; or Володимир І Всеволодович; Volodymyr I Vsevolodovych), b 1053, d 19 May 1125 in Kyiv. Grand prince of Kyiv (1113–25); son of Vsevolod Yaroslavych. He was named Monomakh after his mother, who was the daughter of the Byzantine emperor Constantine Monomachos (some 20th-century historians dispute the relation, alleging that Soviet scholars invented it for their own purposes). While his father was alive, Volodymyr ruled the Smolensk principality (from 1067) and Chernihiv principality (1078–94), led 13 successful military campaigns in his father's name, and participated in diplomatic missions. He became prince of Pereiaslav in 1094. After the death of Sviatopolk II Iziaslavych and the Kyiv Uprising of 1113, he ascended to the Kyivan throne.
Volodymyr was one of the outstanding statesmen of the medieval period in Ukraine. He sought to strengthen the unity of Rus' and the central authority of the Kyivan prince. He struggled against the deterioration of dynastic solidarity in Kyiv and attempted to unite the princes against the Cuman threat. He initiated the Liubech congress of princes (1097), at which the order of succession (rota system) was radically reformed, and he organized the Vytychiv congress of princes (1100) and Dolobske council of princes (1103), at which joint campaigns against the Cumans were agreed upon.
During his tenure in Kyiv, Volodymyr introduced a number of legal and economic reforms. He called a meeting to address the social problems which had caused the Kyiv Uprising of 1113, and issued Volodymyr Monomakh's Statute (which was added to Ruskaia Pravda). The reforms, including the limitation of interest on loans and the abolition of servitude as a method of debt payment, brought about radical improvements to terms of credit in Rus'. Volodymyr was also the author of Poucheniie ditiam (Instruction for [My] Children, ca 1117), which was entered into the Laurentian Chronicle along with a letter he wrote to Oleh (Mykhailo) Sviatoslavych, the prince of Chernihiv. His Poucheniie was a didactic and autobiographical work of high literary quality, in which he condemned the internecine struggles of princes and promoted the idea of a unified state. The narrative voice of the testament is that of a courageous warrior and a wise and judicious ruler.
Volodymyr married Gytha, the daughter of the English king Harold II, and founded the Kyivan, Smolensk, and Suzdal lines of the Riurykide dynasty. In 1966 Debrett's Peerage, Baronage, Knightage, and Companionage published the statement that Queen Elizabeth II was descended from Volodymyr Monomakh. He was the last prince of Rus' to preside over a unified state. He is buried in the Saint Sophia Cathedral in Kyiv.
BIBLIOGRAPHY
Shliakov, N. O Pouchenii Vladimira Monomakha (Saint Petersburg 1900)
Ivakin, I. Kniaz' Vladimir Monomakh i ego Pouchenie, part 1 (Moscow 1901)
Orlov, A. Vladimir Monomakh (Moscow–Leningrad 1946; repr, The Hague–Paris 1969)
Sakharov, A. 'Vladimir Monomakh,' in Polkovodtsy Drevnei Rusi (Moscow 1985)
Arkadii Zhukovsky
[This article originally appeared in the Encyclopedia of Ukraine, vol. 5 (1993).]