Folk customs connected with birth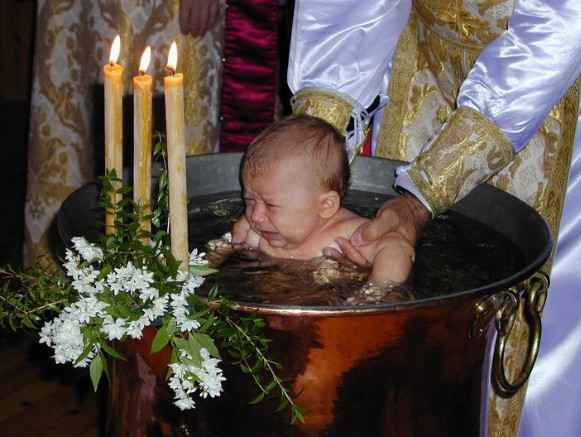 Folk customs connected with birth [народні обряди пов'язані з народженням дитини; narodni obriady poviazani z narodzhenniam dytyny]. Such customs have survived since ancient times. When a child was born, a ritual nativity banquet was held. The church tried to suppress these feasts for many centuries, but they have survived with all the old folk rituals. When labor began, the husband summoned a midwife. On entering the patient's house, the midwife bowed 30 times and performed an introductory ritual while uttering her prayers. If the delivery was difficult, those in attendance would open the doors, windows, and chests and untie any knots to facilitate the birth.
A godfather (kum) and godmother (kuma) were invited for the baptism. The newborn infant was carefully protected from all kinds of evil by being kept behind a veil, out of sight not only of strangers but even of family members. The baptism was a ritual salvation of the infant from the forces of evil. Forty days after birth the mother submitted to a cleansing ritual, and the child was admitted to the church: the mother brought the infant to church and waited in the women's vestibule until after the cleansing prayers were read over her. A year or more after birth the child underwent a ritual haircutting. All the customs surrounding birth originated in pre-Christian times but were assimilated by the church.
BIBLIOGRAPHY
Iashchurzhinskii, Kh. 'Poveria i obriadnosti rodin i krestin,' KS, 1893, no. 7
Malinka, A. 'Rodyny i khrestyny (m. Mrin Nezhensk. u.),' KS, 1898, no. 5
Vovk, Kh. Studiï z ukraïns'koï etnohrafiï ta antropolohiï (Prague 1926)
Ilarion, Metropolitan. Dokhrystyians'ki viruvannia ukraïns'koho narodu (Winnipeg 1965)
Petro Odarchenko
[This article originally appeared in the Encyclopedia of Ukraine, vol. 1 (1984).]