Odesa University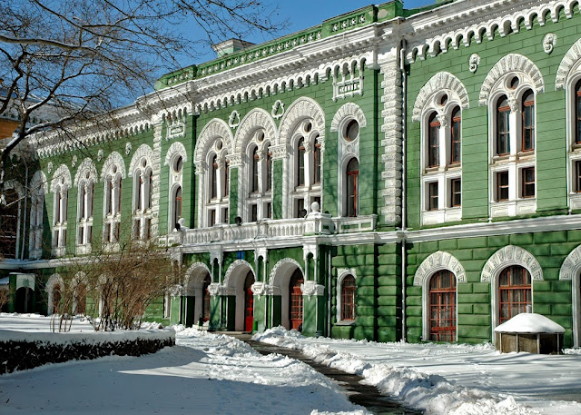 Odesa University (Одеський національний університет ім. І. Мечнікова; Odeskyi natsionalnyi universytet im. I. Mechnikova). A higher educational institution, under the jurisdiction of the Ministry of Education of Ukraine. It was opened in 1865 as New Russia University on the basis of the Richelieu Lyceum, on the initiative of Nikolai Pirogov, the head of the Odesa school district. The tsarist officials initially opposed the founding of a university in Odesa, since they considered the city to be a hotbed of unrest, and offered instead Mykolaiv as a site. Under pressure from the local nobility and merchants, Tsar Alexander II granted the lyceum university status on 10 June 1862.
New Russia University initially had three faculties, history and philology, physics and mathematics, and law. The initial enrollment was 175 students; by 1880 there were 346 students and 45 professors. Almost half of the students were children of the clergy; 70 percent of the students received either scholarships or bursaries. Most of the students came from Southern Ukraine, the Don region, or Caucasia, although the school also attracted students from the Slavic countries in the Balkans. A faculty of medicine was created in 1900. In 1908 the total student enrollment was 3,100. All instruction was in Russian, although in 1906 there was an attempt to initiate a Ukrainian history course to be offered in Ukrainian by Oleksander Hrushevsky. The university published its Zapiski Imperatorskogo Novorossiiskogo universiteta from 1867 to 1919.
During the Ukrainian struggle for independence (1917–20) attempts were made to Ukrainianize the university. Under Soviet rule New Russia University was dissolved, and the various faculties were separated from the university to form research institutes in 1920. Later that year most of these institutes were combined to form the Odesa Institute of People's Education. In 1925 the institute had 603 students, and Ukrainian was introduced as a language of instruction in many courses. In 1933 several other institutes were merged again, to form Odesa University, which in 1945 was named in honor of the biologist Illia Mechnikov.
The student enrollment rose from 8,180 in 1960–1 to 12,000 in 1980–1 and 14,000 in 2012. The university has nine faculties (physics, chemistry, biology, geology-geography, history, economy and law, philosophy, philology, and Romance and Germanic philology). It also has six teaching and research institutes and a postgraduate program. The university has a library of over 4 million volumes, a museum of rare book editions, a botanical garden (opened in 1867), a zoological museum, and the Odesa Astronomical Observatory (built in 1871).
BIBLIOGRAPHY
Markevich, A. 25-letie imp. Novorossiiskogo universiteta (Odesa 1890)
Dobroliubskii, K. (ed). Odesskii universitet za 75 let (1865–1940) (Odesa 1940)
Natalka Freeland, Bohdan Krawchenko
[This article was updated in 2012.]