Patrylo, Isydor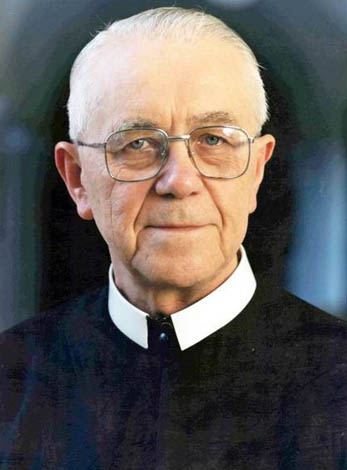 Patrylo, Isydor [Патрило, Ісидор], b 30 November 1919 in Zahorody, Mostyska county, Galicia, d 27 October 2008 in Briukhovychi, Lviv oblast. Catholic priest, Basilian monk, and church historian; a full member of the Shevchenko Scientific Society from 1979 and of the Ukrainian Theological Scholarly Society. He entered the Basilian monastic order in 1933 and studied at Basilian schools in Lavriv, Dobromyl, and Krystynopil (1935–41). He then studied at Charles University and the Ukrainian Free University in Prague (1942–4), where he completed a PH D dissertation on pedagogy in the Kyivan Mohyla Academy. He later obtained doctorates in theology from the Pontifical Angelicum University (1953) and in canon law from the Pontifical Lateran University (1961) in Rome.
He was ordained in 1943 and he served in parishes in Peremyshl (1944), Münster (1944–8), Leeds (1948–9), and various places in Argentina (1949–52, 1953–5). He was summoned to Rome and became director of the Ukrainian section of Vatican Radio (1952–3). He then joined the central administration of the Basilian monastic order in Rome (1955), where he served as treasurer (1955–62), general secretary (1962–76), and protoarchimandrite of the order (from 1976) and director of its publishing house (since 1962). He was a member of the editorial commission that prepared a Ukrainian translation of the Bible (1957–63); a consultant to the Congregation for Eastern Churches; and head of its Liturgical Commission, which was preparing translations of several liturgical books.
Patrylo is the author of a number of works on the history of the Ukrainian church, including Dzherela i bibliohrafiia istoriï Ukraïns'koï Tserkvy (Sources and Bibliography on the History of the Ukrainian Church, 1975–88), Archiepiscopi-Metropolitani Kievo-Halicienses (1962), 'Narys istoriï Halyts'koï Provintsiï Vasyliians'koho Chynu' (An Outline History of the Galician Province of the Basilian Order, ZChVV, 1982), 'Narys istoriï Vasyliian vid 1743 do 1839 r.' (An Outline History of the Basilians from 1743 to 1839, ZChVV, 1988).
Wasyl Lencyk
[This article originally appeared in the Encyclopedia of Ukraine, vol. 3 (1993).]