Sviati Hory Dormition Monastery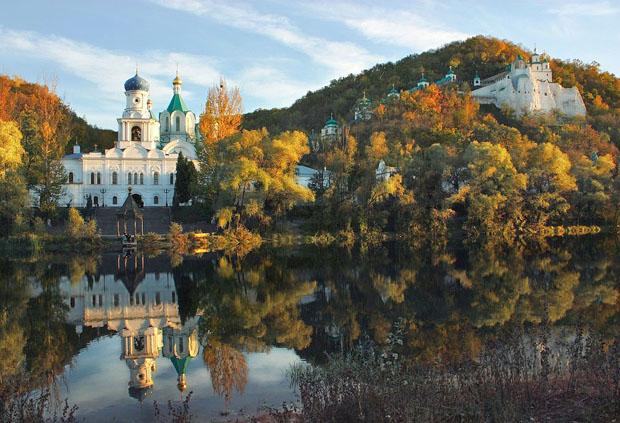 Sviati Hory Dormition Monastery (Свято-Успенська Святогірська Лавра; Sviato-Uspenska Sviatohirska Lavra). An Orthodox monastery situated in present-day Sviatohirsk, Donetsk oblast. Although it is believed to have been founded as early as the 13th century, the first written record of it dates from 1624. In the 15th century monks began living in caves on a hill overlooking the Donets River and worshipping in a grotto church. Their settlement developed both as a religious community centered around the 17th-century Saint Nicholas's Church and as a fortified outpost on the frontier with the Crimean Tatars. Although protected by defensive walls and artillery, it was sacked by the Tatars in 1679; it was later rebuilt. Its properties were secularized in 1783.
The monastery expanded quickly in the second half of the 19th century along a terrace lower down the hill. At that time the complex came to include the Dormition Cathedral, with three naves and five cupolas (1859–60), a hospice (1877), monks' cells (1887), the supervisor's residence (1900), and an elaborate pavilion for pilgrims, in addition to several smaller chapels and buildings. By 1908 the entire complex housed 280 monks and novices and 340 retirees. Closed down by the Soviet authorities in the antireligious terror after the Revolution of 1917, in 1922 the monastery was turned into a sanatorium. The complex was severely damaged during the Second World War but was partly restored in 1969–80 and declared a historical preserve. The monastery was reinstated in independent Ukraine in 1992. The process of restoration of the monastery's churches and buildings has begun in 1995. In 2004 the title of lavra was conferred on the monastery. Today the Sviati Hory Dormition Monastery is under the control of the Ukrainian Orthodox Church-Moscow Patriarchate.
BIBLIOGRAPHY
Kluzhinskii, G. Sviatgorskaia uspenskaia obshchezhitel'naia pustyn' v Kharkovskoi eparckii (Odesa 1898).
[This article was updated in 2009.]