All-Ukrainian National Congress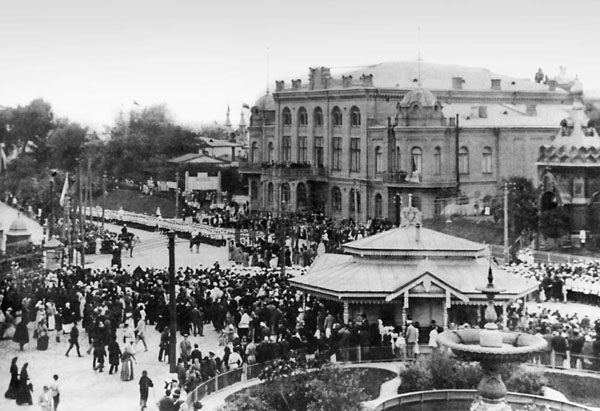 All-Ukrainian National Congress (Vseukrainskyi Natsionalnyi Kongres). First major Ukrainian political forum after the February Revolution of 1917. Convened in Kyiv from 19 to 21 April 1917 by the Central Rada, the congress was composed of 900 representatives of political, cultural, and professional organizations (of workers, peasants, the intelligentsia, military, clergy, etc); delegates also came from the war front and Ukrainian centers in major Russian cities. The congress was chaired by the senior delegate, S. Erastov, representative of the Kuban region. Mykhailo Hrushevsky was elected honorary chairman. Keynote addresses concerning many aspects of Ukraine's autonomy were delivered by Dmytro Doroshenko, Oleksander Shulhyn, Fedir Matushevsky, Mykhailo Tkachenko, F. Kryzhanivsky, Valentyn Sadovsky, and others. Recognizing the All-Russian Constituent Assembly's right of final approval of Ukraine's new autonomous status, the congress nevertheless demanded a federative-democratic reorganization of Russia, immediate implementation of autonomist measures, delimitation of Ukraine's borders in agreement with the people's will, participation of Ukraine at a future peace conference, and repatriation of the Western Ukrainian population deported during the period of Russian military occupation.
The All-Ukrainian National Congress reorganized the Central Rada and elected its president (Mykhailo Hrushevsky), two vice-presidents (Volodymyr Vynnychenko and Serhii Yefremov), and 115 members (out of 150 envisaged in the statutes), who represented gubernias, major cities, the Ukrainian communities of Moscow and Petrograd, and civil, political, and cultural organizations. The legal and political significance of the congress went beyond the anticipated goals; it became, in fact, the constituent forum of the first Ukrainian parliament—the Central Rada.
BIBLIOGRAPHY
Doroshenko, D. Istoriia Ukraïny 1917–1923, 1 (Uzhhorod 1930; repr New York 1954)
Iakovliv, A. 'Ukraïns'kyi Natsional'nyi Kongres 1917,' Tryzub, 1937, nos 17–18
Arkadii Zhukovsky
[This article originally appeared in the Encyclopedia of Ukraine, vol. 1 (1984).]