Doroshenko, Dmytro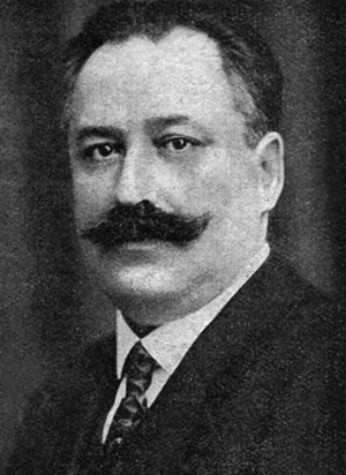 Doroshenko, Dmytro [Дорошенко, Дмитро; Dorošenko], b 8 April 1882 in Vilnius, d 19 March 1951 in Munich. Eminent historian and historiographer and moderate conservative political figure; husband of Nataliia Doroshenko. Doroshenko was descended from an old Cossack hetman, Petro Doroshenko, and Cossack starshyna line in the Chernihiv region. He studied at Warsaw University, Saint Petersburg University, and Kyiv University, from which he graduated in 1909. While in Saint Petersburg, he was the head of the Ukrainian Student Hromada in Saint Petersburg in 1903 and the secretary of the journal Ukrainskii vestnik (Saint Petersburg) in 1906. In Kyiv and Katerynoslav he was active in the local Prosvita society and the Katerynoslav Archival Commission, was the secretary of Ukraïna (1907), and edited the Katerynoslav weekly Dniprovi khvyli in 1910–13. In this period Doroshenko also contributed to various journals, including Literaturno-naukovyi vistnyk, Rada (Kyiv), Ukrainskaia zhizn', and Vestnik vospitaniia. From 1913 he was the secretary and editor at the Ukrainian Scientific Society in Kyiv.
Before the Revolution of 1917 Doroshenko belonged to the Society of Ukrainian Progressives. During the First World War he worked for the Union of Cities (Soiuz Mist), a relief organization in the Russian-occupied parts of Galicia and Bukovyna. After the February Revolution of 1917 he became the Russian Provisional Government's commissioner of Galicia and Bukovyna. Soon after he was elected to the Ukrainian Central Rada. After refusing the nomination to become head of government, he became the Ukrainian commissioner of Chernihiv gubernia. In May–November 1918 Doroshenko was the minister of foreign affairs in the Hetman government of Pavlo Skoropadsky and then went to teach at the Kamianets-Podilskyi Ukrainian State University. In 1919 he emigrated, never to return to Ukraine. He remained an important figure in the émigré Hetmanite movement (see Ukrainian Union of Agrarians-Statists).
As an émigré, Doroshenko held several academic positions: professor of Ukrainian history at the Ukrainian Free University in Vienna, Prague, and Munich (1921–51) and at Charles University in Prague (1926–36); director of the Ukrainian Scientific Institute in Berlin (1926–31); professor of church history in the faculty of Orthodox theology at Warsaw University (1936–9); and professor of Ukrainian history at Saint Andrew's College in Winnipeg (1947–50). From 1923 he was a full member of the Shevchenko Scientific Society. In 1945–51 he was the first president of the Ukrainian Free Academy of Sciences. He belonged to many other learned societies.
Doroshenko is the author of close to 1,000 works on Ukrainian political, cultural, regional, intellectual, literary, and church history, Ukrainian historiography, and Ukrainian cultural and political relations with Western Europe (particularly with Germany). He was the first historian to write a survey of Ukrainian history from the perspective of the development of Ukrainian statehood and a national elite. He was published in Ukrainian, Russian, Polish, German, Czech, Swedish, and English periodicals. Doroshenko's main works are Narys istoriï Ukraïny (A Survey of Ukraine's History, 2 vols, Warsaw 1932–3), translated under the title History of the Ukraine (Edmonton 1939) and later A Survey of Ukrainian History (Winnipeg 1975); Istoriia Ukraïny 1917–1923 rokiv (History of Ukraine 1917–23, 2 vols, Uzhhorod 1930–2, repr New York 1954 [vol 2 was published in English in Winnipeg in 1973]); Ohliad ukraïns'koï istoriohrafiï (Prague 1923), translated under the title A Survey of Ukrainian Historiography (New York 1957, coauthor Oleksander Ohloblyn); monographs on Panteleimon Kulish (1918), Mykola Kostomarov (1924), Viacheslav Lypynsky (1925), Vasyl Horlenko (1934), and Volodymyr Antonovych (1942); brief regional histories of Katerynoslav gubernia (1913), Chernihiv gubernia (1918), Podilia (1919), Galicia (1914), and Transcarpathia (1914); Die Ukraine und das Reich: Neun Jahrhunderte deutsch-ukrainischer Beziehungen (Leipzig 1941; reprinted in 1994 as Die Ukraine und Deuschand); Z istoriï ukraïns'koï politychnoï dumky za chasiv svitovoï viiny (On the History of Ukrainian Political Thought during the World War, Prague 1936); Pravoslavna Tserkva v mynulomu i suchasnomu zhytti ukraïns'koho narodu (The Orthodox Church in the Past and Present Life of the Ukrainian People, Berlin 1940); Slavians'kyi svit v ioho mynulomu i suchasnomu (The Slavic World in Its Past and Present, 3 vols, 1922); brief historical surveys of Ukrainian history for secondary schools (1921, 1923, 1942, 1947, 1957); and Het'man Petro Doroshenko: Ohliad ioho zhyttia i politychnoï diial'nosty (Hetman Petro Doroshenko: A Survey of His Life and Political Activity, 1985). Doroshenko also edited Propamiatna knyha Ukraïns'koho narodnoho domu u Vinnypegu (Commemorative Book of the Ukrainian People's Home in Winnipeg, 1949). His valuable memoirs are titled Moï spomyny pro davnie-mynule (1901–1914 roky) (My Memoirs about the Distant Past, 1901–14, Winnipeg 1949) and Moï spomyny pro nedavnie mynule 1914–1920 (My Memoirs about the Recent Past, 1914–20, 4 vols, Lviv 1923–4).
BIBLIOGRAPHY
Krupnyts'kyi, B. '40-richchia literaturno-naukovoï diial'nosty D.I. Doroshenka,' in Pravoslavna Tserkva v mynulomu i suchasnomu zhytti ukraïns'koho narodu, ed D. Doroshenko (Berlin 1940)
Bibliohrafiia prats' profesora D. Doroshenka za 1899–1942 roky (Prague 1942)
Bilets'kyi, L. Dmytro Doroshenko (Winnipeg 1949)
Ukraïns'kyi litopys, 1 (Augsburg 1953) [a symposium on Doroshenko]
Korovyts'kyi, I. (ed). Lysty Dmytra Doroshenka do Viacheslava Lypyns'koho (Philadelphia 1973)
Vynar, L. Dmytro Doroshenko, 1882–1951 (Munich–New York 1983)
Oleksander Ohloblyn
[This article was updated in 2001.]