Ukrainian Union of Agrarians-Statists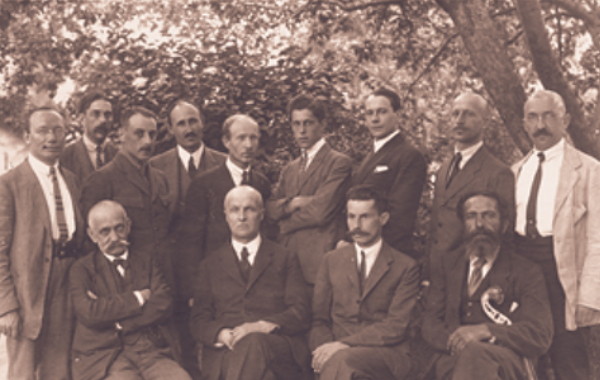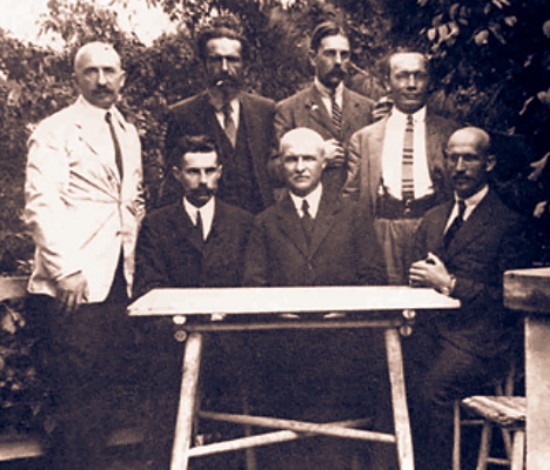 Ukrainian Union of Agrarians-Statists (Ukrainskyi soiuz khliborobiv derzhavnykiv, or USKhD). A conservative émigré monarchist organization founded in Vienna in February 1920 by Viacheslav Lypynsky and Serhii Shemet as the Union of Ukrainian Statehood (Soiuz ukrainskoi derzhavnosty). It was conceived as the body uniting all Ukrainian agrarians as a class in the pursuit of independent Ukrainian statehood, and in December 1920 it was renamed the USKhD and a statute and regulations were adopted. The USKhD consolidated the émigré members of the Ukrainian Democratic Agrarian party and other supporters of Hetman Pavlo Skoropadsky. Lypynsky served as chairman of the Council of Jurors (Rada prysiazhnykh), the USKhD supreme council. A. Bilopolsky, Dmytro Doroshenko, Borys Homzyn, Ivan Mirchuk, M. Kochubei, Volodymyr Korostovets, S. Krylach (pseudonym of L. Sidletsky), Vasyl Kuchabsky, Osyp Nazaruk, Oleksander Shapoval, Oleksander Skoropys-Yoltukhovsky, M. Tymofiiv, and Volodymyr R. Zalozetsky-Sas were other leading USKhD members. Lypynsky edited the USKhD organ, Khliborobs'ka Ukraïna (1920–5), and serialized therein his 'Lysty do brativ-khliborobiv' (Letters to [My] Brothers Agrarians, published separately 1926), a 630-page discourse that served as the foundation of the USKhD ideology. It elaborated the idea of an independent, 'classocratic' (as opposed to democratic), pan-Ukrainian 'toilers' monarchy' without political parties, ruled by Pavlo Skoropadsky (the embodiment of national unity) and his dynasty with the help of an agrarian aristocracy and the co-operation of the productive classes. Fraternal organizations of the USKhD were founded in Poland (the Union of Agrarians of Ukraine [est 1921], headed by M. Khanenko), Romania (the Union of Ukrainian Agrarians in Bucharest [est 1921], headed by P. Novitsky), Germany, Czechoslovakia, Bulgaria, Yugoslavia, Estonia (1921, headed by V. Pototsky), and North America (see Sich societies). At their joint June 1922 congress the Central Administration of United Ukrainian Agrarian Organizations, headed by Shemet, was appointed by Skoropadsky to assist him in Wannsee, near Berlin.
The USKhD prepared itself to take power in Ukraine after the collapse of Soviet rule, which it believed to be inevitable. It was hostile to the Government-in-exile of the Ukrainian National Republic and did not co-operate with that body's supporters. Because of political disagreements with Pavlo Skoropadsky and his supporters in the Council of Jurors, in September 1930 Viacheslav Lypynsky announced the liquidation of the USKhD and founded in its place the short-lived Brotherhood of Ukrainian Classocrats-Monarchists Hetmanites (Bratstvo ukrainskykh kliasokrativ-monarkhistiv hetmantsiv). The majority of USKhD members disagreed with Lypynsky's actions, however, and after his death in 1931 the Council of Jurors revived the USKhD and elected Y. Melnyk the leader. Internal conflicts did not disappear, however, and the USKhD was formally dissolved without Pavlo Skoropadsky's participation at a meeting of the Council of Jurors in Warsaw on 16 July 1937. It was replaced in September 1937 by the Union of Hetmanites-Statists. A fraternal North American organization by that name had been founded in 1934 and was called in English the United Hetman Organization.
Roman Senkus
[This article originally appeared in the Encyclopedia of Ukraine, vol. 5 (1993).]