Vilnius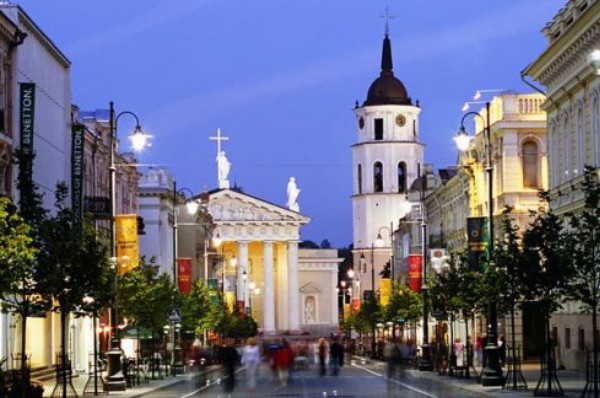 Vilnius [Ukrainian: Вільна (Vilna); Polish: Wilno]. The capital (2011 pop 538,737) of Lithuania, situated at the confluence of the Vilnia and the Neris rivers. Vilnius was founded in the 13th century and became the capital of the Grand Duchy of Lithuania in 1323. From 1795 to 1915 it was a gubernia center in the Russian Empire. From 1920 to 1939 it was occupied by Poland, and from 1940 to 1991 it was the capital of the Lithuanian Soviet Socialist Republic. In 1991 Vilnius became the capital of independent Lithuania.
In the 16th and early 17th centuries Vilnius was a major center of Ruthenian (Ukrainian and Belarusian) and Polish cultural and religious life. It was the cradle of Ruthenian printing: Frantsisk Skoryna established a press there ca 1520. P. Mstsislavets produced an edition of the four Gospels (1575) and a psalter (1576) there. His press was later taken over by the Mamonich brothers. The works of the Orthodox polemicist Stepan Zyzanii, Lavrentii Zyzanii's Slavonic grammar (1596), and Meletii Smotrytsky's Threnos (1610) were also published there.
In the late 16th century there were 14 Catholic and 9 Orthodox churches and monasteries in Vilnius. The most famous was the Holy Spirit Monastery (est 1584, founded by the Vilnius Brotherhood), which received the right of stauropegion in 1588 from Patriarch Jeremiah. Sylvestr Kosiv, Kyrylo Stavrovetsky-Tranquillon, and Isaia Kozlovsky-Trofymovych studied at the Vilnius Brotherhood school attached to the monastery, and Meletii Smotrytsky taught there. Yosafat Kuntsevych was a monk and archimandrite at the Basilian monastery in Vilnius. The Jesuit college in Vilnius also attracted many Ukrainians. Piotr Skarga was its rector in 1574–9 and became the rector of its successor, the Vilnius Academy.
In 1829–30 Taras Shevchenko lived in Vilnius. In 1986 a statue of him was erected on the campus of Vilnius University. In the 1920s, under Polish rule, over 200 Western Ukrainian students studied at Vilnius University and were active in a Ukrainian student hromada there, which frequently collaborated with Belarusian students in Vilnius. Until 1939 Vilnius was a major Eastern European studies center. The collections of documents published by the Vilnius Archeographic Commission (39 vols, 1865–1915) are a valuable source for the study of Ukrainian history, as are materials preserved in Vilnius's museums, libraries, and archives (particularly of the monasteries).
In 1989 some 13,000 Ukrainians lived in Vilnius. There they founded the main branch of the Hromada of Ukrainians of Lithuania in December 1988. The Vilnius branch runs an amateur choir and a Sunday school (est 1989) that provides lessons in Ukrainian and Lithuanian history and in the Ukrainian language. It also publishes the Hromada bulletin Prolisok, which contains articles on Ukrainian history, culture, and literature and on current events. The branch organizes lectures by speakers and performances by actors and singers from Ukraine. A Ukrainian program is broadcast monthly by Lithuanian state radio and TV in Vilnius.
BIBLIOGRAPHY
Kraszewski, J. Wilno od początków jego do roku 1750, vol 4 (Vilnius 1842)
Milovidov, A. Opisanie staropechatnykh knig Vilenskoi publichnoi biblioteki (Vilnius 1908)
Hrushevs'kyi, M. Kul'turno-natsional'nyi rukh na Ukraïni v XVI–XVII vitsi (Lviv and Kyiv 1912, 1919)
Šapoka, A. Vilnius in the Life of Lithuania (Toronto 1962)
Jurginis, J.; Merkys, V.; Tautavičius, A. Vilniaus miesto istorija (Vilnius 1968)
Arkadii Zhukovsky
[This article originally appeared in the Encyclopedia of Ukraine, vol. 5 (1993).]