Andiievska, Emma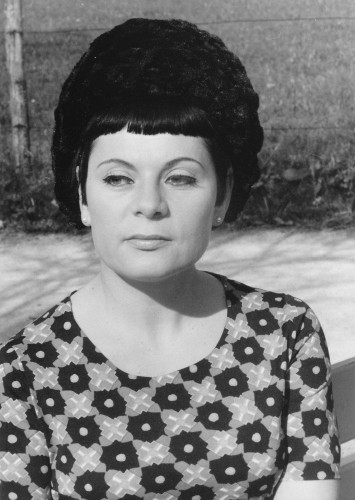 Andiievska, Emma [Андієвська, Емма; Andijevs'ka] (Andijewska), b 19 March 1931 in Staline (now Donetsk). Poetess, prose writer, and painter; wife of Ivan Koshelivets. Having left Ukraine in 1943, she at first lived in Germany (where she completed her higher education), then in France and the United States, and now again lives in Germany. Andiievska's work is highly original. To date she has published nearly thirty collections of poetry, including Poeziï (Poems, 1951), Narodzhennia idola (Birth of the Idol, 1958), Ryba i rozmir (Fish and Dimension, 1961), Kuty opostin' (Corners on Both Sides of the Wall, 1963), Pervni (Elements, 1964), Bazar (Bazaar, 1967), Pisni bez tekstu (Songs without a Text, 1968), Nauka pro zemliu (Science of the Earth, 1975), Kavarnia (Café, 1983), Spokusy sviatoho Antoniia (Temptetions of Saint Anthony, 1985) Vigilii (Vigils, 1987), Arkhitekturni ansambli (Architectural Ensambles, 1989), Znaky. Tarok (Signs. Tarot, 1995), Atraktsiony z orbitamy i bez (Attractions of the Fair with Orbits and without, 2000), Villy nad morem (Villas on the Sea, 2000), Khvyli (Waves, 2002), Khid konem (Move of the Knight, 2004), Pohliad z kruchi (View from the Cliff, 2006), Rozhevi kazany (Pink Cauldrons, 2007), Ful'guryty (Fulgurites, 2008), Idylii (Idyls, 2009), Mirazhi (Mirages, 2009), Mutanty (Mutants, 2010), Lamani koany (Broken Koans, 2011), Mista-valety (Cities-Jacks, 2012), and Bezdzygarnyi chas (Clockless Time, 2013). Initially associated with the New York Group of poets, Andiievska later distanced herself from the group. She published five collections of short prose: Podorozh (Journey, 1955; end ed 1994), Tyhry (Tigers, 1962), Dzhalapita (1962), Kazky (Fairy Tales, 2000), and Problem holovy (The Problem of the Head, 2000); and three novels: Herostraty (Herostrati, 1970), Roman pro dobru liudynu (A Novel about a Good Person, 1973), and Roman pro liuds'ke pryznachennia (A Novel about Human Destiny, 1982). A publication of the 10-volume edition of Andiievska's collected works was initiated in Ukraine in 2004; five volumes have been published so far. Books of her poetry were also published in translation into German and Hebrew.
The reaction of literary critics to Andiievska's works has been mixed and even contradictory. Very highly praised by such literary scholars as Volodymyr Derzhavyn, Emmanuel Rais, Danylo Husar Struk, or Marko Robert Stech, she was harshly criticised by others who attacked her work for its incomprehensibility. The hermeticism of her poetry (in particular, her complex and non-traditional sonnets with consonant rhymes) and the self-imposed and strictly adhered-to structural constraints of her prose do not lend themselves to easy comprehension. Andiievska's poetic world consists of surrealistic landscapes rooted in real descriptions of nature, which the poet views from various dimensions and to which she provides exquisite instrumentation. The multidimensional imagery produces an effect of simultaneity of events, coinciding with the notion of 'round time,' whose laws govern the multiepisodic but monolinear (chainlike) novels. Andiievska's poetry is often meditative and metaphysical in its imagery, exhibiting elements of surrealism and affinity to Far Eastern philosophical doctrines, such as Zen Buddhism.
Andiievska began to draw and paint in childhood and her first solo exhibition took place in 1956 in Munich. Since that time she had numerous exhibitions in the United States, Canada, Ukraine, and Western Europe, particularly in Germany. She is a very prolific painter of large, brightly colourful compositions depicting what seems to be surrealist landscapes populated with otherwordly creatures. Several albums of her paintings, including exhibition catalogues, have been published.
Danylo Husar Struk, Marko Robert Stech
[This article was updated in 2014.]