Andrukhovych, Yuri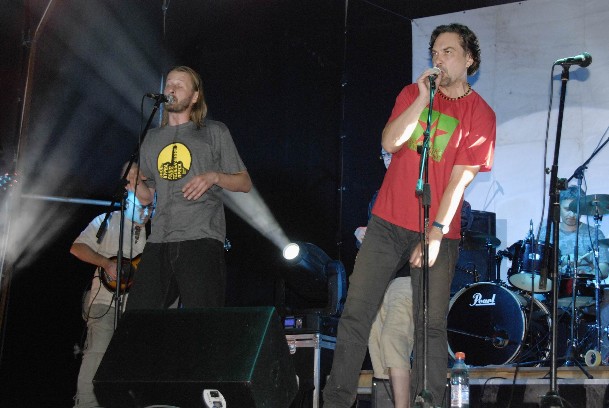 Andrukhovych, Yuri [Андрухович, Юрій; Andruxovyč, Jurij], b 13 March 1960 in Stanislav (now Ivano-Frankivsk). Poet, writer, essayist, translator, and literary critic. In 1982 Andrukhovych graduated from the editorial department of the Ukrainian Printing Institute in Lviv. Subsequently, he completed higher literature courses at the Maxim Gorky Literature Institute in Moscow in 1991 and, in 1994, he defended a dissertation on the poetry of Bohdan Ihor Antonych at Ivano-Frankivsk Subcarpathian National University.
Andrukhovych became widely known in the mid 1980s as a member of the Bu-Ba-Bu [burlesk–balahan–bufonada; burlesque–farce–buffoonery] group of poets which he co-founded in 1985 together with Viktor Neborak and Oleksandr Irvanets. The three poets pursued the collective objectives of infusing Ukrainian literature with the rebellious carnival spirit that would undermine not only the official doctrine of socialist realism, but any form of dogmatic seriousness of poetry, including the Ukrainian patriotic canon, and which would redefine a traditional Ukrainian and Soviet notions of a writer's role in society. From the time of the group's inception, Bu-Ba-Bu poetry was closely intertwined with performance and was often presented during theatricalized collective readings. Programmatically urban, experimental and non-conformist, this poetry addressed controversial social and political themes and was recited in a lively theatrical fashion which contributed to a wide popularity of Bu-Ba-Bu public readings, particularly among university students and urban intelligentsia. The grandest of such performances was the staging of the 'poetic opera' Chrysler Imperial in the Lviv Theater of Opera and Ballet in the autumn of 1992.
Andrukhovych's poems of his Bu-Ba-Bu period were published in the collections Nebo i ploshchi (The Sky and City Squares, 1985), Seredmistia (Downtown, 1989), and Ekzotychni ptakhy i roslyny (Exotic Birds and Plants, 1991). He ceased writing poetry in the 1990s and returned to it only in the 2000s, publishing a collection Pisni dlia mertvoho pivnia (Songs for the Dead Rooster, 2004). Several of his poems were put to music by such Ukrainian rock and pop bands as Mertvyi piven' (The Dead Rooster) and Plach Ieremii (Jeremiah's Lament) and by the Polish group Karbido with whom Andrukhovych recorded two CDs 'Samohon' (Moonshine) and 'Tsynamon' (Cinnamon).
In the late 1980s Andrukhovych began to write prose, starting with realist short stories that drew upon his experiences as a conscript in the Soviet Army. These stories later served as a basis for his screenplay, co-authored with Andrii Donchyk, to the feature film Oxygen Starvation (1992). However, his reputation as a prose writer (and, for some readers, his notoriety) was established after the publication of his three short novels Rekreatsii (Recreations, 1992; the English edition 1998), Moskoviada (The Moscoviad, 1993; the English edition 2008), and Perverziia (Perversion, 1996; published in English as Perverzion in 2005), which are often considered to be leading examples of the Ukrainian literary postmodernism. These works and Andrukhovych's cultural activities in Ivano-Frankivsk (including his compilation, together with Volodymyr Yeshkiliiev, of Mala entsyklopediia aktual'noi ukraïns'koï literatury [Small Encyclopedia of Current Ukrainian Literature, 1996]) had a considerable influence on the formation and development of the so-called 'Stanislav Phenomenon' in the Ukrainian literature of the 1990s. His original trilogy of novels were subsequently followed by Dvanatsiat' obruchiv (Twelve Rings, 2003), which gained notoriety due to its controversial portrayal of the poet Bohdan Ihor Antonych, and the autobiographical Taiemnytsia. Zamist' romanu (The Secret: Instead of a Novel, 2007).
In his essays, which he began to publish in the mid 1990s, Andrukhovych often draws upon his travels in central and eastern Europe to muse over the peculiarities of Europe's past and current cultural landscapes, focusing much of his attention on the eastern regions of the former Austro-Hungarian Empire, most notably, his native Galicia. His collections of essays include Dezorientatsiia na mistsevosti (Disorientation on Location, 1999), Dyiavol khovaiet'sia v syri (The Devil is Hiding in the Cheese, 2006), and Moia Evropa (My Europe, 2001) which he co-authored with the Polish writer Andrzej Stasiuk.
Andrukhovych's most important achievements in the field of literary translation include his Ukrainian rendering of William Shakespeare's Hamlet (published in 2008), the anthology Den' smerty pani Den' (The Day Lady Day Died, 2006) of the American Beat Generation poetry, and his translations from German (Reiner Maria Rilke), Polish (Tadeusz Konwicki), and Russian (Boris Pasternak).
Marko Robert Stech
[This article was updated in 2010.]