Barka, Vasyl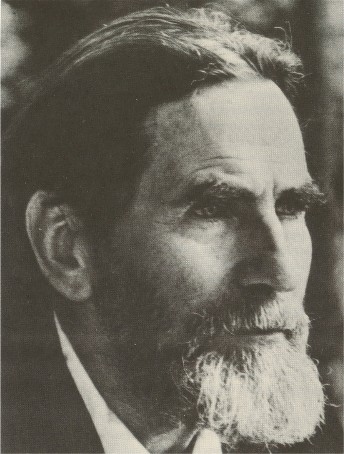 Barka, Vasyl [Барка, Василь] (pseud of Vasyl Ocheret [Василь Очерет], aka Ivan Vershyna [Іван Вершина]), b 16 July 1908 in the village of Solonytsia near Lubny, Poltava gubernia, d 11 April 2003 in Liberty, New York State. Poet, writer, literary critic, translator. An émigré from 1943, he lived in Germany, where he was active in the MUR literary association, before settling in the United States of America in 1949.
Barka's orphic works require intuitive rather than logical comprehension. Drawing on the early works of Pavlo Tychyna for his pantheistic descriptions of nature and for his folkish idiom, he derived his originality from extreme abstraction, intensified metaphor, and a unique revitalization of accepted folk imagery through sudden and unexpected juxtapositions. Barka's poetry developed and grew in stature, from the early lyrical collections Shliakhy (Pathways, 1930), Tsekhy (Guilds, 1932), Apostoly (Apostles, 1946), and Bilyi svit (The White World, 1947), through a biblically inspired intensification in Troiandnyi roman (The Rose Novel, 1957) and Psalom holubynoho polia (The Psalm of the Dovelike Field, 1958) and the syncretic Okean (Ocean, 1959, 1979, 1992), to the monumental 4,000-strophe epic novel in verse Svidok dlia sontsia shestykrylykh (The Witness for the Sun of Seraphims, 1981), addressed to the theme of reconciliation between 'man and the Creator.' The monumental poetic works he wrote in the 1980s were published in Ukraine in the 1990s: the epic poem Sudnyi step (Steppe of Judgement, 1992) and the drama in verse Kavkaz (Caucasus, 2 vols., 1993). A collection of his selected poems, Lirnyk (Lyrist), was published in 1968 and in an expanded edition in 1992.
Barka's prose is marked by lyrical and folkish idiom with a rather static narrative flow. His first novel, Rai (Paradise, 1953), deals with the Soviet 'paradise'; a revised and expanded version was published in Ukraine as Dushi edemitiv (The Edemites' Souls, 1994). His second novel, Zhovtyi kniaz' (The Yellow Prince, 1962, 1968), about the Famine-Genocide of 1932–3, was translated into French (Le prince jaune, Paris 1981) and served as the basis for Oles Yanchuk's 1991 Ukrainian feature film Holod-33 (Famine-33). His third and last novel Spokutnyk i kliuchi zemli (The Penitent and the Keys to the Earth, 1992) was published in 1992 in Kyiv.
Barka's Ukrainian translation of William Shakespeare's King Lear appeared in 1969, and his translation of fragments of Dante's Divine Comedy were published in 1979. His literary criticism consists of the weighty essays Khliborobs'kyi orfei abo kliarnetyzm (The Agrarian Orpheus or Clarinetism, 1961) and Pravda Kobzaria (The Kobzar's Truth, 1961), and of three collections, Zhaivoronkovi dzherela (The Sources of the Lark, 1956), Tvorchist' (Creativity, 1968), and Zemlia sadivnychykh (Earth of the Gardeners, 1977). A collection of Barka's essays on religious matters, Vershnyk neba (The Horseman of Heaven), was published in 1965. An issue of Terem (6 [1979]) was dedicated to Barka's literary work.
Marko Robert Stech, Danylo Husar Struk
[This article was updated in 2008.]