Bohdan and Varvara Khanenko National Museum of Arts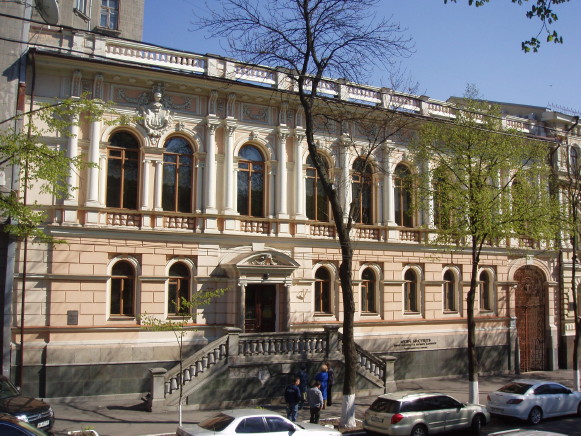 Bohdan and Varvara Khanenko National Museum of Arts (Національний музей мистецтв імені Богдана та Варвари Ханенків; Natsionalnyi muzei mystetstv imeni Bohdana i Varvary Khanenkiv). A state collection of art works from Western Europe and the Orient. Known for many decades as Kyiv Museum of Western and Eastern Art, it assumed its current name in the 1990s. The museum was founded in 1919 on the basis of Varvara and Bohdan Khanenko's private collection, which originated in 1870 and was donated in 1919 to the All-Ukrainian Academy of Sciences by Varvara Khanenko. Its holdings grew in 1925–6 as other collections, particularly Vasyl Shchavynsky's collection of about 200 paintings (mostly by Flemish masters), were donated, and in 1928–40 as collections from other Kyiv and Leningrad museums were transferred to this depository. By the 1930s its collection, which at first numbered 1,200 exhibits, reached 6,500 artworks and 33,000 prints.
The museum has three sections: ancient, West European, and Eastern art. The exhibits include ancient Greek art, Roman art, and Byzantine art; paintings and sculptures by Italian masters such as P. Perugino, G. Bellini, A. Magnasco, F. Guardi, and J. Donatello; and the works of Spanish artists such as D. Velázquez, J. Zurbarán, and F. Goya; of Flemish masters such as P. Brueghel the Elder, F. Hals, P. Rubens, and J. Jordaens; and of French painters such as J. David, J. Greuze, and F. Boucher. The Eastern collection contains sculptures and drawings from ancient Egypt, Syria, Iran, Turkey, Central Asia, Caucasia, India, Nepal, Tibet, Mongolia, Thailand, Japan, China, and Indonesia. The museum is housed in a building built for the Khanenko family by R. Meltser in the 1880s.
Sofiia Yaniv
[This article was updated in 2013.]