Carpathian National Nature Park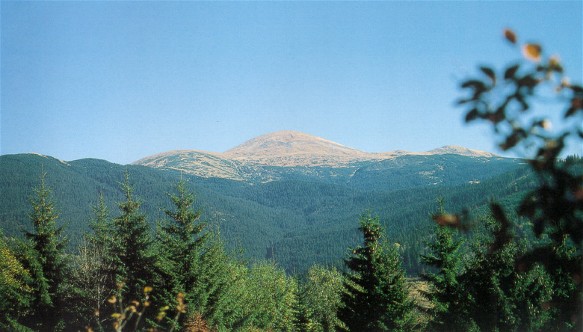 Carpathian National Nature Park [Карпатський національний природний парк; Karpatskyi natsionalnyi pryrodnyi park]. Ukraine's first national park, established in 1980 on an area of 50,303 ha with the aim of preserving the ecosystem as well as historical, architectural, and ethnographical monuments in the Chornohora and Gorgany Mountains. One of the Carpathian protected areas, the park stretches along the eastern slopes of the Ukrainian Carpathian Mountains at altitudes ranging from 500 to 2,061 m and is located in Ivano-Frankivsk oblast. It borders on the Carpathian Bioshepre Reserve with which it shares Ukraine's highest peak, Hoverlia (2,061 m). Chornohora's largest lakes—Nesamovyte and Maricheika—as well as numerous glacial peat bogs are located on the park's territory in the upper reaches of the Prut River and Chornyi Cheremosh River.
One of the distinctive features of the Carpathian National Nature Park are relict patches of Scots pine, Swiss stone pine, and European white birch—the largest in the Ukrainian Carpathians. More than 1,100 vascular plant species, 75 of which are listed in Ukraine's Red Data Book of endangered plants and 35 of which are endemic to the region, have been registered in the park. Such plants as alpine rose, the Carpathian crocus, wolf's bane, and many others form picturesque alpine meadows and uplands of the national park. The local fauna includes 48 mammals, 110 birds, 11 fish, 10 amphibians, and 6 reptile species. 32 of these species, including brown bear, wolf, otter, and Eurasian lynx, are listed in the IUCN and Ukraine's Red Data Books of endangered species. Among animals commonly encountered in the Carpathian National Nature Park one finds Carpathian deer, European roe deer, wild boar, wood cat, Carpathian squirrel, and musk rat. The park's bird population boasts of such rare species as golden eagle, peregrine falcon, saker, hasel, black grouse, and several types of owls. Amphibians and reptiles living in the national park include spotted salamander, yellow-bellied toad, as well as Alpine, Carpathian, and common newts.
BIBLIOGRAPHY
Stoiko, S. et al (eds). Zapovidni ekosystemy Karpat (Lviv 1991)
Krichfalushi, V. 'Zapovidni terytorii Ukraïns'kykh Karpat,' in Karpova, H. et al (eds). Pryroda Karpats'koho rehionu Ukraïny (Kyiv 1999)
Volodymyr Kricsfalusy
[This article was updated in 2008]