Donetsk National Medical University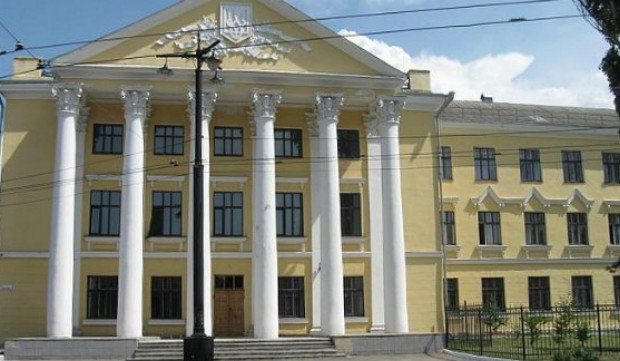 Donetsk National Medical University [Донецький національний медичний університет; Donetskyi natsionalnyi medychnyi universytet]. An institution of higher learning established in Donetsk, currently based primarily in Kramatorsk, Donetsk oblast. It was originally formed in 1930 as Stalino Medical Institute and became the fifth medical institute in Soviet Ukraine, alongside Kyiv Medical Institute, Odesa Medical Institute, Kharkiv Medical Institute, and Dnipropetrovsk Medical Institute. Initially it consisted of the following faculties: social sciences, biology, anatomy, histology, physiology, physics, and chemistry. A number of early faculty members were invited from Odesa, Kyiv, and Kharkiv. In the fall of 1930 the institute opened its doors to the first few hundred students. In 1939–40 two more faculties were added: pediatrics and sanitary-hygienic. The student enrollment reached 2,000. During the Second World War twelve professors and 600 of its graduates and students fought with the Red Army against Nazi Germany. Unlike most other institutions of higher learning in Nazi-occupied Soviet Ukraine, Stalino Medical Institute was not evacuated from the city and remained closed between 1941 and 1943.
In December 1943 the institute reopened its doors to students. The second medical faculty (of evening education) was added in 1956, followed by the faculty of physicians' advance training in 1961 and dentistry in 1963. A new dormitory for 700 students was built in 1959. In 1961 Stalino Medical Institute was renamed Donetsk Medical Institute. In the 1970s and 1980s the institute acquired new teaching facilities, including the six-story building of the sanitary-hygienic faculty, a new home for the faculty of dentistry, and an athletic center. It also benefitted from a growing network of municipal hospitals and clinics in Donetsk where students could undergo practical training. By this time, Donetsk Medical Institute had grown into a third largest medical institute in the Soviet Union (after two medical institutes in Moscow). In the 1980s the student enrollment increased to 6,000. In 1990, the International Learning Center opened its doors to foreign students. In 1994 Donetsk Medical Institute was reorganized into a university, and in 2007 it was awarded a national university status and assumed its current name.
With the beginning of the Russo-Ukrainian Donbas war in 2014 the Donetsk National Medical University (DonNMU) relocated to Kramatorsk, while some faculties and facilities were transferred to Kropyvnytskyi, Lyman, Sloviansk, and Mariupol. Those faculty members who remained in the Russian-occupied Donetsk continue to work at the local medical university that is recognized only by the Russian Federation. Still others relocated to Ukraine's other institutions of medical education. As of 2020 DonNMU consists of seven faculties: three medical, international medical, dentistry, pharmaceutics, and internship and continuous education. In addition, it operates the Research Center for Traumatic Surgery and Orthopedics and Lyman Medical College. It publishes 7 medical periodicals, among them Ukraїns'kyi zhurnal khirurhiї (32 nos, 2008–17), Zdorov'ia dytyny/Child's Health (15 vols, 2006–), Arkhiv oftal'molohiї Ukraїny (8 vols, 2013–) and Mizhnarodnyi nevrolohichnyi zhurnal/International Neurological Journal (16 vols, 116 nos, 2005–). DonNMU has managed to retain its place among Ukraine's best colleges and universities. In 2020 it was ranked 25 among 240 colleges and universities in the Consolidated Ranking of Ukraine's colleges and universities conducted by the educational web portal Osvita.ua. It was also ranked 9 among Ukraine's top 10 medical schools.
BIBLIOGRAPHY
DonNMU official website: https://dnmu.edu.ua/istoriya-dnmu/
Serhiy Bilenky
[This article was written in 2020.]