Kropyvnytskyi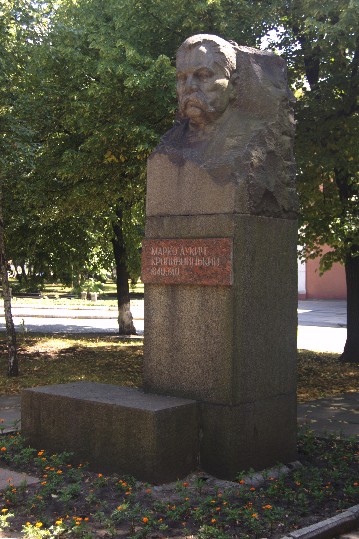 Kropyvnytskyi (Кропивницький). Map: V-13. City and oblast capital (2016 pop 231,089) in the southeastern Dnipro Upland on the Inhul River. It is divided into two city raions. Some of its former names were Yelysavethrad (1775–1924) and Kirovohrad (1939–2016).
The city was founded in 1754 on Zaporozhian Cossack territory as the Saint Elizabeth Fortress, which was built to protect the Russian Empire's southern frontier and the Balkan colonists of New Serbia from raids of Turks and Crimean Tatars. During the Russo-Turkish War of 1768–74 the fortress was the operational base of the Russian army. In 1775 the town that grew up around the fortress was named Yelysavethrad; it had a population of 4,750 in 1787 and 9,300 in 1823. The town became a county center in New Russia gubernia (1764–83, 1797–1801), Katerynoslav vicegerency and Voznesensk vicegerency (1784–97), and Kherson gubernia (1802–28, 1865–1925). Until the First World War it was an important center of trade in grain, wool, lard, flour, timber, cattle, and horses, much of which was exported via Odesa and Mykolaiv.
From 1828 to 1860 Yelysavethrad was a major garrison city under strict martial law and the center of military settlements in Southern Ukraine. During that time it declined economically. It experienced growth only after a railway link was established with Odesa, Mykolaiv, Kremenchuk, and Fastiv in the late 1860s and the British-owned Ellworthy agricultural-machinery plant was founded in 1874. By the 1890s there were eight such plants; they employed 58 percent of the city's workers. Many flour mills and distilleries were located in the city, and each year it was visited by thousands of migrant workers seeking work during the harvest in Southern Ukraine. Its population grew from 15,000 in 1850 to 23,700 in 1861 and 61,500 in 1897 despite recurrent fires, river floods, and epidemics. Until the late 19th century public utilities were sorely lacking. There were few elementary schools (only 12 in the 1890s); consequently there was a high illiteracy rate. A waterworks was built only in 1892, an electric tramway in 1897, and a power station in 1908. The first newspaper in the city, Elizavetgradskii gorodskoi listok, was published in 1874–6. Others followed: Elizavetgradskii vestnik (1876–mid-1890s), Vedomosti Elizavetgradskago gorodskago upravleniia (1892–1917), Golos iuga (1905–14), and several short-lived papers. There were few physicians and public health care was poor; between 1902 and 1912 the mortality rate from infectious diseases was 21–29 percent of the population in general and 51 percent of the non-adult population.
From the 1870s the city was a regional center of cultural and revolutionary activity. Ukrainian theatrical productions were performed on an ongoing basis; such prominent figures as Ivan Karpenko-Kary, Mykola Sadovsky, Panas Saksahansky, Marko Kropyvnytsky, Mariia Zankovetska, and Petro Nishchynsky were instrumental in their mounting. Populist and, later, Marxist cells sprang up; their members were instrumental in educating and politicizing the local population. From the late 19th century, workers' unrest was a recurring phenomenon. In 1913 the city had 64 factories employing 4,300 workers; 2,300 of them worked at the Ellworthy plant, which produced a 10th of the empire's agricultural machines.
The turmoil of the Revolution of 1917 and subsequent strife did not bypass the city. It was occupied by units of the Free Cossacks in 1917 and by the Sich Riflemen in 1918. Prolonged fighting took place there between the insurgent forces of Otaman Nykyfor Hryhoriv and the Red Army in spring 1919. After Soviet rule was established the population declined from 77,100 in 1920 to 50,300 in 1923; it then grew to 66,500 by 1926, of which 44.5 percent was Ukrainian, 27.6 percent was Jewish, and 25 percent was Russian. By 1925 the city and its industries had been rebuilt. It was renamed Zinovivske in 1924, Kirove in 1934, and Kirovohrad in 1939. It was an okruha center from 1923 and a raion center from 1930. Industrial growth intensified in the 1930s, and the population grew to 100,000 by 1939. In 1939 the city became the capital of a new Kirovohrad oblast. From August 1941 to January 1944 it was occupied by the German army. Much of its population fled, but much of it was also killed, and the city's buildings and industries were largely destroyed. Postwar reconstruction ended in late 1948, after which industrial expansion occurred.
In the postwar period Kirovohrad has been an important industrial city. Its output consists of agricultural machines (40 percent of all USSR seeders in the 1960s; see Kirovohrad Agricultural Machines Plant), tractor parts, radio components, typewriters, food products, pig iron, filtering kieselguhr, clothing, footwear, furniture, and building materials. Its population has grown steadily, reaching 132,000 in 1959 (75 percent Ukrainian, 19 percent Russian), 189,000 in 1970, and 266,000 in 1986. In 2016 the city was renamed in honor of the dramatist and theater director Marko Kropyvnytsky. Today Kropyvnytskyi has 42 secondary-specialized schools, including 15 vocational-technical schools, and 6 post-secondary schools, including Kirovohrad State Pedagogical University, Central Ukrainian National Technical University, and State Civil-Aviation Academy of Ukraine—in the city. Several institutes that plan and design agricultural machines and tractors, the Kirovohrad Academic Ukrainian Music and Drama Theater, a puppet theater, an oblast philharmonic, and several museums, including the Kirovohrad Regional Studies Museum and Kirovohrad Oblast Art Museum, are also located there. Buildings and walls of the fortress, the Cathedral of the Nativity of the Mother of God (aka the Greek church) (1812), the Transfiguration Cathedral (1813), the Church of the Holy Protectress (1850s), the Great Choral Synagogue (1853), and several 19th-century buildings have been preserved.
BIBLIOGRAPHY
Pashutin, A. Istoricheskii ocherk g. Elisavetgrada (Yelysavethrad 1897)
Hvozdets'kyi, V. Kirovohrad (Kyiv 1964)
Syvolap, D.; et al (eds). Istoriia mist i sil Ukraïns'koï RSR: Kirovohrads'ka oblast' (Kyiv 1972)
Misto i liudy: Ielysavethrad – Kirovohrad, 1754–2004: Iliustrovana entsyklopediia (Kirovohrad 2004)
Roman Senkus, Arkadii Zhukovsky
[This article was updated in 2017.]