Historical Society of Nestor the Chronicler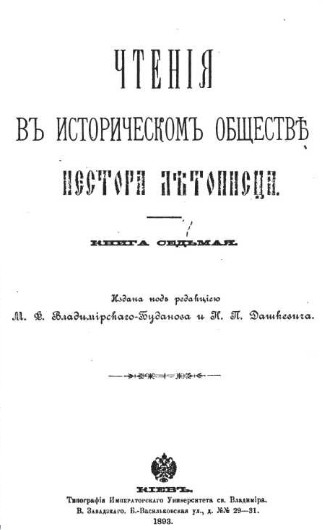 Historical Society of Nestor the Chronicler (Историческое общество Нестора-летописца; Istoricheskoe obshchestvo Nestora-letopistsa). Scholarly society founded in 1873 in Kyiv. Named in honor of Nestor the Chronicler, the first Ukrainian chronicler (11th–12th century), it was affiliated from 1876 with Kyiv University and from 1921 with the All-Ukrainian Academy of Sciences. The society's members researched the archeology and history of Ukraine, particularly the history of law, religion, and literature in Ukraine and Russia, and promoted the development of historical studies, including the auxiliary disciplines. The society organized scholarly colloquiums, and published its members' research in Trudy and in Chteniia v Istoricheskom obshchestve Nestora-letopistsa. The society also maintained a library (1,500 volumes in 1892).
Among those who headed the society were such eminent scholars as Vladimir Ikonnikov, Oleksander Kotliarevsky, Volodymyr Antonovych, Mikhail Vladimirsky-Budanov, Mykola Dashkevych, Oleksander Lazarevsky, Yulian Kulakovsky, and Mykola Vasylenko. In the decade after the Revolution of 1917 the society (by then bearing the Ukrainian name Istorychne tovarystvo Nestora-litopystsia) had 212 active members, and from 1920 to 1928 approximately 300 scholarly papers were presented at its meetings. In the early 1930s the society was abolished by the Soviet government.
BIBLIOGRAPHY
Narizhnyi, S. 'Istorychne Tovarystvo Nestora Litopystsia,' UI, 1975, nos 1–4
[This article originally appeared in the Encyclopedia of Ukraine, vol. 2 (1988).]