Khmelnytskyi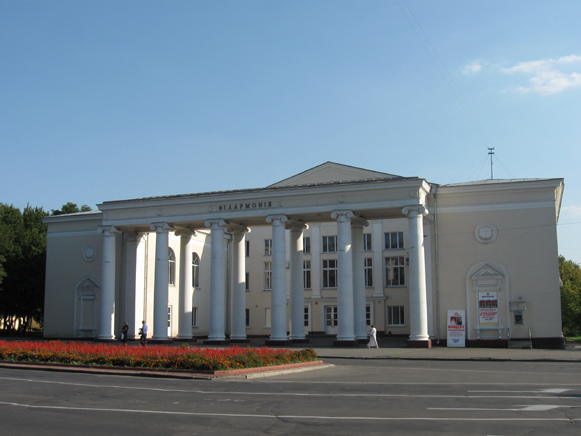 Khmelnytskyi [Хмельницький; Xmel'nyc'kyj]. Map: IV-7. City (2010 pop 261,654), the capital of Khmelnytskyi oblast. Until 1954 it was called Proskuriv, when it was renamed to honor Hetman Bohdan Khmelnytsky. First mentioned as the Polish royal outpost of Ploskyriv (Polish: Płoskirów) in 1493, it was fortified in the 16th century. Its inhabitants took part in the Cossack-Polish War and in the haidamaka uprisings. In 1780 the town was renamed Proskuriv. In 1793 it came under Russian rule and became a county center (from 1797 in Podilia gubernia).
From 1917 to November 1920 Proskuriv was controlled much of the time by the Ukrainian National Republic. Under Soviet rule from 1920, it became an okruha center (1923–30, 1935–7) and then an oblast capital (in 1941 and 1944–54 of Kamianets-Podilskyi oblast). The Second World War brought about radical changes in the national composition of its population: the Ukrainians rose from 39 percent in 1926 to 53 in 1959, and Russians from 7 to 21 percent, while Jews fell from 42 to 10 percent, and Poles from 10 to 7 percent.
Until the Soviet period the city's economy was based on sugar refining, grain markets, and cottage industries. Today Khmelnytskyi is a rail junction and an important industrial center. The most important branches of industry include chemical industry, petrochemical industry, machine-building industry, food-processing industry, and construction industry. The city's enterprises produce various machines, transformers and substations, thermo plastics machinery, auto and tractor parts, metal-stamping and pressing equipment, dairy, sugar, and meat products, furniture, footwear, clothing, leather goods, chemical products, reinforced-concrete products, and bricks.
Located in the city are the Khmelnytskyi National University, Khmelnytskyi University of Economics, Khmelnytskyi University of Law and Administration, and other higher-education institutions as well as several specialized secondary schools; a regional studies museum (est 1925); the Khmelnytskyi Oblast Ukrainian Music and Drama Theater, a puppet theater, and a philharmonic orchestra.
BIBLIOGRAPHY
Humeniuk, S. Svidky istorychnykh podii: Rozpovid' propam'iatni mistsia m. Khmel'nyts'koho (Lviv 1970)
Istoriia mist i sil Ukraïns'koï RSR. Khmel'nyts'ka oblast' (Kyiv 1971)
Petrov, M.; Iakobiuk, O. Ploskyriv – starovynne mistechko Podilia XV–XVIII st. (Kamianets-Podilskyi 2004)
V. Kubijovyč
[This article was updated in 2010.]