Khreshchatyk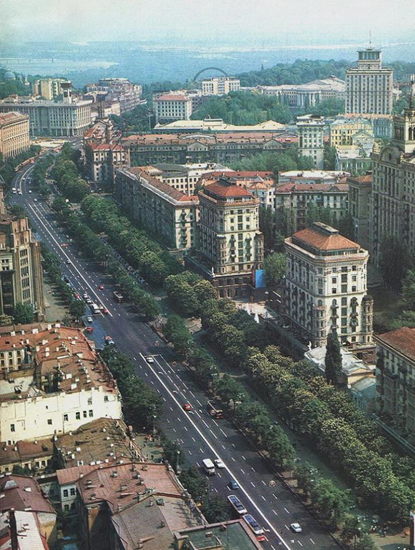 Khreshchatyk [Хрещатик; Xreščatyk]. The name of Kyiv's main thoroughfare. Important administrative, economic, commercial, cultural, and educational institutions are located there. It runs through the center of the city from the European Square and the Volodymyr Slope to Bessarabian Square and Shevchenko Boulevard; its overall length is 1.2 km. When the street was built, it replaced a forested valley (called Khreshchata Valley in the 17th century) with a stream flowing through it. The valley was used as a game preserve by the Kyivan Rus' princes. In the early 18th century a road from the Podil to the Pechersk district ran along the valley.
Construction of the first dwellings began in 1797. Most of the early buildings were one-story wooden houses. The city's development plan of 1837 determined the present course and length of Khreshchatyk. From the 1870s on mostly three-story stone structures with apartments, hotels, shops, government offices, banks, and theaters were built, predominantly in the eclectic or modern style. In 1876 the hall of the city duma was erected, and in 1892 the first electric tramline in the Russian Empire was installed, linking the street with the Podil district. By the beginning of the 20th century the street had become an important commercial center. In 1910 the first covered market in Ukraine was built on Bessarabian Square. In 1935 the street was paved with asphalt and the tramline was replaced by a trolleybus line. From 1936 to 1941 the street was radically reconstructed and built up. During the Second World War while the Soviets retreated from the advancing German army, Khreshchatyk was mined by the Soviet Army and most buildings destroyed (1941).
After the war Khreshchatyk was rebuilt in the Stalinist style of architecture. Multi-storied office and residential buildings went up, and the street was widened from 34–44 m to 75–100 m and was adorned with rows of chestnut and other trees and a boulevard. Today numerous institutions are located there, including Kyiv city council, Kyiv Municipal State Administration, the Ministry of Agrariculture, the State Committee for Television and Radio Broadcasting, the central post office, and various stores, offices, cinemas, and hotels.
Arkadii Zhukovsky
[This article was updated in 2008.]