Kinakh, Anatolii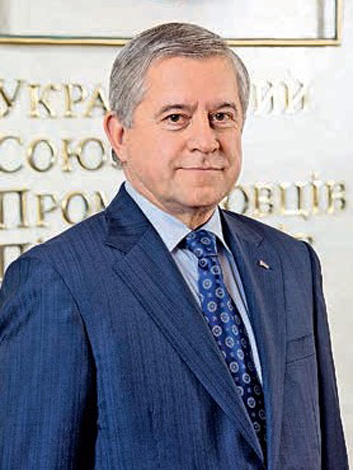 Kinakh, Anatolii [Кінах, Анатолій], b 4 August 1954 in Bratushany, Yedynets raion, Moldavian SSR. Politician and businessman; former prime minister of Ukraine (May 2001–November 2002); leader (since April 2000) of the Party of Industrialists and Entrepreneurs of Ukraine. Having graduated from the Leningrad Shipbuilding Institute in 1978, Kinakh worked in shipyards in Tallin (Estonia) and Mykolaiv as production manager. First elected to the Supreme Soviet of the Ukrainian SSR in 1990 from a Mykolaiv constituency, he sat on the economic reform committee and was part of the Narodna Rada caucus. In 1992, however, he resigned his seat to become President Leonid Kravchuk's representative in Mykolaiv oblast, a post he held until 1994. In 1994–5, he was elected head of the Mykolaiv oblast council, and from July 1995 to September 1996 served as vice-prime minister of Ukraine for industrial policy. Re-elected to the Supreme Council of Ukraine in 1998, Kinakh belonged to the Popular Democratic party (NDP) caucus and headed the parliamentary committee on industrial policy. He resigned his seat a second time in October 2001. During 1999, he was first vice-prime minister, and on 29 May 2001 was appointed prime minister, replacing Viktor Yushchenko. Prior to this latter appointment, he had been elected president of the Ukrainian Union of Industrialists and Entrepreneurs (USPP), a business lobby, and had served (1996–2000) on the governing board of the pro-presidential 'party of power,' the NDP. He had also been an unpaid adviser to President Leonid Kuchma (1996–2000), head of the interdepartmental coordinating council for the privatization of strategically important industrial enterprises (1997–2000), member of the president's supreme economic council (from 1997), as well as various other bodies dealing with energy, exports, and employment. In June 1997, he had become first deputy head of the council of the International Congress of Industrialists and Entrepreneurs.
A loyal supporter of President Leonid Kuchma, Kinakh's began his term as prime minister with promises to deal with poverty, tax reform, and energy security, to 'consolidate' the previous cabinet's achievements, to make economic reforms more tolerable for Ukrainians, and to rethink Ukraine's relations with the International Monetary Fund. His cabinet was a virtual copy of that of his predecessor, Viktor Yushchenko. During his time as prime minister, Kinakh headed or was a member of numerous high-level bodies dealing with such matters as economic development, foreign investment, cabinet-parliamentary cooperation, cooperation with Georgia, and disastrous flooding in Transcarpathia. In December 2001, his was one of the first five parties to formalize the creation of the pro-presidential electoral alliance, For a United Ukraine. While other cabinet ministers took leave to run in the election campaign in 2000, Kinakh did not. He won a seat in the Supreme Council of Ukraine on the For a United Ukraine list, but gave it up in favor of remaining in cabinet. On 16 November 2002, having decided that the election results warranted a change in the complexion of government, President Kuchma dismissed Kinakh and his cabinet, and named Viktor Yanukovych as prime minister.
Unanimously acclaimed as leader of the Party of Industrialists and Entrepreneurs of Ukraine in March 2003, Kinakh resumed his leadership of its parliamentary caucus, which became part of the pro-presidential coalition backing Leonid Kuchma's constitutional reforms in 2004. In July 2004, Kinakh became his party's candidate in the presidential elections. He garnered 0.93 percent of the vote, for 6th place out of 24 candidates. Kinakh then abandoned Leonid Kuchma and Viktor Yanukovych, joined the Orange Revolution, and backed Viktor Yushchenko for president in the second round. In the new government of Yuliia Tymoshenko, Kinakh was appointed First Vice-Prime Minister, then in September 2005, Secretary of the National Security and Defense Council (RNBOU), succeeding Petro Poroshenko. In the 2006 elections to the Supreme Council of Ukraine, Kinakh was number 2 on the pro-presidential Our Ukraine bloc list. In March 2007, however, when he accepted the post of Minister of the Economy under Viktor Yanukovych, he was expelled from the Our Ukraine fraction and removed by President Yushchenko from the RNBOU. In the parliamentary elections of 2007, his Party of Industrialists and Entrepreneurs joined Yanukovych's Party of Regions, which secured a plurality of seats. Having been elected, Kinakh joined the Party of Regions in October 2008. At the next elections he secured a seat on the Party of Regions list. During the course of 2013, Kinakh was often cited in the press putting forward his pro-business views on the economy. He voted for the infamously repressive laws against demonstrations in January 2014, at the height of the Euromaidan Revolution. He and 32 other mainly ex-Regions representatives created the 'Economic Development' fraction in the Supreme Council of Ukraine in February 2014, but in the subsequent elections of that year he failed to win an SMD seat in Mykolaiv thus ending his parliamentary career.
Bohdan Harasymiw
[This article was written in 2020.]