Tymoshenko, Yuliia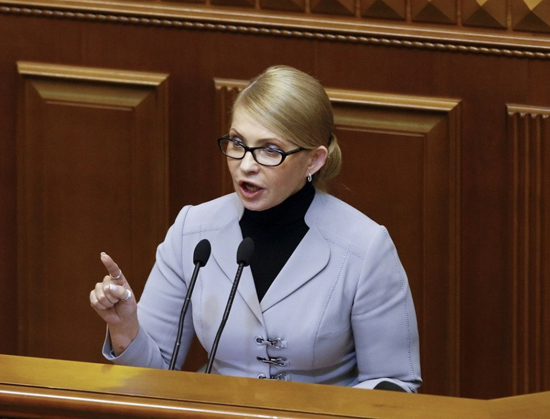 Tymoshenko, Yuliia [Тимошенко, Юлія; Tymošenko, Julija], b 27 November 1960 in Dnipropetrovsk, Dnipropetrovsk oblast. Populist politician, parliamentarian, businesswoman, and Ukraine's first female prime minister (January to September 2005; December 2007 to March 2010). She graduated from the Dnipropetrovsk University in 1984 as an economist, and then worked in her specialty at the Dnipropetrovsk Machine-Building Plant. She was president from 1995 to 1997 of the Unified Energy Systems of Ukraine (EESU), a company started in 1991 and built up, with the help of the Dnipropetrovsk municipal government, into a multimillion-dollar financial-industrial corporation. Elected to the Supreme Council of Ukraine in December 1996 from the Kirovohrad constituency vacated by Vasyl Durdynets, she became a member of the parliamentary committee on finance and banking. In 1997, she joined the All-Ukrainian Association Hromada, and assumed its leadership until the dismissed prime minister, Pavlo Lazarenko, was elected its chairman in September 1997. In November, Tymoshenko, as leader of the Hromada parliamentary caucus, unveiled her shadow government consisting of herself as prime minister and including such figures as Oleh Bilorus, Petro Talanchuk, Larysa Skoryk, and Ivan Salii. Although she and Lazarenko were said to be close allies, her name was sixth on the Hromada PR list in the 1998 elections to the Supreme Council. Nevertheless, she was elected from her constituency in Kirovohrad and became head of the parliamentary committee on the budget. On the eve of her party's congress on 22 January 1999, she resigned as deputy leader, and, following the arrest of Lazarenko, formed her own Batkivshchyna (Fatherland) faction in parliament consisting of 31 parliamentarians. After Lazarenko's flight from Ukraine, Tymoshenko changed her stance towards President Leonid Kuchma from opposition to support. On 30 December 1999, she was appointed to the position of vice-prime minister in charge of the fuel and energy sector, an assignment she tackled with vigor despite the appearance of a clear conflict of interest. She resigned her parliamentary seat on 2 March 2000.
Hers was a stormy tour of duty. Dogged by her ties to Pavlo Lazarenko and the EESU, criticized by President Leonid Kuchma for her implementation of energy policy, her husband having been arrested for embezzlement and charged with bribery, she was accused of bribing Russian officials, and, notwithstanding Prime Minister Viktor Yushchenko's support, she was finally charged with forgery, smuggling, and tax evasion, and jailed on 13 February 2001. All of this was the result of her efforts while in office to bring the energy sector out of the shadows; the 'oligarchs' affected by these measures had exerted political pressure to have her dismissed. Tymoshenko had also announced, in a similarly rational vein, plans to privatize all of Ukraine's coal mines, by her reckoning the most corrupt sector in the entire economy. On 19 February, she was sacked by President Kuchma. On 27 March, she was released from prison, only to be rearrested the next day. On 2 April the Supreme Court of Ukraine suspended the latest arrest, and on 15 May withdrew the warrant altogether. As if to underline the political nature of this affair, the judge who cancelled her arrest warrant in March was himself placed under investigation by the Kyiv prosecutor. Once at liberty, Tymoshenko began spearheading a referendum on Kuchma's impeachment, and denouncing his introduction of 'state secretaries' as 'the logical transformation of the authoritarian [power] system into dictatorship.'
In the 2002 elections, she led the Yuliia Tymoshenko Bloc, an alliance of four political parties (including her Batkivshchyna party). Before and during the campaign, she and her bloc faced considerable obstacles placed in their way by the Kuchma machine. In August 2001, Russian military prosecutors issued an arrest warrant for her, charging her with complicity in bribery, which she rejected as a 'cheap fabrication.' The warrant was never, as far as can be ascertained, executed. In December, her Batkivshchyna caucus was one of those behind the ouster of deputy speaker Viktor Medvedchuk, later to become Leonid Kuchma's chief-of-staff. At the end of January 2002, Tymoshenko was injured in a car crash and was hospitalized for a month. At the same time, the Kyiv appeals court reimposed restrictions on her freedom of movement beyond the capital, thus dealing her a double blow. The restrictions were then suspended until 14 March by the Supreme Court. Tymoshenko was back on the road campaigning on 25 February. On 12 March, Prosecutor-General Mykhailo Potebenko announced that his investigation of her was continuing. Eighteen candidates of her bloc then had their registrations cancelled by the Central Electoral Commission, which also threatened Tymoshenko herself with ouster from the race. A week before the elections, the tax police accused her bloc of financial machinations. In spite of harassment, the Yuliia Tymoshenko Bloc garnered 7.2 percent of the PR vote, and a total of 21 seats.
During the next two years, Tymoshenko continued leading the opposition to President Leonid Kuchma and his government, and was in turn hounded politically by them. Even though a Kyiv district court had closed all criminal cases against her, the prosecutor-general continued with the prosecution of Tymoshenko. Parliament was asked to lift her immunity, but refused; still the prosecutors did not give up. First they charged her with corruption, hiding hard-currency profits, large-scale theft of state property, and paying bribes to Pavlo Lazarenko. Then they charged her with embezzling funds while she was head of Unified Energy Systems in 1995–7. When she joined the campaign for the impeachment of the president, she was accused of calling for the overthrow of President Kuchma. After charges were thrown out of court, the prosecutors appealed each time to a higher court. No doubt this was related to Tymoshenko's vocal opposition to Kuchma. Her bloc led the demand in May 2002 for the dismissal of Anatolii Kinakh's government. Tymoshenko herself participated in the repeated attempts, from June 2002 to March 2003, to impeach Kuchma. She joined other opposition parties in public protests against Kuchma, took part in the physical occupation of the presidential palace, called on parliament to impeach Kuchma, revealed the government's sale of Kolchuga radar systems to Iraq, opposed the appointment of Serhii Tyhypko—Kuchma'ss nominee—as governor of the National Bank of Ukraine, and came out strongly against the president's constitutional reforms of 2003.
In April 2003, however, Tymoshenko and her fellow parliamentary oppositionists seemed to abandon their drive to oust Kuchma directly in favor of a more subtle approach. While still maintaining a critical stance towards the president, they proposed a wider public debate on his constitutional reform proposals. The pursuit of Tymoshenko by the prosecutor-general's office did not, however, abate. Two of her associates were charged in June 2003 with stealing $2.25 billion through illegal sales of Russian natural gas, as well as evading taxes of $216 million, and soon thereafter Tymoshenko was accused of having given bribes of $86.88 million to Pavlo Lazarenko. Parliament again rejected the prosecutors' request for the arrest of Tymoshenko in July 2004. When Leonid Kuchma modified his constitutional reform package by including a bill to change the electoral system to a purely PR one, Tymoshenko's bloc refused to support it in principle, arguing it was simply a bribe to induce parliamentarians to buy the rest of the package, seen as emasculating future presidents and handing over power to the 'oligarchic' clans.
In July 2004, Tymoshenko signed a coalition agreement to pool resources with Viktor Yushchenko in the presidential election. Contrary to earlier expectations, she did not put herself forward as a candidate. During the Orange Revolution of November–December 2004 which erupted as concomitant of that election, she shared the stage with Yushchenko ensuring his victory over then prime minister Viktor Yanukovych. She was appointed premier in February 2005, but due in part to a hostile reaction to her stated plans for renationalization of improperly privatized businesses as well as to Yushchenko's personal animosity she was released in September.
She returned to the prime minister post in December 2007, following her Batkivshchyna party's second-place finish in the elections of that fall. Nominated as candidate for president in October 2009, she was one of 18 candidates including her supposed ally, Viktor Yushchenko, and in the first round in the presidential elections of early 2010 won second place with 25 percent of the vote, but failed to outdo Viktor Yanukovych in the second round (45 percent to his 49) with Yushchenko in the interim campaigning against her. The election of Yanukovych as president ended Yuliia Tymoshenko's second term as prime minister.
There followed a period taking Tymoshenko out of the political arena altogether. A criminal investigation previously begun in 2004 but suspended in 2005 was reopened in May 2010 into her alleged attempt to bribe Supreme Court judges. Then in December 2010, she was charged with misuse of state funds in particular signing an unfavorable gas deal with the Russian Federation while prime minister in 2007–10. The trial began in June 2011; Tymoshenko was arrested and Viktor Yushchenko testified against her in August; and in October she was found guilty and sentenced to seven years' imprisonment. All this transpired with the approval of President Viktor Yanukovych and despite objections from Amnesty International and European institutions.
Her release came at the climax of the Euromaidan Revolution in February 2014, but her appearance on that stage, dressed in black and in a wheelchair, was less than inspiring to those present in the Independence Square or watching on television. Nevertheless, she went on to contest the presidential elections in May, earning second place out of 21 candidates with 12.8 percent of the vote (to Petro Poroshenko's decisive 54.7). In the October elections to the Supreme Council of Ukraine, her Batkivshchyna party, secured only 5.7 percent of the popular vote in the PR ballot, barely over the threshold, which yielded it 17 seats. During the ensuing parliamentary session Tymoshenko was consistently critical of President Poroshenko's policies such as the Minsk Agreement, the war in the Donbas, and raising gas prices to satisfy IMF requirements, even raising, as she had with Viktor Yanukovych, the possibility of his impeachment.
In 2019, she launched her third campaign for the presidency of Ukraine. Initially, she was in the lead with 20 percent public support. Her election program included a host of populist and contradictory pledges: to cut in half the price of domestic gas and other utilities, although this was opposed by the IMF requirements; to support reforms agreed on with the IMF; to limit the influence of the 'oligarchs' while herself successfully seeking financial backing for her campaign from oligarch Ihor Kolomoisky; to revive the Budapest Memorandum as a means of ending the war and to bring China which never has supported Ukraine into the peace process; and to fight corruption. According to the interior minister, Arsen Avakov, Yuliia Tymoshenko's and Petro Poroshenko's campaigns were at the time the two most afflicted with vote-buying. Ultimately, out of 39 contenders in the first round, Tymoshenko managed to obtain 13.4 percent of the vote, for third place behind Volodymyr Zelensky at 30.2, and Poroshenko with 16.0. She complained that Poroshenko as incumbent had cheated her out of second place and refused to endorse either frontrunner. As even her closest backers acknowledged, however, she defeated herself by launching the campaign early and peaking too soon, selling her program rather than herself, targeting Poroshenko while ignoring Zelensky, not appealing to voters beyond her base in small-town Ukraine, micromanaging her own campaign and taking victory for granted, and causing confusion visually by changing advertising colours from red-and-white to patriotic blue-and-yellow.
Following the presidential elections, Tymoshenko called the results a third chance for Ukraine, announced that her party in the Supreme Council of Ukraine would not be part of the opposition to the new regime, and said she would be ready to form a coalition with Volodymyr Zelensky's party The Servant of the People in the new parliament. In the July 2019 Supreme Council elections, Tymoshenko's Batkivshchyna party did manage to improve on its earlier performance securing 8.2 percent of the votes, and 24 seats, on the PR ballot, along with 2 more seats from the SMD contests, for a total of 26, edging out Petro Poroshenko's European Solidarity party by a single seat. However, The Servant of the People party's unprecedented majority of 254 put forming a coalition totally out of the question. Tymoshenko therefore busied herself by introducing a plethora of bills on social issues, continuing to pose as champion of the people and traditional values. She reportedly offered her services to the new administration in the capacity of prime minister, but was apparently rebuffed. Soon thereafter she led her parliamentary caucus into opposition, primarily over the issue of the sale of farm land being promoted by a government bill. At the start of the year 2020, Tymoshenko was calling for the dismissal not only of the government for its incompetence, but the departure of the entire Servant of the People crew for their lack of professionalism.
The only woman to lead a major political party in post-communist Ukraine, an ambitious and tenacious businesswoman-turned-politician, Yuliia Tymoshenko occupies a unique place in the country's politics. With an insatiable appetite for power—three-time candidate for president and twice prime minister—and with an uncanny knack for successfully cultivating allies before turning them into implacable enemies, she has become an indispensable fixture in Ukrainian politics comparable to some of her European populist counterparts.
Bohdan Harasymiw
[This article was written in 2020.]