Dnipropetrovsk oblast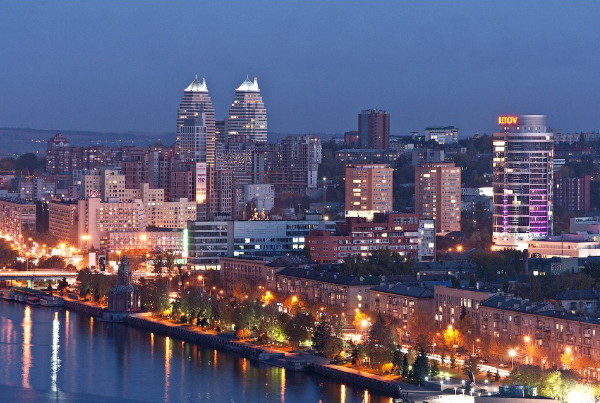 Dnipropetrovsk oblast [Дніпропетровська область; Dnipropetrovska oblast]. An administrative region in southcentral Ukraine lying in the middle and lower basin of the Dnipro River. The oblast was formed on 27 February 1932. Its area is 31,900 sq km, and its population (2018) is 3,231,100. It is divided into 22 raions, 20 cities, 46 towns (smt) and 1,435 rural settlements consolidated into 37 united territorial councils (2018). The oblast's capital is Dnipro.
Physical geography. Most of Dnipropetrovsk oblast lies within the Ukrainian Crystalline Shield. Its western section is part of the Dnipro Upland, which merges towards the east with the Zaporozhian Ridge on both banks of the Dnipro River and slopes in the southwest towards the Black Sea Lowland. In the southeast it borders on the Azov Upland. Its most picturesque part is the Dnipro Valley, where the Dnipro River cut into the Crystalline Shield and formed the now-submerged Dnipro Rapids. Dnipropetrovsk oblast is rich in mineral resources, containing large deposits of iron ore (in the Kryvyi Rih Iron-ore Basin), manganese ore (in the Nikopol Manganese Basin), titanium-zirconium ore (at Vilnohirsk), uranium (at Zhovti Vody), anthracite coal (in the east), natural gas and oil (in the northeast), lignite coal (in the Dnipro Lignite Coal Basin), and building materials.
The climate of the oblast is temperate-continental. In the southern part it is relatively dry. The daily mean temperature in July is 21.5°C to 22.5°C, and in January –4.5°C to –6.5°C. The average annual temperature is 8°C to 9°C. The average annual precipitation is 400–500 mm. The frost-free period ranges from 187 to 228 days, and the growing season is 200–210 days long.
The main river of the oblast, the Dnipro River, bisects it from the northwest to the southeast and forms the Kamianske Reservoir (formerly Dniprodzerzhynsk Reservoir) and the Samara Bay (formerly, Lenin Lake). The right-bank tributaries of the Dnipro River that run through the oblast are the Mokra Sura River, Bazavluk River, and Inhulets River; the left-bank tributaries are the Orel River and Samara River. The small rivers become very shallow in the summer. Besides the Dnipro River, only the lower Samara River is navigable.
The soils are mostly ordinary chernozems, with southern chernozems in the southwest. In the river valleys peat-meadow soils and sandy soils are also found. All of the oblast lies in the steppe belt. The natural grassland that once covered the plains, consisting of tall, tight-tufted, narrow-leaved grasses (meadow fescue, feather grass, needle grass, and oat grass), forbs (campion, drooping sage, veronica and steppe tulips), and shrubs (blackthorn, steppe almond), was replaced by farmland. Forests and brush cover only 5.6 percent of the oblast area (2011). Along floodplains of rivers and ravines the tree cover includes oak, alder, ash, elm, linden, and maple; sandy river terraces on the left bank of the Dnipro River support pine forests.
History. The oblast's territory has been populated since late Paleolithic Period. In antiquity, it was part of the domain of the Cimmerians (8th century BC), the Scythians (7th–3rd centuries BC), and the Sarmatians (3rd century BC–230 AD). It was transited by the Goths (230–250 AD), and the Huns (250–375 AD), and then became part of the domain of the Antes (375–550 AD). During the princely era of Kyivan Rus', the territory was crossed by the Hungarians (mid-9th century) and then controlled by the steppe nomads: the Pechenegs (10th–11th century), the Polovtsians or Cumans (11th–13th centuries), and the Mongol-Tatars of the Golden Horde (13th–14th centuries). The expansion of the Grand Duchy of Lithuania laid claim, after a campaign from Kyiv (1299), to most of this territory as part of Kyiv principality (1362–1471) and later Kyiv voivodeship (1471–1565). Settlers penetrated into the steppe for trapping, hunting, fishing and farming, and established fortified towns.
In the 16th–18th century the territories of the present Dnipropetrovsk oblast belonged to the Zaporozhian Sich (1578–1648, 1663–1775) and to the Cossack Hetman state (1648–1663). After Russian annexation and the dissolution of the Zaporozhian Sich (1775), they became part of the New Russia gubernia (1775), then divided between the reduced in size New Russia gubernia and the re-established Azov gubernia (1776). They were combined in 1783 into the Katerynoslav vicegerency which was renamed, in 1802, the Katerynoslav gubernia.
Under Soviet rule, Katerynoslav gubernia was reduced in size to approximately its present extent by yielding its eastern territories to Donetsk gubernia in 1922. In 1925 Katerynoslav gubernia was subdivided into Katerynoslav (re-named Dnipropetrovsk in 1926) and Kryvyi Rih okruhas. Dnipropetrovsk oblast was established in 1932 by combining Dnipropetrovsk, Kryvyi Rih, Zaporizhia, and Melitopol okruhas. Zaporizhia was spun off as a separate oblast in 1939, leaving Dnipropetrovsk oblast in its present size and configuration.
Population. The average population density is 105 per sq km (2019 figures). The density is highest along the Dnipro River, in the Kryvyi Rih region, and along the routes connecting the Donbas and Kryvyi Rih Iron-ore Basin. In the countryside the average density of rural population is 30–40 per sq km, rising to 40–50 per sq km along water courses and dropping to 20–30 in the Dnipro Upland. The proportion of the urban population steadily increased through the 20th century. It was 52.8 percent in 1940, 70.9 percent in 1960, 76.2 percent in 1970, 82.2 percent in 1983, 83 percent in 2001 and 84 percent in 2019. The population suffered two calamities from which it recovered, in part with in-migrants from Russia: from the Famine-Genocide of 1932–3, to 2,273,000 by 1939, and from the Second World War, to 2,274,000 in 1950, and continued to grow to 2,770,000 in 1960, 3,343,000 in 1970, 3,645,000 in 1978, and 3,881,200 in 1989. The population of the oblast peaked at 3,936,400 in 1993 and then began to decline. In 1975 the natural population growth was 5.4 per 1,000 (the average for the Ukrainian SSR was 5.1), but the actual population growth, boosted by in-migration, was higher—one of the highest in Ukraine in the 1980s. By the 1990s the migration trend was reversed, with out-migration exceeding in-migration in most years.
The ethnic composition of Dnipropetrovsk oblast is predominantly Ukrainian. The in-migration of Russians into cities and their growth in the share of the oblast's population stopped after Ukraine's independence in 1991, and more people began to identify themselves as Ukrainians. By 2001 the population was composed of the following nationalities (in brackets for 1959 and 1989): Ukrainian, 79.3 percent (77.8, 71.6); Russian, 17.6 percent (17.2, 24.2); Belarusian, 0.8 percent (1.3, 1.3); Jewish, 0.4 percent (2.7, 1.3).
The largest cities in the oblast (2019 figures) are: Dnipro (originally Polovytsia, then Katerynoslav (1793–1797), Novorosiisk (1797–1802), Katerynoslav (1802–1918), Sicheslav (briefly in 1918), Katerynoslav (1918–1926), and Dnipropetrovsk until 2016) (994,000 inhabitants), Kryvyi Rih (623,000), Kamianske (its original name, reinstated from Dniprodzerzhynsk, 1936–2016) (239,000), Nikopol (110,000), Pavlohrad (105,000), Novomoskovsk (originally Nova Samar, then Samarchyk and then Novoselytsia until 1784) (70,000), Marhanets (47,000), and Zhovti Vody (45,000). Each has experienced a drop in population over the last two decades. The most industrialized areas contain large urban clusters. The largest are Dnipro–Kamianske and Kryvyi Rih.
Many workers, managers and scientists were trained in the educational institutions of the oblast. In 2018 Dnipropetrovsk oblast had 58 professional-technical postsecondary schools with 22,300 registered students, 31 colleges with 19,000 students and 24 universities and institutes of technology with 92,600 students. Most of the leading postsecondary institutions are in Dnipro, including the Dnipro National University, the Dnipro National University of Railroad Transportation, the Dnipro Polytechnic, the Dnipro State Agro-Economic University, the Dnipropetrovsk Medical Academy, the National Metallurgical Academy of Ukraine, and the Dnipropetrovsk Academy of Music. The second grouping is in Kryvyi Rih, which includes the Kryvyi Rih National University, the Kryvyi Rih State Pedagogical University, and the Kryvyi Rih Branch of the National Metallurgical Academy of Ukraine. Other institutions are found in Kamianske, Nikopol, Novomoskovsk, Pavlohrad, Zhovti Vody, and one each in Marhanets, Oleksandrivka, Verkhnodriprovsk, Vilnohirsk and Vyshneve.
Economy. Dnipropetrovsk oblast is a leading industrial region based on outstanding mineral resources, central location and a thriving agricultural component. With a territory occupying 5.3 percent and a population 7.5 percent of Ukraine's total, its gross national product in the 2008–2014 period ranged between 10.0–11.1 percent. Its share of the value of industrial production of Ukraine in 2000 was 16.6 percent (exceeded only by Donetsk oblast) and of agriculture 5.5 percent. Industry has grown during the Soviet period, stagnated in 1990 and re-structured since 1991. The service sector, including trade, financial services, transport and communications, has grown in importance. By 2018, to the gross regional product of the oblast, industry contributed 48 percent, trade 11 percent, agriculture 7 percent, financial services 6 percent, transport and communications 5 percent.
Industry. Dnipropetrovsk oblast is one of the leading industrial areas of Ukraine. In the 1970s it accounted for 26 percent of the electric power, 37 percent of the pig iron, 43 percent of the rolled steel, 95 percent of the iron ore, and 100 percent of the manganese ore produced in Ukraine. By 2000, after outside sources were developed, its share in electric power production declined to 8 percent and iron ore to 83 percent. Output in metallurgy (pig iron, 34 percent; rolled steel, 36 percent, steel pipes, 75 percent) retained their importance. Its industrial products were exported to 70 countries, the largest share of which went to the Russian Federation (19.8 percent) in 2000.
Industry is concentrated in three main centers: in Dnipro–Kamianske (ferrous metallurgy, machine building, chemicals, and coke chemicals); in the Kryvyi Rih region (mining, metallurgy, chemicals, machine building, and building materials); and in the southern region, around Nikopol (manganese mining, machine building, food, and building materials). Coal-mining and machine-building developed at Pavlohrad. Industry in the oblast is based on the large local deposits of iron ore in Kryvyi Rih raion (up to 21 billion t) and manganese ore in Nikopol raion (Nikopol Manganese Basin, the second largest deposit in the world—nearly 1 billion t), and on deposits of coking coal near Pavlohrad (the westernmost extent of the Donets Basin coal deposits, developed in the 1950s), as well as coking coal shipped in from Donetsk oblast. Iron-ore and manganese mining, which are highly developed, supply the raw materials for the ferrous metallurgy of the oblast and of the whole industrial south. Iron and manganese ore are also exported. The production of building materials is also well developed. The structure of the value of industrial production in 2018 was as follows: metallurgy and its products, 37.1 percent; mining and extraction, 25.7 percent; energy supply, 11.7 percent; food processing and beverages, 7.1 percent, plastics and rubber products, 4.3 percent; and other industries, 14.1 percent.
Dnipropetrovsk oblast has a solid energy base: electricity from the Middle Dnipro Hydroelectric Station at Kamianske and thermal-electric stations (a major one at Dnipro, a small one at Kamianske, and two regional thermal-electric stations, the Kryvyi Rih RES-1, and the largest in the oblast, Kryvyi Rih RES-2 at Zelenodolsk); natural gas from Shebelynka (carried by the Shebelynka–Dnipro pipeline, built in 1957) and from Pereshchepyne (gas and oil deposits at nearby Holubivka, Leventsivka and Mykhailivka) in the oblast (a pipeline built in 1966 connects it to Dnipro), coke gases, and oil (in Pereshchepyne raion). Uranium mining and concentration of the ore, the largest in Europe, was developed (1951–6) at Zhovti Vody, but the enrichment of uranium, the making of nuclear bombs and the manufacture of nuclear power fuel rods for reactors was confined to Russia.
Ferrous metallurgy is the most important branch of industry. In 1970 it accounted for 50 percent of the industrial production of the oblast. It was followed by machine-building industry, light industry, and food industry. After 1991, the emphasis on metallurgy weakened and light industry declined. By 2018 the shares in the value of industrial production was as follows: metallurgy, 37.0 percent; mining, 25.7 percent; energy supply, 11.7 percent; food processing, 7.1 percent; coke-chemical industry, 5.5 percent; rubber and plastics production, 4.3 percent; and machine building, 4.2 percent. In 1970 Dnipropetrovsk oblast produced 15.7 million t of pig iron, 16.8 million t of steel, and 14.3 million t of rolled steel. As the demand for pig iron and steel declined (the collapse of the Soviet Union, the global recession in 2008) so has the output to about half of what it was in the past.
Ferrous metallurgy is the specialty of 73 enterprises in Dnipropetrovsk oblast. Ukraine's largest integrated steel operation, located at the open-pit iron ore mines, is the ArcelorMittal Kryvyi Rih (formerly the Kryvyi Rih Metllurgical Plant, bought in 2005 from the state by Mittal Steel). The other giants are the Dnipro Metallurgical Plant (in Dnipro, privatized to form the Tekhmash Joint Stock Company), the Dnipro Metallurgical Complex in Kamianske (now owned by Rinat Akhmetov), the Dnipropetrovsk Pipe Plant (now owned by the Industrial Union of Donbas), the Liebknecht Pipe Plant in Dnipro (owned by NTRP Joint Stock Company since 1994), the Ukrainian Nikopol Steel Pipe Plant (privatized), and the Novomoskovsk Pipe Plant (privatized in 1996, now part of the Interpipe Joint Stock Company). Of the non-ferrous metallurgy, conducted by 17 enterprises, the largest is the Vilnohirsk Mining and Metallurgical Complex, open-pit mining and concentrating titanium for domestic use and export.
Large machine-building industry and metalworking industry are based primarily on the ferrous-metallurgy industry. They produce metallurgical and mining equipment, structural metal products (Dnipro, Kryvyi Rih, Marhanets), manufacturing equipment (Dnipro), electric and transport equipment (Dnipro, Kamianske), agricultural machinery (Dnipro, Pavlohrad, Nikopol), and transportation and road-building equipment (Nikopol, Verkhnodniprovsk). The state-owned Southern Machine-building Factory (Pivdennyi Mashynobudivelnyi Zavod, abbreviated as Pivdenmash; in Russian, Yuzhmash) was opened in Dnipro in 1950 to develop and mass-produce Soviet ballistic missiles. Restructured to civilian uses since 1991, it still contributes to aerospace technology (Zenith 3SL satellite launchers, Antonov airplane chassis), but was diversified to build wind turbines, trolley busses and streetcars. Equipment and machines for the woodworking industry, paper industry, and chemical industry are manufactured in Dnipro. The main chemical plants are the coke-chemical plants in Dnipro, Kamianske, and Kryvyi Rih; the nitrogen plant in Kamianske; and the tire, lacquer-paint, and plastics plants in Dnipro.
The construction-materials firms are located mostly in Dnipro, Kamianske, Kryvyi Rih, Nikopol, Novomoskovsk, and Pavlohrad. Fifty percent of the production of fire-resistant materials is concentrated in metallurgical plants. A paper and carton-making plant and furniture-making enterprises are located in Dnipro.
A textile mill is in Dnipro; knitting factories are in Zhovti Vody and Pokrov; clothing and shoe factories are found in Dnipro, Kryvyi Rih, Kamianske, Verkhnodniprovsk, and Pavlohrad. Sowing factories are also in Marhanets, Nikopol, Novomoskovsk and Synelnykove.
Various branches of the highly developed food industry (flour milling, vegetable and animal oils, macaroni, meat, dairy products, and brewing) are concentrated for the most part in Dnipro, Kryvyi Rih, and Kamianske, with smaller concentrations in Nikopol and Pavlohrad. There is a corn starch factory in Dniprovske, meat-packing at Yuvileine (a suburb of Dnipro), mineral water bottling in Pidhorodne (near Dnipro) and wine-making at Synelnykove. The oblast's only beet sugar refinery, at Hubynykha, was closed in 2008.
Agriculture. Dnipropetrovsk oblast is a region of intensive grain growing, animal husbandry, and dairy industry. It is one of three top producers of sunflower seeds in Ukraine. It contributed (in 2007) the 3rd largest share (5.8 percent) of Ukraine's agricultural production by value, ranking fifth (5.5 percent) in crop production but third (6.1 percent) in animal husbandry. Even so, as in all of Ukraine, since 1991 the animal husbandry component declined in favor of the more lucrative crops for export.
Collective farms and state farms were replaced, after 1991, by commercial family farms, farming associations and corporate farms, based mainly on renting farmland. Whereas in 1985 there were 293 collective farms and 125 state farms in the oblast, they were replaced by 2009 with 4,052 agricultural enterprises of different types: 3,371 commercial family farms, 447 farm corporations, 169 private farm enterprises, 12 farm co-operatives, 17 state farms and 36 other farming enterprises. Rural households, however, continue to practice subsistence gardening and subsidiary animal husbandry.
Of the total land area (3,192,300 ha) of Dnipropetrovsk oblast, farmland occupied in 1971 2,565,500 ha (80.4 percent); cropland, 2,175,000 ha (68.1 percent), hayfields, 21,600 ha (0.7 percent), pasture, 296,300 ha (9.3 percent), and orchards and berry patches, 72,500 ha (2.3 percent), of which 59,800 ha (1.9 percent) were of fruit-bearing age. By 1990 farmland decreased to 2,508,500 ha (78.6 percent) as it was lost to open-pit mining or other uses, reaching 2,234,100 ha (70.0 percent) in 2000 and 2,234,000 ha (70.0 percent) in 2007. Cropland also declined to 2,129,300 ha (66.7 percent) in 1990 and 2,073,200 ha (64.9 percent) in 2000, when it stabilized at 2,090,300 ha (65.5 percent) in 2007. Hayfields and pastures together also decreased to 308,000 ha (9.6 percent) by 1986, and 278,000 ha (8.7 percent) by 1993, recovering to 315,000 ha (9.9 percent) in 1995 and 326,000 ha (10.2 percent) by 1998. Orchards and berry patches in their fruit-bearing age, however, declined continuously to 34,400 ha (1.1 percent) in 1990, 21,500 ha (0.7 percent) in 2000, and 14,700 ha (0.5 percent) in 2007.
Crop areas and their composition also changed over time. The shares of crop categories, expressed as percent of the total cropland in Dnipropetrovsk oblast in 1971, 1986, 1994, 2010 and 2017 were as follows: grains for export, after a dip during farm restructuring (1992–6), regained predominance in 2010 (51.0, 51.9, 45.0, 61.3, 57.4); industrial crops for export gained a boost after 1996 (13.7, 11.9, 11.7, 29.8, 35.1); feed crops dropped in keeping with reduced domestic livestock after 1996 (30.2, 31.6, 38.1, 4.4, 2.8); potatoes, vegetables and melons held their own (5.1, 4.6, 5.1, 4.5, 4.8). The main grains grown in 1971 and in 2017, in hectares (and percentage of total sown area, in brackets) were: winter wheat, 475,000 ha (23.3 percent) and 493,000 ha (25.2 percent); corn for grain, 245,200 ha (12.0 percent) and 322,100 ha (16.5 percent); spring barley, 205,700 ha (10.1 percent) and 256,800 ha (13.1 percent); and legumes, 17,400 ha (0.9 percent) and 19,600 ha (1.0 percent). Buckwheat and millet were also grown. Sunflowers were the largest industrial crop both in 1971 and 2017, in hectares (and percentage of sown area, in brackets), 226,000 ha (11.1 percent), 623,500 ha (35.5 percent), followed by sugar beets 24,500 ha (1.2 percent), nearly eliminated in 2008 to 1,100 ha (0.1 percent). Soybeans have gained importance, while hemp declined.
Farms specializing in potatoes, vegetables and milk production are located near the large industrial centers. Fruit growing, berry growing, and grape growing are prolific in the Kryvyi Rih, Tsarychanka, and Sofiivka raions, and vineyards support a winery at Synelnykove.
Irrigation systems were developed in the 1960s and 1970s to enhance production and provide security from drought. By 1975, in Dnipropetrovsk oblast, 150,600 ha of field crops, 8,300 ha of orchards and berry patches and 1,300 ha of hayfields were irrigated. By 1987 the system was expanded to 244,400 ha under irrigation, drawing waters from the Kakhovka Reservoir, the Dnipro Reservoir, the Dnipro-Kryvyi Rih Canal and the Dnipro-Donbas Canal. Now the aging irrigation systems (Vyshnevetske, Kryvyi Rih, Mahdalyniv, and Nikopol) are in need of renewal as irrigation has diminished by 2017 to 15,400 ha of field crops, 1,700 ha of orchards and berry patches, and 6,700 ha of hayfields.
Crop yields have been more variable and usually slightly below average in comparison to Ukraine as a whole. The average yields in 1970–5 in centners per ha were: all grains, 24.3 (compared to 24.5 for Ukraine as a whole, in brackets), of which winter wheat, 26.9 (28.0), and corn for grain, 24.2 (27.7); sugar beets, 211.8 (270.3); sunflowers, 16.3 (15.7); potatoes, 59 (109); vegetables, 126.5 (127.2); fruit and berries, 26.3 (29.3). In 1992–2007, the yields of all grains fluctuated widely but averaged 25.4 (compared to 24.2 for Ukraine as a whole). After 2007, the yield average, in centners per ha, increased for all grains in 2008–13 to 27.1 (compared to 33.2 for all of Ukraine), and to 31.2 in 2014–8. The average yields of sugar beets, sunflower, potatoes vegetables and fruit also showed recent yield increases. Their six-year average yields, in centners per ha, rose from 1970–5 to 2013–8 as follows: sugar beets, 211.8 to 462.8; sunflowers, 16.3 to 20.5; potatoes, 59 to 109; vegetables, 126.5 to 200.0; and fruit and berries, 26.3 to 112.4.
Dnipropetrovsk oblast is a leading producer of meat (third largest among the oblasts in 2005–17) and a major producer of eggs (3rd to 5th largest, in 2005–17). In 2013–7, its output of meat averaged 236,000 metric tons, slaughtered weight (an increase from 174,300 in 1971–5), and eggs, 915 million (732 million in 1971–5). It produced, in 2013–7, a middling 334,000 tons of milk (a decline from 1,156,600 tons in 1971–5, when it was the second largest producer), and merely 31 tons of wool (a decline from 1,462 tons in 1971–5, when it was the fifth largest producer). Livestock numbers declined with the demise of Soviet agriculture, the introduction of reforms and market pricing in 1992–6. They were in 2017 (changes from 1971 to 1990, and 2007, shown in brackets) as follows: hogs, the main source of meat, numbered 426,100, the third largest among the oblasts (1,164,700, 1,334,700, 460,300); all cattle numbered 127,200 head (1,210,900, 1,290,600, 166,200), of which 71,600 were cows (461,600, 438,900, 97,200); sheep and goats numbered only 55,300 (464,300, 466,300, 51,700); fowl numbered 18.6 million (no data for 1971, 22.1 million, 14.2 million). Decreasing livestock numbers were in part compensated by higher productivity. For example, the average annual milk yield per cow in Dnipropetrovsk oblast increased from 2,340 kg in 1971 to 2,832 kg in 1990, 3,763 kg in 2007 and 4,123 kg in 2017. The most common breeds of cattle were the Red Steppe cattle and Gray Ukrainian cattle; for milk productivity they have been improved with the Holstein characteristics; of hogs, the Great White and Ukrainian Steppe White, whose productivity has been enhanced with cross-breeding; and of sheep, Sokilka sheep and the White Fine-Wool Askanian.
Transportation. Dnipropetrovsk oblast has a dense network of railway lines, 1,545 km long. The main double-tracked, electrified lines, which connect the Dnipro Industrial Region with the Donets Basin and are used in part to exchange iron ore for coking coal, are the Kryvyi Rih–Piatykhatky–Dnipro–Pavlohrad–Krasnoarmiisk line and the Dolynska–Kryvyi Rih–Nikopol–Zaporizhia–Donbas line. The other lines are the double-track, electrified Piatykhatky–Znamianka–Fastiv connecting Dnipro to Kyiv, the single-track Kharkiv–Dnipro–Kherson, and the double-track electrified line connecting Moscow through Kharkiv–Pavlohrad–Synelnykove to Simferopol in the Crimea. The largest railway junctions are Dnipro, Nyzhnodniprovsk, Kryvyi Rih, Apostolove, and Synelnykove. The oblast has 9,100 km of roads, all of which are hard-surfaced. The main highways are the Kyiv–Znamianka–Dnipro–Krasnoarmiisk–Donetsk (M-04) and Kharkiv–Novomoskovsk limited access highway (M-29), which parallels the older Moscow–Simferopol (M-18) route. The Dnipro River is an important transportation route. The largest ports are at Dnipro, Kamianske, and Nikopol. Two gas pipelines run through the oblast: the Shebelynka–Dnipro–Kryvyi Rih trunk line (1957), from which branches were built to Pavlohrad, Novomoskovsk, Pereshchepyne, Kamianske–Verkhnodniprovsk, and Zaporizhia; and a connector from the 'Soiuz' trunk line near Kremenchuk past Kryvyi Rih to Kherson, Odesa and export to Bulgaria. A crude oil pipeline connects the Pryluky oil field in Chernihiv oblast through Dnipropetrovsk oblast to a refinery in Kherson. There are two airports with international and domestic passenger and freight service: the Dnipropetrovsk International Airport, south of Dnipro, and the Kryvyi Rih / Lozuvatka International Airport, northwest of Kryvyi Rih. An abandoned, former Soviet military transport airbase is on the east side of Kryvyi Rih.
Tourism. In Soviet times Dnipropetrovsk oblast was a 'closed' region to which foreign tourists were not admitted. Now they are welcome. The oblast has significant cultural attractions, notably in Dnipro (many institutions, libraries, museums, theatres with drama, ballet and philharmonic orchestra, a circus, botanical gardens of the Dnipro National University and other parks), Kryvyi Rih (museums, philharmonic orchestra, theatre), Novomoskovsk (museum, 18th century buildings, including the Trinity Cathedral), Pavlohrad (museum), and Petrykivka, a large village known for its colorful floral painting of houses. Historic sites include Scythian burial mounds 4th–3rd century BC at Lukiivka and near Pokrov, ruins of the Polish Kodak fortress (built in 1635) at Stari Kodaky, and memorials to Cossack Zaporozhian Sich on the north shore of the Kakhovka Reservoir near their locations: former Tokmakivka Island (Tomakivka Sich, until 1593) at Marhanets, Mykytynska Sich (1639–52) at Chervonohryhorivka, and Chortomlyk Sich (1652–1709) at Nikopol.
Natural attractions include the Dnipro River and its water reservoirs. Although the oblast has no national park, as of 1988 it had 15 conservation sites of national importance. Its recreational facilities were developed primarily to serve the needs of its workers and children. There is a good network of resorts and sanatoria, located primarily in the vicinity of Dnipro, the woods along Samara River at Orlivshchyna, and near Kamianske and Verkhnodniprovsk on the Kamianske Reservoir. Tourism in Dnipropetrovsk oblast reached a peak in 2008, with 73,000 visitors served by tourist agencies, of which 8,700 were foreign. That year there were 107 hotels in the oblast, accommodating 243,100 visitors.
BIBLIOGRAPHY
Lapko, M. Dnipropetrovs'ka oblast', 2nd edn (Kyiv 1967)
Palamarchuk, M.; Korets'kyi, L. Heohrafiia promyslovosti Ukraïns'koï RSR (Kyiv 1967)
Roky velykoho pokhodu (Dnipropetrovsk 1967)
Istoriia mist i sil Ukraïns'koï RSR: Dnipropetrovs'ka oblast' (Kyiv 1969)
'Dnipropetrovs'ka oblast'' in Heohrafichna entsyklopediia Ukrainy. Vol. 1 (Kyiv 1989)
Dnipropetrovs'ka oblast': heohrafichnyi atlas (Kyiv 2001)
Dnipropetrovs'ka oblast': istoriia ta suchasnist' (Dnipropetrovsk 2007)
Natsional'nyi atlas Ukraïny (Kyiv 2007)
Loza, Iu. Istorychnyi atlas Ukraïny (Kyiv 2015)
'Dnipropetrovs'ka oblast'' in Statystychnyi atlas rehioniv Ukraïny (Kyiv 2018) http://www.ukrstat.gov.ua/
Volodymyr Kubijovyč, Ihor Stebelsky
[This article was updated in 2020.]