Kyiv eparchy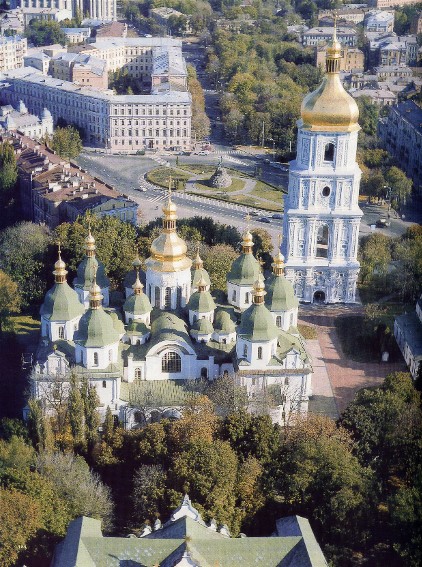 Kyiv eparchy [Київська епархія; Kyivska eparkhiia]. An eparchy of the Ukrainian church created after the Christianization of Ukraine in 988. Its bishop was also the Kyivan metropolitan and head of the entire Ukrainian church province. The eparchy was one of the largest in Kyivan Rus', its territory corresponding to the territory of Kyiv principality, centered primarily on the Right Bank of the Dnipro River. With the partition of Ukraine between Muscovy and Poland in the mid-17th century, most of the territory of Kyiv eparchy remained under Polish control, although the see was in the Russian-dominated Hetman state. In the early 18th century the Kyiv metropoly was abolished and Kyiv eparchy was placed directly under the Russian Holy Synod until 1743, when the metropoly was restored. After the incorporation of Right-Bank Ukraine into the Russian Empire, the eparchy's territory corresponded to the territory of Kyiv gubernia, created in 1797. Vicariates of the eparchy were established in Chyhyryn (1799), Uman (1874), and Kaniv (1884). From 1861 the eparchy published the journal Kievskie eparkhial'nye vedomosti (see Eparkhial'nye vedomosti), which contained much information on the history of the church and the Kyiv region in general.
As the central eparchy in Ukraine and the metropolitan's see, Kyiv eparchy contained many of the most important church institutions in Ukraine. Its 21 men's and 6 women's monasteries (1914) included the Kyivan Cave Monastery, Saint Nicholas's Monastery, Saint Michael's Golden-Domed Monastery, Kyiv Epiphany Brotherhood Monastery, Saint Flor's Monastery, Vydubychi Monastery, and Mezhyhiria Transfiguration Monastery. The Kyivan Mohyla Academy (later the Kyiv Theological Academy) and the Kyiv Theological Seminary were also located there, and in 1913 there were six other higher schools administered by the eparchy. The eparchy's 1,710 churches (in 1913) were served by 1,435 priests.
In the 1920s there was a Kyiv 'regional church' or eparchy of the Ukrainian Autocephalous Orthodox church under Metropolitan Vasyl Lypkivsky; it was liquidated along with the entire church in the 1930s. From 1944 the eparchy was under the Russian Orthodox church, and from 1966 the bishop has been Filaret Denysenko.
Following the restoration of the Ukrainian Autocephalous Orthodox church and the Ukrainian Catholic church in Ukraine in the late 1980s, and the split of the ROC-controlled official church into the Ukrainian Orthodox Church-Kyiv Patriarchate and the Ukrainian Orthodox Church-Moscow Patriarchate, all of these churches lay claim to the Kyiv eparchy.
Borys Balan
[This article was updated in 1996.]