Lebedynsky, Sylvestr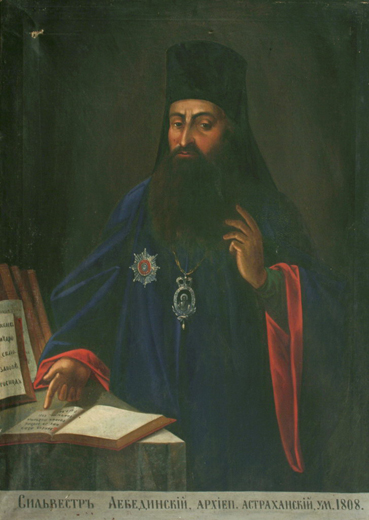 Lebedynsky, Sylvestr (Лебединський, Сильвестр; Lebedyns'kyj; secular name Петро; Petro), b 1750 or 1751 near Kharkiv, d 5 November 1808 in Rovenky, Ostrohozke county, Voronezh gubernia. Orthodox bishop and biblical scholar. Born to the family of a sexton, Lebedynsky traveled to Pereiaslav to study at Pereiaslav College, where he advanced to the course in rhetoric, and subsequently continued his education at Kharkiv College. In 1781 he took vows at the Scholastic Monastery of the Holy Protection of the Mother of God and served as a teacher first in the class of grammar, and from 1983 in the class of poetics. In 1787 he was summoned to Astrakhan, Russia, to assume a post of superintendent and teach philosophy at the theological seminary recently founded in the city. Later, he also taught a theology course there. Appointed hegumen of the Saint John the Baptist Monastery, and in 1790 hegumen of the Transfiguration Monastery, he was simultaneously ordained as an archimandrite. In 1791 he became the first person to be appointed rector of the Astrakhan Theological Seminary, where he implemented, according to the available evidence, rules patterned on those in force at Kharkiv College. In April 1794, he became hegumen of the Assumption Monastery in Sviiazhsk (in the Kazan eparchy in Russia), and in April 1794 was appointed as first rector and professor of theology at the newly-opened Kazan Theological Academy.
In September 1799, Lebedynsky was consecrated bishop of Poltava and Boryspil. At that time, the boundaries of eparchies were being redrawn, so in December 1803 he became bishop of Pereiaslav and Poltava. This resulted in a considerable territorial growth of the eparchy under his control, even though the consistory remained in Pereiaslav, where the college was also located. Among the measures he implemented to reorganize the way his eparchy was run, Lebedynsky issued an injunction that priests who had completed classes of philosophy and theology should regularly draw up and deliver sermons. Another directive of his stipulated that the sons of clergy serving in the eparchy should obtain their education at Pereiaslav College rather than in the schools belonging to other eparchies. In 1803, Lebedynsky submitted to the Holy Synod a project concerning the establishment of parish schools in his eparchy, as well as recruiting teaching personnel for them. Pereiaslav College, an object of his special attention, underwent a period of considerable growth during his tenure as bishop, as the number of its students increased from 443 to 755. Classes in philosophy and theology were reopened in 1799 and 1800 respectively after having been closed in 1785. The teaching of languages, including French and Ancient Greek, was boosted. In the class of theology, Lebedynsky recommended the use of his own textbook, Sacra theologia seu Doctrina christiana per theoremata, quaestiones et controversias exposita (Saint Petersburg 1799; 2nd ed. 1805). This book, influenced by the ideas of Teofan Prokopovych as well as of the Lutheran theologian David Hollatz (1648–1713), was also used in other ecclesiastical schools and enjoyed considerable popularity throughout the Russian Empire. Lebedynsky took care of the college's library and repeatedly donated books to it, while also issuing instructions concerning the proper storage of the collection. His moralistic works, Netlennaia pischcha, ili Dushespasitel'nyia razmyshleniia na sviashchennom Pisanii osnovannyia (Imperishable Pabulum, or Edifying Meditations Based on the Holy Scriptures; Moscow, 1794) and Pritochnik evangel'skii ili izyasnenije pritchei vo sviatom Evangelii obretaiushchikhsia (Parabolic Anthology, or Explanation of the Parables Contained in the Holy Gospel; Moscow, 1796), both had several re-editions in the 19th century.
On 25 January 1807 Lebedynsky was consecrated bishop of Astrakhan and Terskii. His demission from this see, due to health problems, was approved in 1808, whereupon he was appointed hegumen of Saints Peter and Paul Monastery in Hlukhiv, but died on his way there.
BIBLIOGRAPHY
Parkhomenko, Vladimir. Sil'vestr Lebedinskii, pervyi episkop Poltavskoi eparkhii (Poltava 1908)
Khyzhniak Zoia and Tetiana Doronina. 'Lebedynskyi Petro, cherneche imia Syl'vestr' in Kyievo-Mohylians'ka akademiia v imenakh: XVII-XVIII st., ed. Viacheslav Briukhovetsky (Kyiv 2001)
Posokhova, Liudmyla. Na perekhresti kul'tur tradytsii, epokh: pravoslavni kolehiiumy Ukraïny naprykintsi XVII – na pochatku XIX st. (Kharkiv 2011)
Liudmyla Posokhova (translated by Serhii Vakulenko)
[This article was updated in 2022.]