Moldavian Soviet Socialist Republic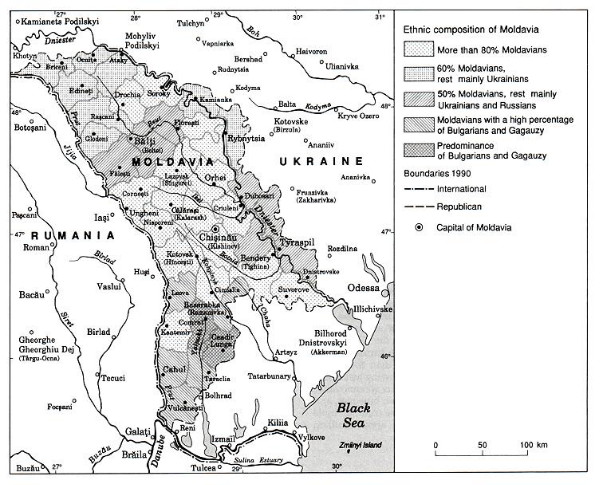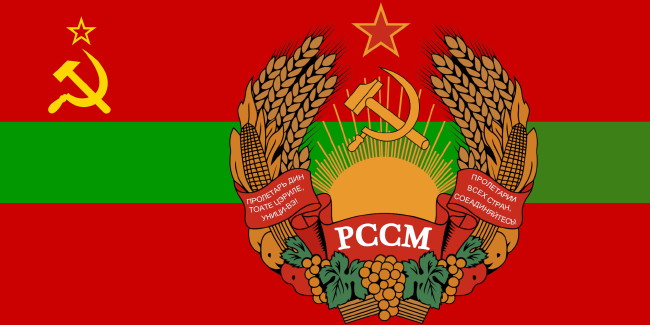 Moldavian Soviet Socialist Republic. One of the 15 former Soviet republics, situated in the southwestern USSR between Romania and Ukraine and bounded by the Prut River in the west and, roughly, by the Dnister River in the east. Its area was 33,700 sq km, and its 1989 population was 4,335,000, 47 percent of it urban. The Moldavian SSR was formed on 2 August 1940 out of the Moldavian Autonomous Soviet Socialist Republic (which was part of the Ukrainian Soviet Socialist Republic) and the larger part of Bessarabia, which was occupied by the Soviets on 28 June 1940. The republic was divided into 37 raions, 21 cities, and 44 towns. The capital was Kishinev. In 1991 Moldavia declared its independence and assumed the name of Moldova.
The boundaries of Moldova and Ukraine coincide roughly with the boundaries of Romanian and Ukrainian ethnic territories, although Moldova includes a few Ukrainian regions on the left bank of the Dnister River. According to the 1989 census the national composition of the Moldavian SSR was as follows: 2,794,700 Romanians (64.5 percent), 600,400 Ukrainians (13.9 percent), 562,100 Russians (13 percent), 153,500 Gagauzy (3.5 percent), 88,400 Bulgarians (2 percent), and 65,700 Jews (1.5 percent). Most of the Ukrainians lived in rural areas. They were concentrated in Lipcani, Edineţi, Răşcani, Beltsi, Făleşti, Bendery, and Căuşani raions. On the left bank of the Dnister River, the Ukrainians were concentrated in Rybnica and Tyraspil.
The Soviet authorities made strenuous efforts to Russify the Romanian and Ukrainian population of the Moldavian SSR by encouraging the in-migration of Russians and the out-migration of the local population and by favoring the Russian language in education and public life. Most of the books and newspapers published in the Moldavian SSR were in Russian, not Romanian, and none were in Ukrainian.
See also Bessarabia, Moldavia, Moldavians.
Arkadii Zhukovsky
[This article originally appeared in the Encyclopedia of Ukraine, vol. 3 (1993).]