Mytkevych, Yoasaf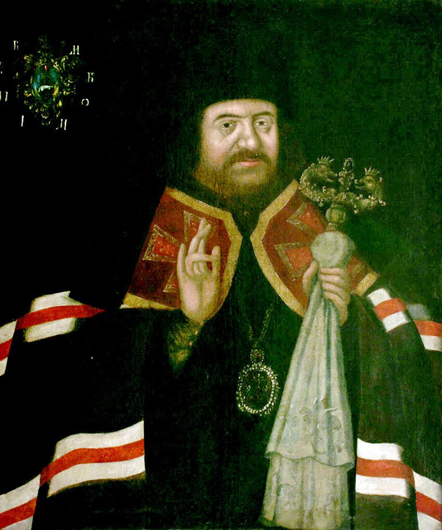 Mytkevych, Yoasaf [Миткевич, Йоасаф; secular name Іван; Ivan], b 1724 in Kozelets, Kyiv regiment, d 30 June 1763 in Okhtyrka, Okhtyrka regiment. Bishop of Belgorod and Oboian. Born to the family of an Orthodox priest, he attended the Kyivan Mohyla Academy and studied in the class of theology under Professor Sylvestr Kuliabka. During his studies, he mastered, under Symon Todorsky, Ancient Greek, Classical Hebrew, and German. On the invitation of Amvrosii Yushkevych, archbishop of Novgorod the Great and Velikie Luky, he moved to Novgorod, Russia, in October 1741 to teach at the local theological seminary, where he gave lessons in syntax, poetics, rhetoric, philosophy (from 1746), and theology (from 1748). Around 1744, he took monastic vows and later the holy orders at the Saint Anthony of Rome Monastery in Novgorod. From 1748 he served as superintendent, and from September 1780 as rector, of the Novgorod Theological Seminary, and was prior of the Saint Anthony of Rome Monastery (ordained as archimandrite). Beginning in November 1755, Mytkevych participated, on behalf of the Holy Synod, in the production of new editions of the Menaion by Metropolitan of Rostov Dymytrii Tuptalo and of the Kyivan Cave Patericon, both to be published in Kyiv (in 1756 and 1759 respectively). In February 1756, he was appointed prior of the Saint Varlaam Khutyn Monastery near Novgorod.
On 26 April 1758, Mytkevych was consecrated as bishop of Belgorod and Oboian. While in office, he took measures to sustain the quality of instruction at Kharkiv College and was instrumental in enrolling new teachers, including foreigners. In August 1759, philosopher and poet Hryhorii Skovoroda joined, at his suggestion, the college's teaching staff to hold courses in poetics. Skovoroda dedicated to him Song No. 27 of his Garden of Divine Songs and characterized him as follows in a concluding pro memoria: 'He was an enlightened pastor, meek, kind, forgiving, truth-loving, an altar of feeling, a lantern of love.'
In 1761, separate premises were arranged on Mytkevych's initiative to house the college's library (numbering at the time two thousand volumes). He donated to it 185 books from his personal collection and repeatedly contributed his own money to the purchase of educational literature. In addition, he donated two hundred books to the library of the Kyivan Mohyla Academy. Several churches were built or renovated in the diocese under his auspices. Mytkevych died of cholera during a pastoral visit to Okhtyrka. A portrait of his used to be displayed within the walls of Kharkiv College.
Liudmyla Posokhova (translated by Serhii Vakulenko)
[This article was updated in 2022.]