Paraguay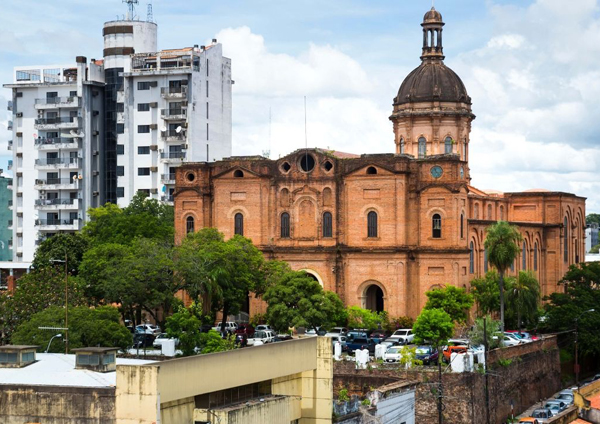 Paraguay. A country in South America (2021 pop 7,303,000) with an area of 406,796 sq km. Asunción is its capital city. Ukrainian immigration into Paraguay can be traced back to 1922, when a group from neighboring Argentina established itself in Urú Sapucai (now Colonia Carlos A. López), in the department of Itapúa. They were joined in 1926–32 by more Ukrainians, chiefly from Argentina, who were encouraged by the availability of land. From 1927 the lumber company of P. Christophersen had made available approximately 71,000 ha of land for sale. The immigrants established settlements in Fram (colonies nos 2, 4, and 12, and later nos 5, 7, and 9) and nearby in Santo Domingo, Capitan Miranda, and Carlos A. López, and bought lots of up to 10 ha. Between 1935 and 1939 a special contract between the Paraguayan and Polish governments brought approximately 3,000 Ukrainian families from Polish-ruled Western Ukraine to Paraguay. A further influx occurred in 1946–50, when several hundred Ukrainians arrived from displaced persons camps in Europe or in the Philippines (accommodating Ukrainian refugees from the Far East). The Ukrainian immigrants in Paraguay emanated from all ethnographic Ukrainian regions, from Transcarpathia to the Kuban, with emigrants from Volhynia forming the largest single regional group.
No accurate figures exist regarding the number of Ukrainians in Paraguay. It has been estimated that up to 35,000 Slavic immigrants came into the country in 1928–39, including many Ukrainians. The community probably numbered approximately 15,000 at this time. Subsequent political instability in the late 1940s and the 1950s impelled a large out-migration, mainly to Argentina, which has left the number of Ukrainians in Paraguay today at between 8,000 and 10,000. The majority continue to reside in the department of Itapúa (a region located in the southeast of the republic, which adjoins the Argentine province of Misiones), especially in or around the cities of Encarnación and Carmen del Paraná. Some of the colonies, particularly those in the Fram district, are distinguished by their Ukrainian names: Bohdanivka, Polkovnyk Bohun, Nova Volyn, Nova Ukraina, Tarasivka, Perevertivka, and Morozenka. The same is true of colonies around Coronel Bogado (Zelenyi Klyn, Sybir, Persha Sotnia, Kavkaz), Alborada (Symon Petliura), Itangva (Bohdan Khmelnytsky), and Capitan Miranda (Taras Shevchenko). This Ukrainian nomenclature may be credited in large measure to the efforts of Rev T. Hnatiuk. In addition a small number of Ukrainians settled in the capital city of Asunción.
The majority of Ukrainians in Paraguay, originally peasants or artisans, are agriculturists who cultivate cotton, rice, corn, yerba maté (Paraguayan tea), and wheat for export, as well as garden vegetables for personal consumption. Other Ukrainians are engaged in the livestock economy (particularly those living around Coronel Bogado), in the lumber industry, or as apiarists. Those who have settled in the cities are employed as artisans and workers, or in commerce, the civil service, and in liberal arts.
Organized Ukrainian community life began when a missionary priest of the Ukrainian Orthodox church from Argentina, Rev T. Hnatiuk, visited Encarnación in 1925 and established a church parish. In 1929 he initiated Paraguay's first Ukrainian People's Home in Urú Sapucai, which later provided the premises for a daily Ukrainian school and an amateur drama troupe. Another Ukrainian People's Home was founded in the colony of Sandova. These early efforts were soon consolidated with the 1937 founding of a Prosvita society in Encarnación. Between 1937 and 1945 some 10 branches were founded. Today, Prosvita has its headquarters in Encarnación and maintains three branches (in Santo Domingo, Carmen del Paraná, and Uru Sapukai). In 1948 the Prosvita society formed a youth section (with seven branches) that was later transformed into the Ukrainian Youth Association (SUM). In 1945 the Ukrainian community founded the Ukrainian Relief Committee as an auxiliary of the Paraguayan Red Cross to lobby for and assist in the resettlement of Ukrainian displaced persons and refugees in Paraguay. The Relief Committee and Prosvita established the Ukrainian Center in Paraguay (Український осередок в Параґваю; Ukrainskyi oseredok v Paragvaiu) in 1949 as a representative umbrella organization. A member of the Pan-American Ukrainian Conference, the association was headed by Omelian Paduchak, A. Kushchynsky, and I. Lytvynovych until it became largely moribund in the 1960s. In the early 1980s its archives were transferred to the central Prosvita. Since 1961 an hour-long Ukrainian program, hosted until 1987 by S. Khudyk, has been broadcast from the local Encarnación radio station. There are several Ukrainian dance ensembles active in Paraguay today.
Some Ukrainians joined organizations which were pro-Soviet, Russophile, or Pan-Slavic in character. They founded the Ukrainian-Belarusian Reading Club in Domingo Bado and, in 1941, the Ukrainian-Belarusian Committee to Aid the Fatherland in Carmen del Paraná. As a result of the strong anticommunist attitude of the Alfredo Stroessner regime, the pro-Soviet influence has been negligible since the 1950s.
Paraguay is the only country of Ukrainian settlement in the West where the majority (over 60 percent) of Ukrainians are of Orthodox background. Today there are six parishes of the Ukrainian Autocephalous Orthodox church and a parish of the Orthodox Church of Ukraine in Paraguay. The Ukrainian Catholic church is organized in ten communities. The remainder of Ukrainians in Paraguay are largely of Baptist, Stundist, or Mennonite faith.
There are two Ukrainian-related monuments in the main square of Encarnación, the Plaza de Armas. One, of Taras Shevchenko, was unveiled in 1976. The other, in memory of the victims of the Famine-Genocide of 1932–3, was erected in 2008. On 25 October 2007 the Senate of the National Congress of Paraguay approved Declaración no. 43, which recognized the Holodomor as an act of genocide. Paraguay recognized Ukraine's independence on 1 April 1992. Andrés Trociuk Levko is the Honorary Consul of Ukraine to the Republic of Paraguay.
Partly because of their fairly compact settlement pattern, Ukrainians in Paraguay have not been assimilated to the degree that their counterparts in Argentina and especially Uruguay have been.
Serge Cipko
[This article was updated in 2021.]