Samovydets Chronicle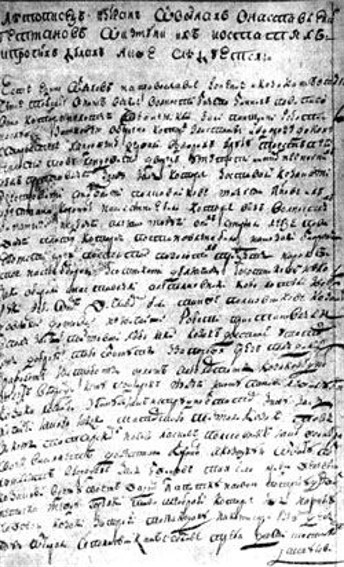 Samovydets Chronicle [Літопис самовидця; Litopys samovydtsia]. One of the most important sources for the history of Ukraine during the years 1648–1702; it was named Litopys samovydtsia (Chronicle of an Eyewitness) by Panteleimon Kulish. The introduction describes conditions in Ukraine prior to the Bohdan Khmelnytsky era (Osyp Bodiansky included it when he published the chronicle in the journal Chteniia v Imperatorskom obshchestve istorii i drevnostei rossiskikh, 1846], but Orest Levytsky rejected it in his edition of the chronicle [1878], believing that it had been added at a later date). Following the introduction, the first part examines the Cossack-Polish War of the Khmelnytsky period and the Ruin (up to 1676); it was probably written some time after the events occurred. The second part constitutes a true chronicle of events in Left-Bank Ukraine until 1702; it was probably written in Starodub (surmised from the prevalence of local detail). The Samovydets Chronicle was an important source of historical information for the chronicles of Hryhorii Hrabianka, Samiilo Velychko, and some later historical works of the Cossack period.
The Samovydets Chronicle was written in the Ukrainian literary language of the day, which was close to the vernacular of a dialect of Right-Bank Ukraine. The author of the chronicle is unknown, but he was likely a highly placed member of the Cossack starshyna and a functionary in the Ukrainian government. The investigation of his identity was carried out on the basis of autobiographical materials in the chronicle, and was greatly facilitated by Viktor Modzalevsky's writings (1919–22) on Roman Rakushka. In the 1920s the scholars Viktor Romanovsky and Mykola Petrovsky independently arrived at the conclusion (initially voiced by the amateur historian P. Serdiukov in 1846) that the chronicle's author was most likely Rakushka. That theory was adopted by many historians, including Dmytro Bahalii, Dmytro Doroshenko, Mykhailo Hrushevsky, Ivan Krypiakevych, and several Soviet historiographers. Other candidates for the authorship of the chronicle were I. Bykhovets, a military chancellor (favored by Lev Okinshevych), and Fedir Kandyba, a colonel of Korsun regiment (favored by Mykola Andrusiak and Mykhailo Vozniak).
The original of the Samovydets Chronicle has not been preserved; six manuscript copies, made in the 18th century or later, have survived. The oldest and most reliable are those made by P. Iskrytsky (dated 1734, closest to the original) and Yakiv Kozelsky (made in the late 18th century). Those have served as the basis for scholarly research and for more recent editions, including the one published by Osyp Bodiansky (1846), who obtained the manuscript from Panteleimon Kulish. A more scholarly edition was issued by the Kyiv Archeographic Commission (1878), edited and with an introduction by Orest Levytsky. This edition was republished as part of the Harvard Series in Ukrainian Studies (The Eyewitness Chronicle, 1972), and another edition, edited and with an introduction by Yaroslav Dzyra, was published by the Institute of History of the Academy of Sciences of the Ukrainian SSR (1971).
BIBLIOGRAPHY
Levitskii, O. Opyt issledovaniia o letopisi Samovidtsa: Letopis' Samovidtsa po novootkrytym spiskam (Kyiv 1878)
Petrovs'kyi, M. Narysy istoriï Ukraïny XVII–pochatku XVIII stolit': Doslidy nad litopysom Samovydtsia (Kharkiv 1930)
Oleksander Ohloblyn
[This article originally appeared in the Encyclopedia of Ukraine, vol. 4 (1993).]