Svydnytsky, Anatolii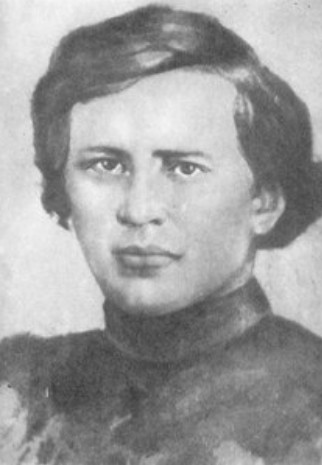 Svydnytsky, Anatolii [Свидницький, Анатолій; Svydnyc'kyj, Anatolij], b 13 September 1834 in Mankivtsi, Lityn county, Podilia gubernia, d 18 July 1871 in Kyiv. Writer, community activist, and folklorist. He began his activities as a member of the clandestine Kharkiv-Kyiv Secret Society, which set itself the task of struggling with the tsarist regime, disseminating forbidden literature, and establishing Sunday schools. During that period he wrote a number of lyric poems against arbitrary rule and national oppression, of which only 'Horlytsia' (Turtledove, 1860) was published during his lifetime. 'Koly khochesh nam dobra' (If You Wish Us Well), 'V poli dolia stoiala' (Fate Stood in the Field), and part of 'Vzhe bil'sh lit dvisti' (For More Than Two Hundred Years Now) were published in Literaturno-naukovyi vistnyk by Ivan Franko in 1901. In 'Vzhe bil'sh' Svydnytsky decries Bohdan Khmelnytsky's signing of the Pereiaslav Treaty of 1654.
Only 'Velykden' u podolian' (Easter among the Podilians) and 'Iz Mirgoroda' (From Myrhorod) were published in Osnova (Saint Petersburg) in 1861, out of the many articles on ethnography and against tsarist absolutism which Svydnytsky wrote in 1860–2. After the tsarist ban of all Ukrainian publications he published a number of articles and stories in Russian in the newspaper Kievlianin. .
Liuboratski is considered to be Svydnytsky's major work. It is a chronicle, to a large extent autobiographical, of the downfall of the Liuboratsky family of clergymen over the course of three generations. It is set in the Podilia region, which was dominated by the Polish aristocracy, tsarist oppression, and the inimical official Orthodox clergy. Its far-reaching range of subject matter prompted Ivan Franko to designate the work as the first realist novel in Ukrainian literature. In both form and content Liuboratski serves as a transition between the prose of Hryhorii Kvitka-Osnovianenko and Marko Vovchok and the later epic realism of Ivan Nechui-Levytsky and Panas Myrny. The novel had no immediate influence on contemporary writers, however, because it was published for the first time, in Zoria (Lviv) in 1886, 15 years after the author's death. It has appeared in many editions since then. A collection of Svydnytsky's writings (Tvory [Works]) appeared in 1958.
Ivan Koshelivets
[This article originally appeared in the Encyclopedia of Ukraine, vol. 5 (1993).]