Ukraine's Declaration of Independence, 1991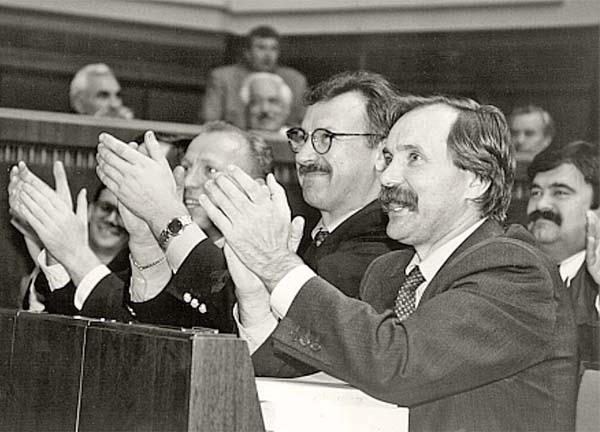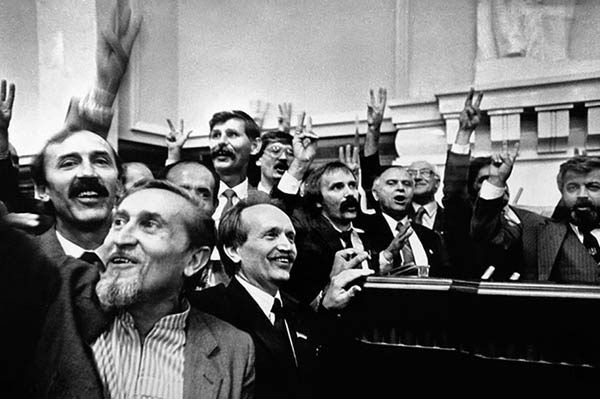 Ukraine's Declaration of Independence, 1991 (Акт проголошення незалежності України 1991 року; Akt proholoshennia nezalezhnosti Ukrainy 1991 roku). An act of the Supreme Soviet of the Ukrainian SSR passed on 24 August 1991, declaring Ukraine an independent state whose territory is indivisible and inviolable and whose fundamental law is the Constitution of Ukraine. This declaration was prompted by the failed coup attempt in Moscow by the hardliners of the Communist Party of the Soviet Union against the USSR president Mikhail Gorbachev. It was preceded by the Supreme Soviet's 1990 landmark Declaration on the State Sovereignty of Ukraine and was followed by the referendum on independence held on 1 December 1991, which received overwhelming approval by the Ukrainian electorate. The Declaration of Independence ushered in the new era of an independent, post-Soviet Ukrainian state.
The Declaration on the State Sovereignty of Ukraine of 16 July 1990 prepared the ground for the Declaration of Independence by asserting the right of the Ukrainian SSR to self-determination. This sovereignty declaration was quite radical because of the efforts of a nationally-conscious opposition caucus in the Supreme Soviet. An important ally and eventual leader along Ukraine's route from sovereignty to independence was the chair of the Supreme Soviet of the Ukrainian SSR, Leonid Kravchuk, formerly the chief of ideology for the ruling Communist Party of Ukraine. At first ambivalent about the meaning of the August coup, he soon became a lightning rod for Ukrainian independence by refusing to join any of the subsequent efforts by Moscow to resuscitate the USSR. Since the failed coup had discredited and delegitimized Communist Party rule throughout the Soviet Union, the Party's caucus within the Supreme Soviet dissolved itself and the Party as a whole was banned in Ukraine because its leadership had sided with the putschists in Moscow. This changed the balance of power in the Supreme Soviet in favor of the national-democrats. Kravchuk from then on followed the national-democrats' lead.
After independence had been approved in the referendum by an overwhelming majority (92.3 percent) of voters, Moscow responded by suggesting that a revision of borders would be in order and called Ukraine's independence illegal. This interference provoked mass protests in Ukraine, which indicated to the republic's leaders where public opinion on independence lay. But doubt remained whether the RSFSR (and subsequently, the Russian Federation) could ever accept an independent Ukrainian state.
In sum Ukraine's Declaration of Independence was approved by the deputies of the Supreme Soviet of the Ukrainian SSR from a variety of motives at the time when Communist Party rule was beginning to disintegrate in the USSR. This declaration was later supported by the broad Ukrainian electorate reflecting the people's long-felt and newly-emerging desire for autonomy, which would pose in the long term a fundamental problem for Ukraine-Russia relations.
BIBLIOGRAPHY
Solchanyk, R. 'Ukraine: From Sovereignty to Independence,' RFE/RL Research Report 1, no. 1 (3 January 1992)
Solchanyk, R. (ed) Ukraine: From Chernobyl' to Sovereignty (Edmonton 1992)
Kuzio, T.; Wilson, A. (eds) Ukraine: Perestroika to Independence (Edmonton and Toronto 1994)
'Declarations of the State Sovereignty of the Russian and Ukrainian Republics,' in The Soviet System: From Crisis to Collapse, ed A. Dallin and G. W. Lapidus, rev edn (Boulder 1995)
Bohdan Harasymiw
[This article was written in 2023.]