Ukrainian Central Representation in Argentina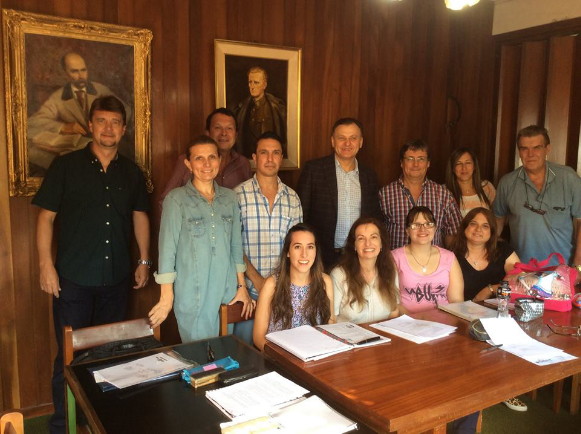 Ukrainian Central Representation in Argentina (Українська центральна репрезентація в Арґентині; Ukrainska tsentralna reprezentatsiia v Argentini; Spanish: Representación Central Ucraina en la República Argentina). An umbrella organization for Ukrainian associations in Argentina, established in 1947 in Buenos Aires. Inspired by the example of representative Ukrainian councils in Canada and the United States, the group managed to bring almost all the noncommunist Ukrainian-Argentinian societies into its ranks. Strong infighting, however, particularly between the Prosvita society and the Vidrodzhennia society, was a major problem for the group and limited its effectiveness for many years. This tension subsided somewhat in the 1960s. The Representation is a member of the Ukrainian World Congress.
In 2015 the Ukrainian Central Representation in Argentina embraced the following organizations: the Prosvita society (Asociación Ucrania de Cultura 'Prosvita'); the Vidrodzhennia society (Asociación Ucraniana 'Renacimiento'); the Orthodox Brotherhood of the Holy Protectress (Hermandad de la Catedral Santa Virgen de la Iglesia Autocéfala Ortodoxa Ucrania); the Ukrainian Catholic Brotherhood of Saint Sophia (Hermandad Santa Sofía de la Eparquía Santa María del Patrocinio Bonaerense de los Ucranios de rito bizantino-ucranio); Plast Ukrainian Youth Association (Asociación Ucrania Juvenil PLAST); Ukrainian Youth Association (SUM) (Asociación Juvenil Ucrania CYM); the Taras Shevchenko Foundation (Fundación Tarás Shevchenko); the Society of Argentinian-Ukrainian Graduates (Asociación de Graduados Universitarios Argentino Ucranios); the Alliance of Prosvita Women (Unión de Mujeres de Prosvita); the Organization of the Ukrainian Women of Vidrodzhennia (Organización de Mujeres 'Renacimiento'); the Ukrainian Women's Association of Argentina (Unión de Mujeres Ucranias); the 27th of August Ukrainian Cultural Association (Asociación Cultural Ucrania '27 de Agosto,' Posadas, Misiones); the Argentine-Ukrainian Social Club (Club Social Argentino-Ucranio, Apóstoles, Misiones); The Ukrainian Community of Oberá and Colonies (Colectividad Ucrania de Oberá y Colonias, Misiones); the Slavna Ukraina Argentine-Ukrainian Association (Asociación Civil Argentino-Ucrania Slavna Ukraina, Resistencia, Chaco); the Sokil society (Asociación Ucrania 'Sokil', Córdoba); the Ukrainian Alliance of Evangelical Christians and Baptists (Hermandad Ucrania Evangélico Bautista); the Brotherhood of Former Soldiers of the First Ukrainian Division of the Ukrainian National Army (Hermandad de ex-combatientes de la 1º División del Ejército Nacional Ucranio); and the Argentine-Ukrainian Chamber of Commerce and Industry (Cámara Argentino-Ucrania de Comercio e Industria).
[This article was updated in 2017.]