Ukrainian bilingual education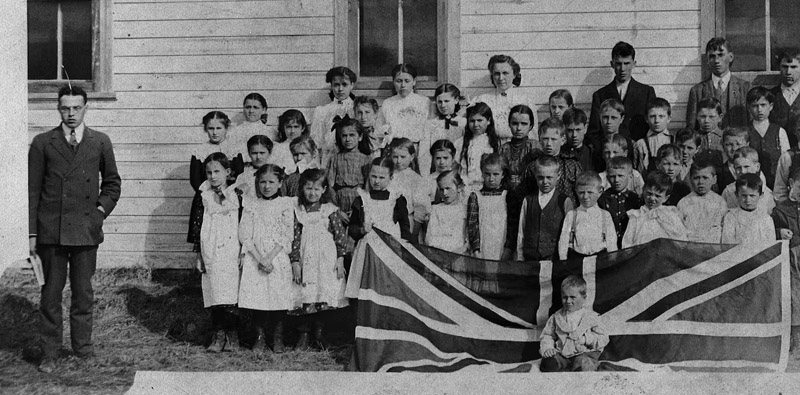 Ukrainian bilingual education (українська двомовна освіта; ukrainska dvomovna osvita). A program in which the Ukrainian language is used along with English as a language of instruction in elementary schools and secondary schools. Bilingual schools exist in the three prairie provinces of Canada—Alberta, Manitoba, and Saskatchewan. Ukrainian bilingual education there has undergone two distinct stages of development.
From 1897 until the period of the First World War Ukrainians were able to take advantage of the educational concessions granted to French Catholics and other minorities in Manitoba to establish Ukrainian-English bilingual schools in rural bloc settlements in Manitoba. A severe shortage of English-speaking teachers (or their refusal to teach in the Ukrainian bloc settlements) and a concern with overcoming the reluctance of rural communities to provide schools initially made the bilingual school option tolerable for the English-speaking majority. Jaroslaw Arsenych, J. Baderski, and Taras Ferley were among those who played an active role in the development of Ukrainian bilingual education. As the proportion of immigrants in Manitoba grew, however, Canadian nativists became concerned with the threat to the Anglo-Canadian identity posed by the unassimilated immigrants. The pro-British fervor of the war years (1914–18) and the coincident increase in hostility toward foreigners aggravated the situation. On 8 March 1916 all Ukrainian bilingual schools in Manitoba were abolished. Before their dissolution there were 111 Ukrainian and Polish bilingual schools in Manitoba (lumped together in the 1915 report on their status), with 114 teachers and 6,513 pupils.
Inspired by the Manitoba model, Ukrainians in the provinces of Saskatchewan and Alberta also attempted to establish bilingual schools. In 1916 it was estimated that in 40 public schools in Saskatchewan, Ukrainian was used as the language of instruction. In 1919 the Saskatchewan government placed severe restrictions on French and banned the use of all languages other than English in schools for reasons similar to those of the Manitoba authorities.
In Alberta, bilingual schools did not formally exist, but Ukrainian was used in classrooms. The very limited supply of Ukrainian teachers, however, severely restricted the development of unofficial bilingual schools. In 1909–12 about a dozen Ukrainian teachers worked in Alberta under temporary teachers' permits and used both Ukrainian and English in instruction. The greatest setback to bilingual education in Alberta occurred in 1913, when the Department of Education canceled the permits of Ukrainian teachers trained in Saskatchewan and Manitoba. These teachers were accused of having raided schools in Alberta, of being poorly qualified, and of having been recruited by organizations promoting the use of Ukrainian in schools in Ukrainian bloc settlements. Department of Education pressure proved so effective in preventing the hiring of bilingual teachers that there was not even a need to repeal the regulations allowing Ukrainian instruction, as happened in Manitoba and Saskatchewan.
In all of the prairie provinces Ukrainian community pressure was unable to prevent the elimination of bilingual schools. Furthermore, in all three provinces the linguistic and cultural assimilation of immigrants became one of the main goals of the respective provincial systems of education.
The 1970s witnessed the rebirth of Ukrainian bilingual education in western Canada. Alberta took the lead in re-establishing Ukrainian-language instruction. Availing themselves of the legitimacy afforded to the linguistic and cultural aspirations of minorities by the Royal Commission on Bilingualism and Biculturalism, leading members of the Edmonton Ukrainian Professional and Businessmen's Club, including Peter Savaryn and Manoly Lupul, lobbied successfully to have the Alberta School Act amended in 1971 to allow any language in addition to English to be used as a language of instruction. Saskatchewan (1974, 1978) and Manitoba (1979) introduced legislative changes modeled on Alberta's and permitted up to 50 percent of the school day to be devoted to instruction in languages other than English. The Ukrainian bilingual (or partial immersion) education program was established in Alberta in 1974 and in Saskatchewan and Manitoba in 1979. To facilitate Ukrainian bilingual education in all three provinces, a formal agreement, the Joint Ukrainian Bilingual Curriculum Project, was signed by education authorities in all three provinces in 1985 for the joint development and exchange of curriculum materials.
The objectives of contemporary Ukrainian bilingual education are, among others, to develop students' written and oral communication skills in Ukrainian and English, to familiarize them with Ukrainian culture in Canada, Ukraine, and other countries, and to give them an opportunity to learn French (Canada's second official language) as well as English. The programs attempt to develop positive attitudes toward learning other languages and understanding other cultures. The Ukrainian language itself is studied as a separate subject, Ukrainian language arts. In grades one through six, half of the day is devoted to instruction in Ukrainian. Social studies, art, music, physical education, health, and religion are taught in Ukrainian. Science, mathematics, and English language arts are taught in English. In grades 7 through 9 about 30 percent of instruction is in Ukrainian, and at the grades 10 to 12 level the instruction time in Ukrainian is reduced to about 18 percent. All teachers in the program are fully certified to teach in the public schools of their province. Currently, however, no formal program exists specifically for training Ukrainian bilingual teachers. The Canadian Institute of Ukrainian Studies, University of Alberta, organizes summer courses on an occasional basis. Some teacher in-service and professional development is provided by local school boards and provincial departments of education.
The legislation governing bilingual programs in the three provinces is permissive. Local school boards may offer a program if there is sufficient parental interest, but they are not required to do so. Thus, the establishment and maintenance of programs depends on the organized support of parents. The Alberta Parents for Ukrainian Education (established in 1984) and the Manitoba Parents for Ukrainian Education (founded in 1980) are two umbrella organizations for parent groups in their respective provinces.
The lack of commercially available Ukrainian-language resources and textbooks in Canada and the ideological and pedagogical inappropriateness of resources from Soviet Ukraine, until Ukraine's independence, necessitated Canadian production of textbooks. The most ambitious projects involved the Ukrainian community, the Alberta Department of Education, and the Ukrainian Language Education Centre at the Canadian Institute of Ukrainian Studies.
In 1989, 1,400 students were enrolled in Ukrainian bilingual education programs in Alberta, 1,000 in Manitoba, and 160 in Saskatchewan. One of the main issues affecting the programs is the disproportionately low enrollment figures, given the demographic strength of Ukrainians in western Canada.
BIBLIOGRAPHY
Skwarok, Josaphat. The Ukrainian Settlers in Canada and Their Schools (Edmonton 1959)
Lupul, Manoly (ed). Osvita: Ukrainian Bilingual Education (Edmonton 1985)
John Sokolowski
[This article originally appeared in the Encyclopedia of Ukraine, vol. 5 (1993).]