Vedel, Artem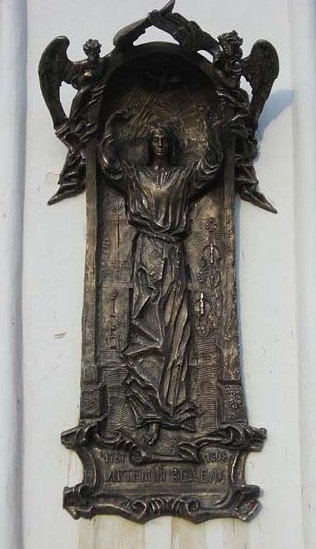 Vedel, Artem (Artemii) [Ведель, Артемій; Vedel'] (born Vedelsky), b 13 April 1767 in Kyiv, d 26 July 1808 in Kyiv. Composer, conductor, singer (tenor), violinist, and teacher. After studying at the Kyivan Mohyla Academy he was sent to Moscow in 1787 to conduct the choir of Governor-general P. Yeropkin. In 1792 he asked to be relieved of his duties and returned to Kyiv to conduct a military choir under the command of General Andrei Levanidov. In 1796 accompanied Levanidov to Kharkiv to conduct the Kharkiv College choir. This period (1792–7) saw the height of Vedel's musical creativity and he composed most of his choral concertos and other works at that time.
However, in 1797 Tsar Paul I prohibited the performances in churches of choral concertos or any other form of music except for the music for Divine Liturgy. This prohibition proved particularly harmful to musical culture in Ukraine and to Vedel in particular. In 1798 Levanidov was removed from his post by Paul I, leaving Vedel without a benefactor. He returned to Kyiv in search of a choir posting and even briefly joined the Kyivan Cave Monastery to achieve this end. He left the monastery, greatly disappointed with the hypocrisy and lack of spirituality in monastic life. Soon afterwards he was banished to a mental asylum in 1799 after church authorities attributed to him some irreverent marginal notes scribbled in a religious book. The incarceration ended Vedel's creative work and led to his premature death. The publication and performance of his works were banned (first by Paul I and, later, by Alexander I) for over one hundred years after his death. Oleksander Koshyts was one of the first choirmasters to include Vedel's works in his choir's repertoire.
Vedel, whose musical legacy consists entirely of church choral music a cappella, is considered the chief representative of the Cossack baroque style in Ukrainian music. More than 80 of his compositions have been identified, including 31 sacred concertos, 6 trios, two liturgies, one all-night vigil, works in honor of the Virgin Mary and the Nativity, and paschal hours. Vedel's most popular works are his concerto On the Rivers of Babylon and his trio Open the Gates of Repentance. A selection of his compositions is included in Ihor Sonevytsky's anthology, Sacred Choral Music a Cappella of A. Vedel (New York 1990). The most complete edition of his works to date was published in 2007 in Kyiv by Mykola Hodbych and Tetiana Husarchuk.
BIBLIOGRAPHY
Sonevyts'kyi, I. Artem Vedel' i ioho muzychna spadshchyna (New York 1966)
Kozyts'kyi, P. Spiv i muzyka v Kyïvs'kii akademiï za 300 rokiv ïï isnuvannia (Kyiv 1971)
Ihor Sonevytsky, Marko Robert Stech
[This article was updated in 2011.]