Zhuk, Mykhailo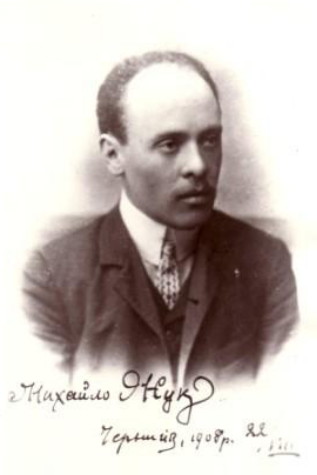 Zhuk, Mykhailo [Жук, Михайло; Žuk, Myxajlo], b 2 October 1883 in Kakhovka, Tavriia gubernia, d 7 June 1964 in Odesa. Painter, graphic artist, and writer. He studied at the Kyiv Drawing School (1896–9), the Moscow School of Painting, Sculpture, and Architecture (1899–1900), and the Cracow Academy of Fine Arts (1900–4) under Stanisław Wyspiański. From 1905 he taught art in Chernihiv. In 1917 Zhuk was one of the founding professors of the Ukrainian State Academy of Arts where he taught decorative arts. After 1925 he lived and worked in Odesa where he taught at the Odesa Art School (later institute).
Zhuk's early work, abundant in decorative elements, was heavily influenced by Western modernist trends, such as symbolism and secession. He also produced many portraits, some of which incorporated cubo-futurist faceting of surfaces (eg, his 1919 portraits of Pavlo Tychyna and Les Kurbas). While teaching at the Odesa Art School (1925–53) he produced a series of 20 lithographic portraits of Ukrainian writers (1925–6), including Hryhorii Skovoroda, Taras Shevchenko, Panteleimon Kulish, Ivan Franko, Mykhailo Kotsiubynsky, Mykola Khvylovy, and Mykola Zerov, using formalistic simplification of volumes; created a portrait etching series of Ukrainian artists (1932), including Volodymyr Borovykovsky, Oleksa Novakivsky, Fedir Krychevsky, Vasyl H. Krychevsky, Heorhii Narbut, and Mykhailo Boichuk; and designed posters, bookplates, book covers, and ceramic designs inspired by Ukrainian folk art.
Zhuk also wrote a poetry collection Spivy zemlï (Singings of the Earth, 1912) and contributed poems, short stories, fairy tales, plays, and literary criticism to Ukrainian journals. An album of his works, edited by I. Kozyrod and S. Shevelov, was published in Kyiv in 1987.
[This article originally appeared in the Encyclopedia of Ukraine, vol. 5 (1993).]