Ukrainian State Academy of Arts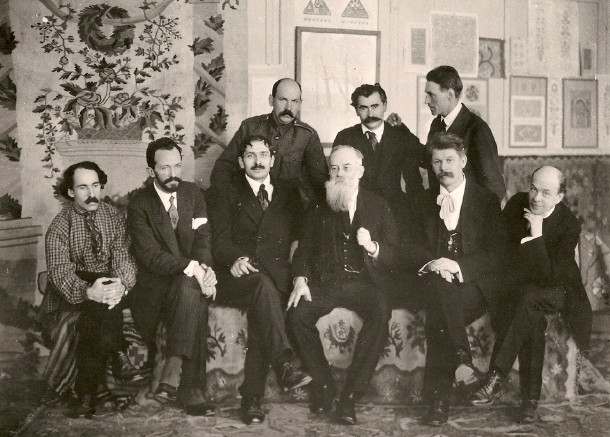 Ukrainian State Academy of Arts (Українська державна академія мистецтв; Ukrainska derzhavna akademiia mystetstv). The first Ukrainian postsecondary art school, established in Kyiv by a commission created in August 1917 by Ivan M. Steshenko, the Central Rada's general secretary of education, and headed by Hryhorii Pavlutsky. The academy's statute was approved by the Central Rada on 18 November 1917. The academy was officially opened on 22 November 1917 in the Rada building (formerly the Pedagogical Museum) and formally approved by the Rada on 5 December. On 31 December the Rada adopted a law making the academy an autonomous state institution with an annual budget of 97,400 karbovantsi and the right to receive foreign books and artworks duty-free. In January 1918 the academy moved into the former Tereshchenko School. It was governed by a council, elected on 27 October 1917, that included Dmytro Antonovych, Pavlo Zaitsev, and Danylo Shcherbakivsky (learned secretary). The rectors were Fedir Krychevsky (1917–18 and 1920–2), Heorhii Narbut (1919–20), and Mykhailo Boichuk (1920). Its original faculty consisted of Boichuk (fresco painting and mosaic), Mykola Burachek (landscape art), Vasyl H. Krychevsky (folk art, ornamentation, architecture, composition), F. Krychevsky (genre painting, portraiture, and historical painting, sculpture), Abram Manevich (landscape art), Oleksander Murashko (genre painting), Mykhailo Zhuk (portraiture), and Narbut (graphic art). Courses were also taught by Fedir Ernst, Mykola O. Makarenko, Vadym Modzalevsky, and Shcherbakivsky. In April 1919 the academy's premises were closed down by the Bolshevik authorities. Courses were held in the professors' homes until October, when the academy moved into a building rented by the Dniprosoiuz co-operative union. In 1920 the sculptor Bernard Kratko replaced Manevich, and in 1921 Lev Kramarenko (large-scale decorative painting), Vadym Meller (theatrical scenery), Sofiia Nalepinska (xylography), Yevhen Sahaidachny (sculpture), and Andrii Taran (mosaic) joined the faculty. The academy had 140 students in 1918–19, 253 in October 1919, and approximately 400 in 1921–2. Among them were Tymofii Boichuk, S. Kolos, Oleksander Lozovsky, Oksana Pavlenko, Ivan Padalka, Vasyl Sedliar, Robert Lisovsky, Oleksander Dovzhenko, Vasyl V. Krychevsky, Serhii Pozharsky, Mykola Rokytsky, Oleksander F. Saienko, Mariia Yunak, Kateryna Antonovych, and Olena Sakhnovska.
In 1922–3 the Kyiv Gubernial Department of Professional Education transformed the academy into the Kyiv Institute of Plastic Arts, which in 1924 became the Kyiv State Art Institute. Its first rector was Ivan Vrona. The formerly independent Ukrainian Architectural Institute (est 1918) became a faculty of the new institute.
Serhii Bilokin
[This article was updated in 2017.]