Zolotarov, Oleksander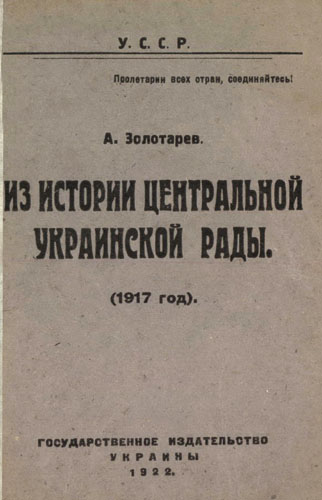 Zolotarov, Oleksander or Zolotarev, Aleksandr [Золотарьов, Олександер or Золотарев, Александр], b 1879 (in Kacherychy, Babruisk county in Belarus?), d (executed) 20 January 1938 at Kommunarka firing range (now in Moscow). Jewish Ukrainian politician and journalist, a prominent member of the Bund. Born into a poor Jewish family, Zolotarov graduated from the law faculty of Moscow University. In 1898 he was arrested for his revolutionary activities and exiled to Kherson gubernia and later Poltava gubernia. In 1904 he left the Russian Empire for Austria. In 1907 he returned to Russia, worked with trade unions; in 1915–7 he was an official at the Jewish Labor Bureau in Moscow. From 1917, as a representative of the Bund, Zolotarov was a member of the Central Rada and the Little Rada (an organ of the Central Rada that worked between its plenary sessions). In 1917 he was also a deputy of the Kyiv City Duma. In November 1917 he was appointed emissary of the Central Rada to Odesa. In January 1918 he replaced Moisei Rafes as the Bund representative in the General Secretariat of the Central Rada, in which he spoke out against a separate peace treaty of the Ukrainian National Republic (UNR) with the Central Powers. In 1918 he worked as the general controller of the UNR. Late in 1918 he joined the Russian Communist Party (Bolshevik).
Under Soviet rule, Zolotarov worked at the Workers' and Peasants' Inspectorate of the Ukrainian Soviet Socialist Republic and the State Control Services. In 1922 he was head of the trade delegation of the Ukrainian SSR and the Russian Soviet Federative Socialist Republic to the Middle East. In 1923–6 he served as a commissioner of the People's Commissariat for Foreign Trade of the USSR to the Council of People's Commissars of the Ukrainian SSR, and in 1926–8 he was deputy chair of the Superior Board of the People's Economy (SBPE) of the Ukrainian SSR; director of the Economic Department of the SBPE of the USSR; and chair of the committee for new capital construction of the SBPE of the Ukrainian SSR. Until October 1937 he served as the executive director of the Exportbud Trust of the People's Commissariat of Heavy Industry of the USSR in Moscow.
Zolotarov fell victim of the Yezhov terror. He was arrested on 25 October 1937 and subsequently executed.
BIBLIOGRAPHY
Ostashko, Tetiana. 'Zolotar'ov, Oleksandr Iosypovych,' Entsyklopediia istoriï Ukraïny, vol 3 (Kyiv 2005)
Lazarovych, Mykola. Etnopolityka ukraïns'koï vlady doby national'no-vyzvol'nykh zmahan' 1917–1921 rokiv: komparatyvnyi analiz (Ternopil 2013)
Larysa Bilous
[This article was written in 2022.]