Trier Psalter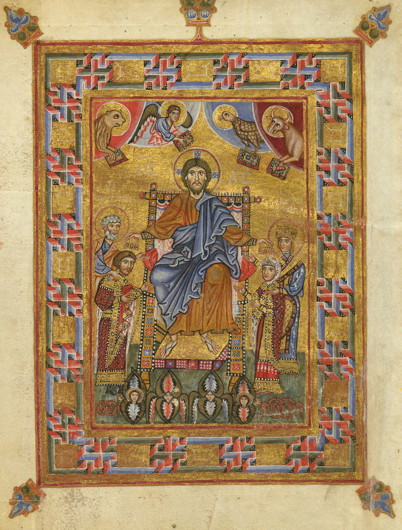 Trier Psalter (Trirskyi psaltyr). A medieval Latin literary and artistic monument written and illuminated in the late 10th century for Archbishop Egbert of Trier. The psalter was later brought to Kyivan Rus' by Gertrude, the daughter of King Bolesław II the Bold of Poland and the wife of Grand Prince Iziaslav Yaroslavych of Kyiv. In 1078–87 five illuminated miniatures were added to the book: a portrayal of Iziaslav's son Yaropolk Iziaslavych and Yaropolk's wife, Kunigunde, praying to Saint Peter, by one artist; depictions of Christ's Nativity, the Crucifixion, and Christ crowning (marrying) Yaropolk and Kunigunde (see photo), by another artist; and a miniature of the Theotokos (see photo), by a third artist. The miniatures were done in either Lutsk, Volodymyr-Volynskyi, or, most likely, Saint James's Monastery on the Danube River. They are similar in style and motifs to those in the Izbornik of Sviatoslav (1073) in their combination of folk ornamentation with the features of Byzantine-Rus' and Romanesque illumination. The psalter is now in Italy.
[This article originally appeared in the Encyclopedia of Ukraine, vol. 5 (1993).]
---
List of related links from Encyclopedia of Ukraine pointing to Trier Psalter entry:
A referral to this page is found in 3 entries.