Menshikov, Aleksandr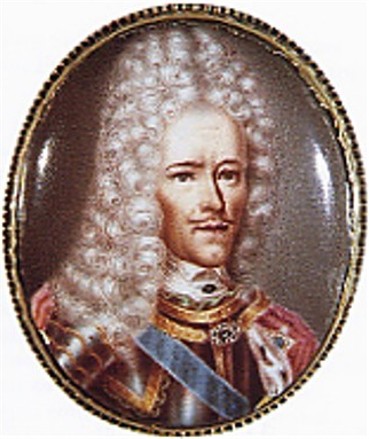 Menshikov, Aleksandr, b 16 November 1673 in Moscow, d 23 November 1729 in Berezovo, Tobolsk gubernia, Russia. (Portrait: Aleksandr Menshikov.) Russian military figure. After humble beginnings in Moscow he became one of the most powerful men in the Russian Empire and a personal favorite of Peter I. In 1708 he was put in charge of co-ordinating military operations in Ukraine with Hetman Ivan Mazepa against Charles XII. When Mazepa's alliance with the Swedish king became known, Menshikov razed his stronghold at Baturyn (massacring almost all of its garrisoned troops as well as its civilian population of 6,000 or more men, women, and children) and then instituted a reign of terror in order to dissuade the population from siding with the hetman. At the Battle of Poltava in July 1709, he commanded a wing of the Russian army.
For his services and loyalty Menshikov was awarded huge tracts of land in Ukraine, as well as positions of power and privilege, including the governorship of Saint Petersburg province. He used those to amass a large fortune, particularly in Ukraine, where he illegally annexed lands, enserfed Cossacks, and built up his own exploitative economic infrastructure. Whereas in 1704 he had controlled 1,300 serfs, the number surged to 28,000 in 1709 and to over 55,000 in 1725. Menshikov was investigated several times for corruption, and in 1723–4 he was accused of concealing 30,000 serfs who had either hid from military service or fled from their landowners on Ivan Mazepa's former estate at Baturyn. After the death of Peter I in 1725, Menshikov maneuvered his widow onto the throne as Catherine I. Not only did he persuade the empress to drop all investigations against him, he received additional grants of land in Ukraine.
Menshikov changed his long-standing opposition to Ukrainian autonomy when the president of the Little Russian Collegium, Stepan Veliaminov, implemented a program of increased taxation in Ukraine that included Russian landowners. He suddenly became critical of the collegium and defensive of Ukrainian autonomy, and he used his influence to dismantle the imperial administrative body and to see through the election of a new hetman, Danylo Apostol.
Menshikov fell from power after the death of Catherine I in 1727 and the ascension of Peter II. In 1728 he was exiled with his family to Siberia, where he died.
[This article originally appeared in the Encyclopedia of Ukraine, vol. 3 (1993).]