Vyshnivsky, Oleksander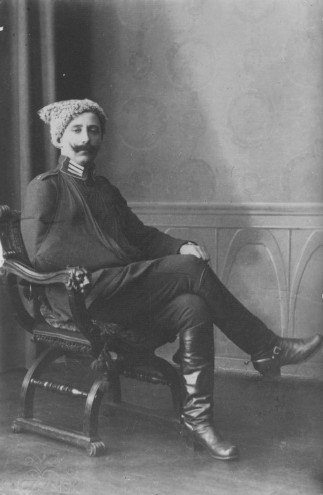 Vyshnivsky, Oleksander [Вишнівський, Олександер; Vyšnivs'kyj], b 12 August 1890 in Zalyvna, Oleksandrivske county, Katerynoslav gubernia, d 12 October 1975 in Detroit, Michigan. Senior UNR Army officer. A regular officer in the Russian army during the First World War, he joined the Army of the Ukrainian National Republic in 1917. In the following three years he commanded, at the rank of colonel, the First Regiment of the Bluecoats, the Seventh Regiment of the Third Iron Rifle Division of the Army of the Ukrainian National Republic, and the Third Regiment of the Separate Cavalry Division of the Army of the UNR. He distinguished himself and was seriously wounded in action near Vapniarka in July 1919. In the interwar period he lived in Poland, and after the Second World War he emigrated to the United States. He was promoted to major general by the Government-in-exile of the Ukrainian National Republic. He wrote Povstans'kyi rukh i otamaniia (The Partisan Movement and Warlordism Unruliness, 1973) and Trahediia 3-oï dyviziï Armiï UNR (The Tragedy of the Third Division of the UNR Army, 1963).
[This article originally appeared in the Encyclopedia of Ukraine, vol. 5 (1993).]
This subject is not referenced in any other entries in the Internet Encyclopedia of Ukraine.