Afanasiev-Chuzhbynsky, Oleksander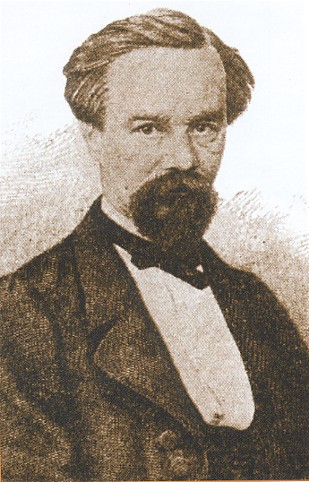 Afanasiev-Chuzhbynsky, Oleksander [Afanas'jev-Čužbyns'kyj] (pseud of Oleksander S. Afanasiev), b 11 March 1816 in Iskivtsi, Poltava gubernia, d 18 September 1875 in Saint Petersburg. (Photo: Oleksander Afanasiev-Chuzhbynsky.) Romantic poet, ethnographer, and belletrist. Afanasiev-Chuzhbynsky graduated from the Nizhyn Lyceum. His poems, written in Ukrainian, appeared in the almanacs Lastôvka and Molodyk and in the journal Osnova (Saint Petersburg). Some of his poems later became folk songs. A separate collection of poems entitled Shcho bulo na sertsi (What Lay on My Heart) appeared in 1885. In the 1850s Afanasiev-Chuzhbynsky visited Ukraine with an ethnographic expedition and subsequently described his journey in the book Poezdka v Iuzhnuiu Rossiiu (A Trip to Southern Russia, I–II, 1861). He published a great deal of Ukrainian ethnographic material in Russian journals. Afanasiev-Chuzhbynsky's dictionary of the Ukrainian language (Slovar' malorusskogo narechiia) was published only in part (A–Z, 1855). His Russian prose dealt, to a great extent, with Ukrainian themes. In 1843–6 Afanasiev-Chuzhbynsky became acquainted with Taras Shevchenko and published 'Vospominaniia o T.G. Shevchenko' (Reminiscences of T.H. Shevchenko) in Russkoe slovo, no. 5, 1861.
[This article originally appeared in the Encyclopedia of Ukraine, vol. 1 (1984).]
Click Home to get to the IEU Home page; to contact the IEU editors click Contact.
To learn more about IEU click About IEU and to view the list of donors and to become an IEU supporter click Donors.
©2001 All Rights Reserved. Canadian Institute of Ukrainian Studies.