Church of Good Friday in Lviv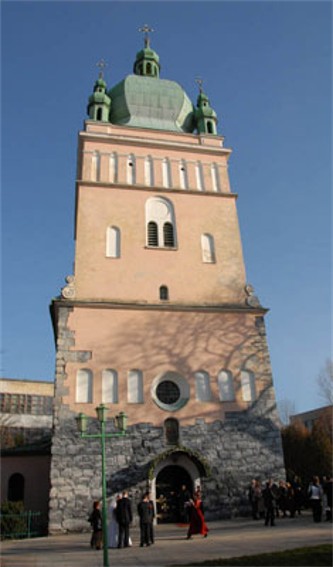 Church of Good Friday in Lviv (Piatnytska Tserkva; also Tserkva sv. Paraskevy). An important architectural and historical monument in Lviv, located at the foot of Zamkova Hora mountain in the center of the old city. The church's construction was paid for by the Moldavian hospodar Vasile Lupu, and several Moldavian rulers are buried in the church. Built in the early 1640s on the site of previous churches, the present structure is made of unfinished stone blocks. Such features as small, highly placed windows, thick walls, and embrasures emphasize the fortress-like aspects of its architecture. The church combines elements of many styles, in particular the Gothic style and the late Renaissance: its interior lines are severe and laconic, but enlivened by a highly ornamented iconostasis.
The great value of the church lies in the masterpieces of Lviv painters and woodcarvers of the early 17th century adorning it. Of particular note is the five-tiered Renaissance iconostasis (a sixth row was added in 1870, to give a total of 70 icons), with Baroque gates topped by a crucifix. The richest and most elaborate part of the iconostasis is the portal with an icon of Christ the Archpriest over the arch. The icons added in 1870 (Saint Cyril and Saint Methodius, Saint Olha and Saint Volodymyr, Saint Nicholas, and Saint John Chrysostom) were painted by A. Kachmarsky. The vault and walls of the presbytery are decorated with late 18th-century frescoes by Luka Dolynsky. The church has been damaged several times; it was last restored in 1908.
[This article originally appeared in the Encyclopedia of Ukraine, vol. 2 (1989).]