Forest belt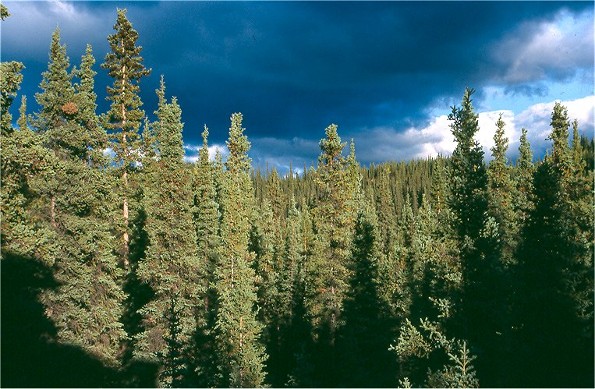 Forest belt. One of the basic natural zones of vegetation in Ukraine, which covers its northern part and borders to the south with the forest-steppe belt approximately along a line through Kholm–Lutsk–Zhytomyr–Kyiv–Nizhyn–Hlukhiv. The forest belt covers approximately the northern Ukrainian lowlands—Podlachia, Polisia, and the Chernihiv region. The belt has a glacial topography and gray podzol soils and bog soils. Its climate is temperate, becoming more continental towards the east: the average July temperature is 17.5°C to 19.5°C; the average January temperature is -4°C to -7°C; the annual precipitation is 500–600 mm, 70 percent of which occurs from April to October. The forest belt is a mixed-forest zone. Pine is the most widespread (60 percent); oak predominates on the richer soils; birch, alder, and linden are also encountered (for more detail see Flora). The fauna is that of the Central European forest belt. At one time almost the entire belt was covered with forest. Today less than 33 percent is forested. The forests have been replaced by cultivated fields (over 33 percent) and hayfields, meadows, and pastures (20 percent); other lands account for 15 percent. The population density is moderate—about 50 people per sq km—because of the encroachment of bogs and the decline in soil fertility.
The forest belt that lies within Ukraine (the northern parts of Chernihiv oblast, Rivne oblast, Volhynia oblast, Zhytomyr oblast, Kyiv oblast, and Sumy oblast) and southern Belarus (parts of Brest oblast and Homel oblast) is commonly known as Polisia, although Polisia proper encompasses only the basin of the Prypiat River.
Little Polisia and the Buh Depression (of which the Sian Lowland is an extension), situated between the Volhynia-Kholm Upland and the Podolian Upland, is considered an island of the forest belt.
Volodymyr Kubijovyč
[This article originally appeared in the Encyclopedia of Ukraine, vol. 1 (1984).]