Gdańsk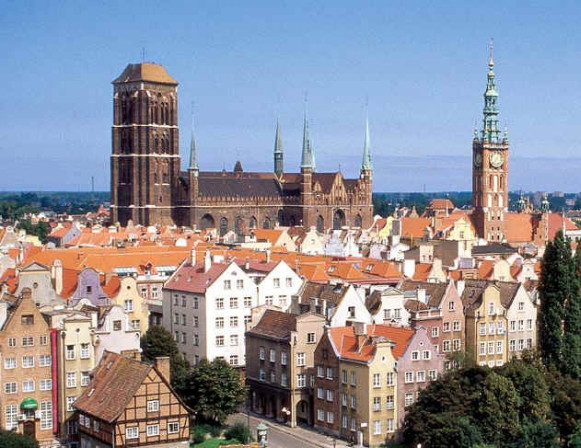 Gdańsk (German: Danzig). City in Poland (2009 pop 460,276). A historically important commercial-industrial center and port on the Baltic Sea. Towards the end of the 13th century, its merchants established trade relations with Kyivan Rus'. From 1919 to 1939, according to the Treaty of Versailles, it was a free city in customs union with Poland, which also controlled its foreign relations. Since 1945 Gdańsk has been part of Poland.
From 1922 to 1945 a few hundred Ukrainians, mainly from Galicia, studied at the Danzig Polytechnic. They had their own Osnova Union of Ukrainian Students in Danzig, the fraternities Halych, Zarevo, and Chornomore, the socialist student hromadas named after Mykhailo Drahomanov and Ivan Franko, the Smoloskyp chemistry students' circle, and the Surma choir. The first ordinary congress of the Central Union of Ukrainian Students was held in Danzig in July 1923. Ukrainian student activity peaked in the mid-1920s, but the number of students subsequently dwindled because of economic difficulties.
In 1947, as part of the Polish state's policy to depopulate the Polish-Ukrainian borderland of its indigenous Ukrainians (see Operation Wisła), some 10,000 Ukrainians from the Sian region were forcibly resettled in Gdańsk voivodeship. Since 1956 the second-largest branch (400 members) of the Ukrainian Social and Cultural Society in Poland (since 1990 the Association of Ukrainians in Poland) has been located in Gdańsk; it has held youth fairs and, in 1983 and 1985 in nearby Sopot, festivals of Ukrainian song. Ukrainian was taught at Gdańsk University in 1983–5.
BIBLIOGRAPHY
Guldon, Z. Związki handlowe dóbr magnackich na Prawobrzeżnej Ukrainie z Gdańskiem w XVIII wieku (Toruń 1966)
Shyprykevych, V. (ed). Propam'iatna knyha dantsigeriv: Istorychni narysy ta spomyny kolyshnikh studentiv Politekhniky Vil'noho Mista Dantsigu, 1921–1945 (Philadelphia–Toronto–New York 1979)
[This article originally appeared in the Encyclopedia of Ukraine, vol. 2 (1988).]