Ukrainian Social and Cultural Society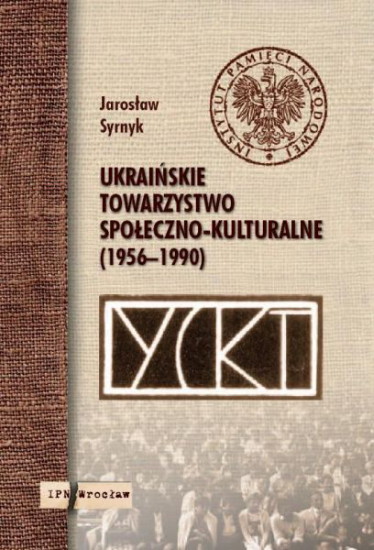 Ukrainian Social and Cultural Society [Українське суспільно-культурне товариство (Ukrainske suspilno-kulturne tovarystvo) or УСКТ (USKT); Polish: Ukraińskie Towarzystwo Społeczno-Kulturalne or UTSK]. Established in 1956, the USKT was the only community institution in postwar Poland allowed to engage in Ukrainian cultural and educational activities until the 1980s. In spite of its official sanction, the USKT functioned under surveillance by the Ministry of Internal Affairs.
In 1981 the USKT headquarters in Warsaw oversaw 170 groups with nearly 6,000 members, and in 1988, 180 groups with about 7,500 members, all of whom were spread throughout Poland. Of these, only 10 percent lived on traditional Ukrainian ethnographic territory. For a long time the USKT was barred from forming groups in the Kholm region and in Podlachia. The largest branches (1981 figures) were in Peremyshl (400 members), Gdańsk (250), Szczecin (250), Koszalin (200), Cracow, Katowice, Olsztyn, Słupsk, Warsaw, and Wrocław. The USKT was headed by S. Makukh, H. Boiarsky, Mykola Korolko, K. Lashchuk, Ye. Kokhan, and M. Verbovy. Despite the impediments created by the Polish authorities, it managed to organize 50 art collectives, establish the male choir Zhuravli in 1972, and stage Ukrainian song festivals every two years, as well as (since 1972) an annual festival of children's art collectives in Koszalin. Other aspects of the society's work include a wide-ranging program of lectures, dissemination of Ukrainian publications (in Olsztyn, Szczecin, and Warsaw), radio programs (in Koszalin, Olsztyn, Rzeszów, and Szczecin) in Polish about Ukrainian affairs, and work with Polish scholars in Ukrainian disciplines. It has published the weekly Nashe slovo (circulation, 10,000), with monthly supplements such as the scholarly-popular Nasha kul'tura and the children's Svitanok. It also published the weekly Lemkivs'ka storinka as well as the annual Ukraïns'kyi kalendar. Other publications included the literary anthology Homin (Echo, 1964); collections of poetry by Ya. Hudemchuk, Yevhen Samokhvalenko, and I. Zlatokudr; and 19 school texts for Ukrainian language instruction in elementary schools.
Until 1989 a literary and artistic association with 40 members, including S. Demchuk (translator), P. Halytsky (writer), Vasyl Hirny (writer), Stepan Kozak (literary scholar), Ostap Lapsky (poet), Mykhailo Lesiv (linguist), A. Mentukh (painter), Hryhorii Petsukh (sculptor), Yevhen Samokhvalenko (poet), Antin Serednytsky (literary scholar), Tyrs Venhrynovych (painter), and S. Zabrovarny (historian), was affiliated with the executive. Other leading activists of the USKT have been R. Andrukhovych, O. Hnatiuk, S. Kontrolevych, M. Kovalsky, M. Kozak, P. Kreminsky, O. Laska, V. Serkiz, M. Syvitsky, and Ya. Zalitach. Its art collectives were headed by M. Duda, B. Fitsak, P. Lakhtiuk, Ye. Mohyla, Ya. Popovska, and O. Valkovska. Former activists now deceased include H. Dmytriieva, Lev Gets, L. Hladylovych, A. Hoshovsky, Y. Kurochko, O. Kutynsky, K. Kuzyk, I. Markiv, and O. Vasylkiv.
In 1990 the USKT was reconstituted as the Association of Ukrainians in Poland (Об'єднання українців в Польщі; Obiednannia ukraintsiv v Polshchi).
BIBLIOGRAPHY
Syrnyk, Jarosław. Ukraińskie Towarzystwo Społeczno-Kulturalne (1956–1990) (Wrocław 2008)
Myroslav Trukhan
[This article originally appeared in the Encyclopedia of Ukraine, vol. 5 (1993).]