Karpynsky, Yoakynf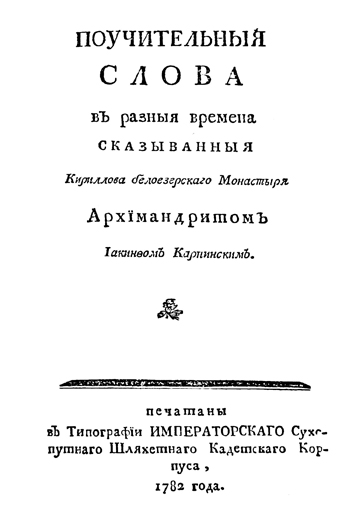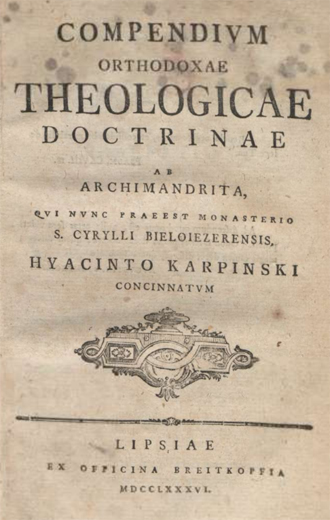 Karpynsky, Yoakynf (Карпинський, Йоакинф; Karpyns'kyj), b ca 1723 in Krasnyi Kut, Kharkiv regiment, d 29 November 1798 in Moscow. Archimandrite, member of the Holy Synod, rector of seminaries, writer, translator. Born to the family of a protopriest, Karpynsky began his studies at a theological seminary in Belgorod and then continued at Kharkiv College, where he completed two advanced classes in philosophy and theology. In 1744 he took vows and was appointed superintendent of the college, while also serving there as a teacher. In September 1746 he was sent to the Kyivan Mohyla Academy to master Hebrew and Ancient Greek under the guidance of renowned Hellenist and Hebraist Varlaam Lashchevsky. While at the academy, Karpynsky also lectured in the class of poetics. In 1749 he was assigned as a teacher of rhetoric and Ancient Greek at Kharkiv College, where he was the first teacher of the latter subject.
Ordained as an archimandrite in 1757, Karpynsky was transferred to Dmitrov, near Moscow, to serve as hegumen of the local Saints Borys and Hlib Monastery. Later he fulfilled the same functions in a number of other monasteries in Russia: Saint Daniel and Trinity Monastery in Pereslavl (from January 1758), the Transfiguration Monastery in Sevsk (from 1761), Saint Nicholas's Monastery in Rylsk (from 1767), the Epiphany Monastery in Kolomna (from 1771), Saint Nicholas's Monastery in Viazhishchi near Novgorod (in 1774), Saint Cyril Monastery in Beloozero near Vologda (from 1774), Saint George Monastery in Novgorod (from 1782), the Donskoi Monastery in Moscow (from 1795), and finally the New Monastery of the Savior also in Moscow (from 1797 to the end of his days). In addition to his posts as a hegumen, he successively served as rector of theological seminaries in Pereslavl, Kolomna, Beloozero, Vologda, and Novgorod, in all of which he also taught theology.
From 1794 on, Karpynsky was a member of the Moscow Synodal Office as well as of the Holy Synod. His textbook Compendium orthodoxae theologicae doctrinae ran in three editions in Leipzig (1786, 1790) and Moscow (1800) and was widely used for instruction in theology in the theological seminaries throughout the Russian Empire as well as in Chernihiv College and Kharkiv College. In addition, in 1781–2, he published several homilies.
Karpynsky finished the Latin translation, initially undertaken by Davyd Nashchynsky, of Teofan Prokopovych's Pamphlet Presenting an Extensive Account of Paul's and Barnabas's Controversy with the Judaizers as well as his Explanation of the Homily by Saint Peter the Apostle about the Law's Intolerable Yoke. The translation was published in Leipzig in 1782 under the title: Prokopowicz, Th., Liber in quo historia de certamine sanctorum apostolorum Pauli et Barnabae cum iudaizantibus, itemque difficultas oraculi, a Petro apostolo editi, de iugo legis intolerabili, uberius in conspectu proponitur, operoseque examinatur, concinnatus Kioviae. At Prince Grigorii Potemkin's instruction, Karpynsky was also involved in translating into Latin the Code of Canon law that was in force at the time in the Russian Empire. In 1795 he was commissioned by the Holy Synod's chief procurator Aleksei Musin-Pushkin to translate from Latin Adam Zoernikau's Tractatus de Processione Spiritus Sancti (1774–5), but death prevented him from finishing this task. Due to his excellent mastery of Latin, Karpynsky was nicknamed Cicero in learned monastic circles.
BIBLIOGRAPHY
Bolkhovitinov, Evgenii. Slovar' istoricheskii o byvshikh" v Rossii pisateliakh" dukhovnago china Greko-Rossiiskoi Tserkvi (Saint Petersburg 1818)
Strahl, Philipp. Das gelehrte Russland (Leipzig, 1828)
Belchikov, Nikolai and Aleksandr Smirnov. 'K biografii arkhimandrita Ioakinfa (Karpinskogo)' in Trudy Vladimirskoi uchenoi arkhivnoi komissii, vol. 12 (Vladimir 1910)
Halenko, Mariia. 'Karpyns'kyi, cherneche imia Ioakynf' in Kyievo-Mohylians'ka akademiia v imenakh: XVII-XVIII st., ed. Viacheslav Briukhovetsky (Kyiv 2001)
Posokhova, Liudmyla. Na perekhresti kul'tur tradytsii, epokh: pravoslavni kolehiiumy Ukraïny naprykintsi XVII – na pochatku XIX st. (Kharkiv 2011)
Anders-Namzhilova, Kristina. 'O perevode Iakinfom Karpiskim traktata Adama Zernikava "De processione Spirituus Sancti,"' Slověne = Словѣне. International Journal of Slavic Studies, vol. 18, no. 1 (2018)
Posokhova, Liudmyla. 'Status davn'ohrets'koï movy v "latyns'kych shkolakh Het'manshchyny ta Slobids'koï Ukraïny," Ukraïns'kyi istorychnyi zhurnal, no 3/558 (2021)
Liudmyla Posokhova (translated by Serhii Vakulenko)
[This article was updated in 2022.]